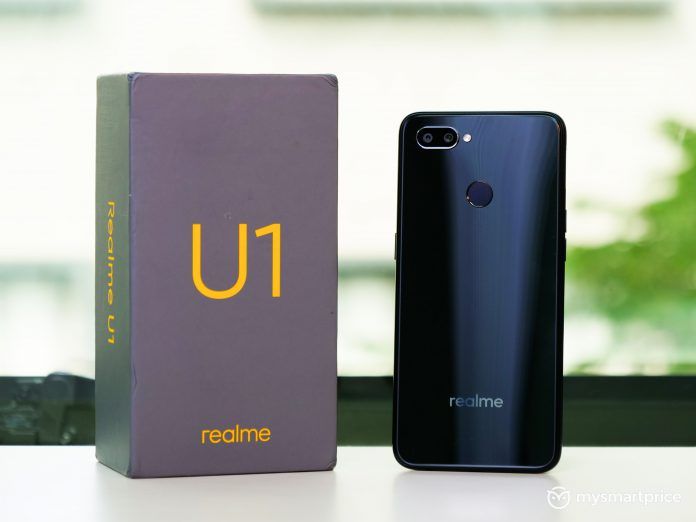 We have come to a point in time where the way we use our smartphones has radically changed. Where once it was just a means to communicate with those afar, these devices have since taken up a more important place in our lives. From multimedia consumption to photography, there are options out there fulfilling the needs of every individual. One such emerging market niche is filled with those of us looking for a smartphone that lets us capture quality selfies without having to sacrifice an arm and a leg.
To cater to such an audience, Realme has a new offering in the form of the Realme U1. This phone combines top-notch tech with premium aesthetics, thus presenting a package that is above and beyond what one can ask for when you look at its affordable price tag. The company rightly calls this handset India's SelfiePro. Let's take a look at why the Realme U1 deserves this designation.
25MP AI Selfie Shooter Built For The Indian Masses
The first thing we must talk about is what the front camera of the Realme U1 offers. The handset has been equipped with a flagship-grade 25MP Sony IMX576 sensor. The selfie enthusiast in you will be able to take full advantage of this camera's ability to enhance Indian faces. AI Beauty+ on the Realme U1 has been specially developed to bring out the best of Indian facial features. You can even go as far as to manually tweak specific aspects of your face including skin smoothness, eye shape, jawline and more.
The same level of care has been given to the rear cameras of the Realme U1, where we find a dual 13MP + 2MP setup. Both the front and rear cameras of this device are capable of impressive bokeh shots. The latter is even capable of portrait lighting effects to add another layer of creativity in your photographs. Furthermore, with a 4-in-1pixel binning implementation, Realme certainly hasn't overlooked the low-light capabilities of these shooters.
World's First Phone Powered By A Helio P70 SoC
The Realme U1 has the honor of being the first smartphone to be powered by the MediaTek Helio P70 chipset. Enjoy the full power of this octa-core CPU developed on a 12nm process that clocks as high as 2.1GHz. Numbers aside, this chipset is rated to be just as good, if not better than even pricier options in this side of the market.
Now, the 3500mAh capacity of the Realme U1's battery might not sound too impressive at first. However, the optimizations brought forth on the Helio P70 ensures this battery lasts well beyond what you would generally get on some other phones. This is because the aforementioned 12nm process chipset consumes 15% less power compared to those produced on the 14nm process. Furthermore, even though the phone's charging tech isn't technically rated for fast charging, it is still quite snappy. The included 5V/2A  power adapter does an incredible job of topping up the phone at more than acceptable speeds.
All This In An Attractive Shell
The entire internal package of the Realme U1 undoubtedly punches well above its weight class. The cherry on top is that it does this without any compromise in exterior aesthetics. This is one of the first smartphones at this end of the market to feature a dewdrop full-screen, where a minuscule notch at the top houses the selfie camera. This design keeps the phone practical while minimizing obstruction for when you're playing your favorite games or watching videos. The display itself is a 6.3-inch Full HD+ LCD which boasts a screen-to-body ratio of 90.8 percent. Safety is not a matter of concern with this display as it is protected with Corning Gorilla Glass 3.
Turn the phone around, and you're greeted with a glossy back that creates mesmerizing, pillar-like reflections that appear and shift based on the angle of reflecting light. This is achieved by the integration of a 13-layer micron-level coating underneath the acrylic back panel. Furthermore, the use of such 2.5D curved edges on this acrylic panel ensures a smooth and comfortable grip. Thus, you get a handset which is not only light-weight and easy to hold but is also durable.
All in all, the Realme U1 is quite a formidable entry in this competitive smartphone scene. It is reassuring to see a phone maker listen to the needs of the average consumer and build a phone that checks all the right boxes. Not only will you receive a transparent case upon purchase of this phone, but a screen-protector will also come pre-applied. Also worth mentioning is that the device features a triple card tray that supports dual SIM + microSD card setups.
The rest of Realme's portfolio is just as impressive as it is filled with smartphones offering one of the best bang-for-the-buck propositions we have seen. With its C series, consumer's desire for a powerful enter-level smartphone is fulfilled. Then we have the Pro series leading the charge and enticing today's youth with the beautiful and powerful Realme 2 Pro. With the Realme U series, the brand has quite brilliantly added an affordable, photography-based offering to this list. With this addition to the Realme Series, the power master offers the best all-rounder smartphones in the budget segment.
The next sale for the Realme U1 begins 12 PM onwards on December 12. Grab the Realme U1 in Brave Blue and Ambitious Black color options during this time. The phone's 3GB RAM+32GB storage model is priced at just INR 11,999, while its 4GB RAM+64GB storage model costs INR 14,499. The Fiery Gold variant of the Realme U1 will also be up for sale soon, specifically around New Year, 2019.
This story has been created in partnership with Realme.
Thanks for reading till the end of this article. For more such informative and exclusive tech content, like our Facebook page