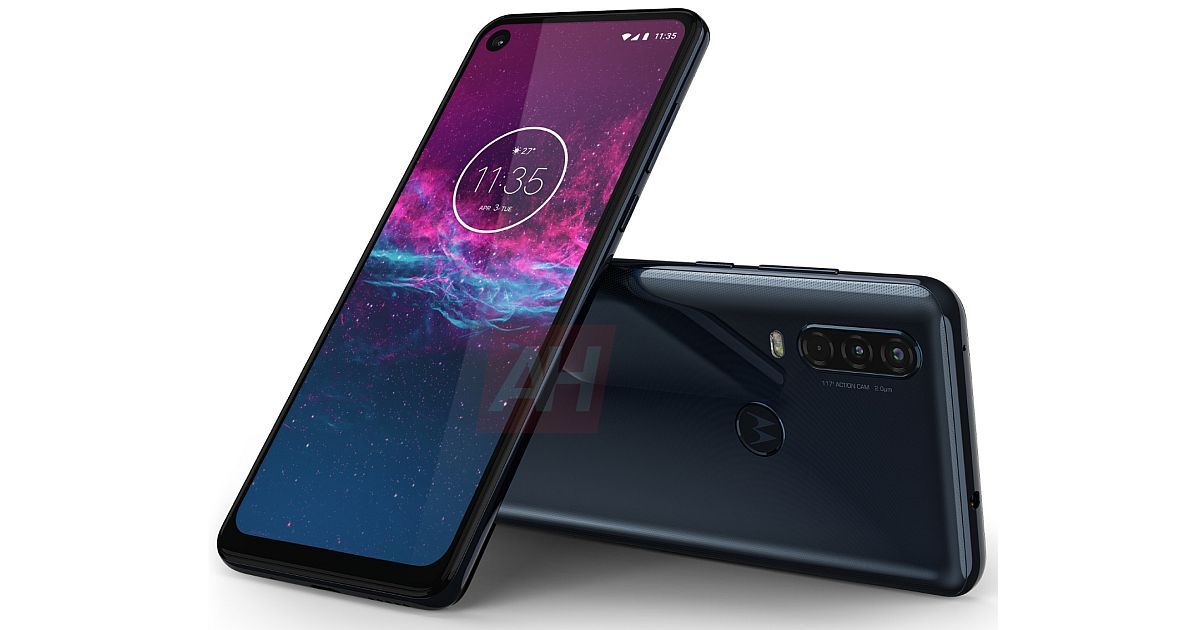 Lenovo-owned Motorola is expected to release a new mid-range smartphone called the Motorola One Action sometime soon. This phone is expected to be very similar to the Motorola One Vision that launched in India just today. The most notable difference here is going to be the use of a triple camera on the back of the One Action as opposed to the dual rear cameras of the One Vision, and we have a new leaked render that confirms this theory.
The newly leaked image of the Motorola One Action comes courtesy of Android Headlines, and it showcases the bluish-gray variant of the phone in all its glory. It is expected that there will be at least two other color options to choose from – gold and white. The leaked render of the One Vision looks a bit darker than the Sapphire Gradient version of the One Vision. According to Android Headlines, the new color model might be called "Denim Gray."
Other than the color, we also get a clearer look at the rear cameras of the Motorola One Action. The "Action" branding for this phone is meant to represent the "Action Cam" being used at the back. This is essentially a wide-angle shooter which boasts a 117-degree field of view.
Motorola One Action Expected Price in India, Specifications
The newly leaked render also gives us a look at three other aspects of the Motorola One Action – the punch-hole selfie camera, top-mounted 3.5mm headphone jack, and rear-mounted fingerprint scanner. These aspects aren't all that surprising as this is the exact layout we can see on the Motorola One Vision. As such, most of the internal specifications of the upcoming phone should also be similar to that of the One Vision.
The display on the One Action is expected to be a 6.3-inch LCD with a Full HD+ resolution. The phone will likely be powered by a Samsung Exynos 9690 SoC and will run on a 3,500mAh battery. Rumors suggest the phone will make use of 12.6MP camera for both selfies and rear photography. Charging is expected to be handled over a USB Type-C port.
As far as pricing is concerned, the Motorola One Vision just launched in India priced at INR 19,999 for its 4GB RAM + 128GB storage model. The Motorola One Action should also be priced very similarly when it makes its way to the country.