Highlights
The MSI Stealth Studio 14 will cost you Rs 1,94,990
The laptop performs well in daily tasks and gaming
It scored 7.7 out of 10 in our review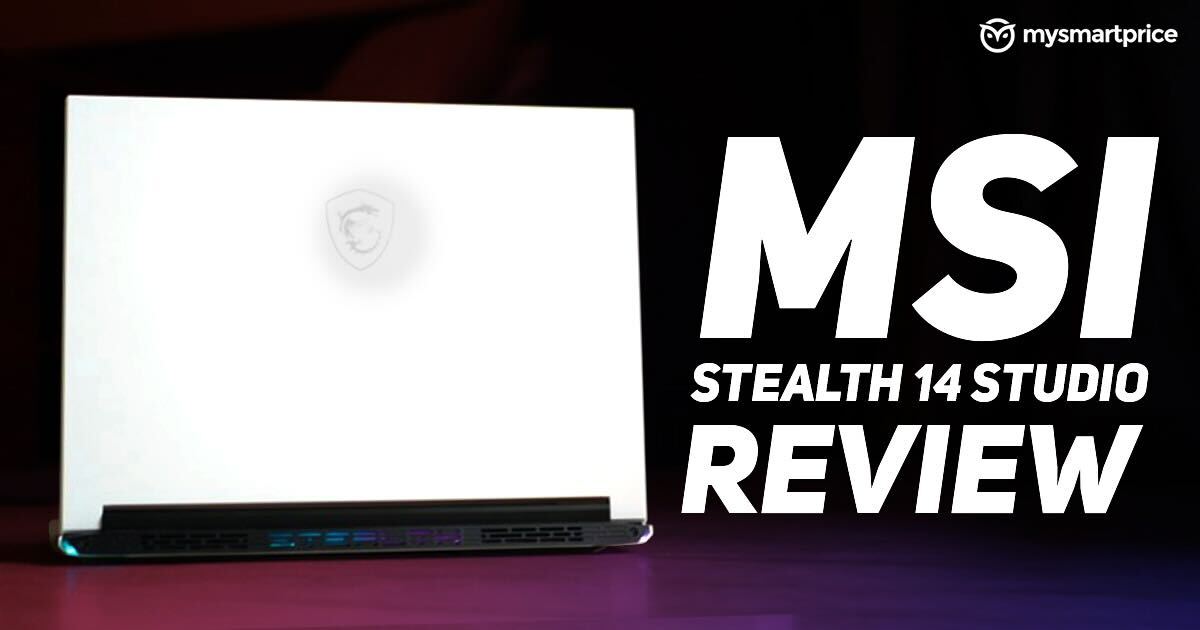 The gaming laptop category has a wide variety of choices. While most of them are advertised to be desktop replacements, there's still a handful of them that can be used as portable machines. The MSI Stealth 14 Studio has a very aesthetically pleasing design in the latter category. The laptop is powered by an Intel i7-13700H paired with the RTX 4060 GPU. It is targeted towards not only gamers but also content creators. So, at an asking price of Rs 1,94,990, can the MSI Stealth 14 Studio be a good choice? Let's find out.
MSI Stealth Studio 14
Rs 1,94,990
KEYBOARD AND TRACKPAD
8.0/10
What Is Good?
Striking and aesthetic design
Relatively lightweight
Crisp and fast display
Fulfilling speakers
Solid overall performance
What Is Bad?
Runs hot and loud
On the pricier side
Average battery life
Misses a few I/O options
MSI Stealth 14 Studio Review: Design and display
The laptop sports a 14-inch display with a 16:10 aspect ratio.
The Stealth Studio 14 has a decent set of ports but misses out on a few important ones.
The first look at the Stealth 14 evokes a feeling of 'Oh, I have seen that somewhere'! Sure enough, it has a similar look and feels to the Zephryus G14 (Review), but it lacks the AnimeMatrix lid. That's not to say that the Stealth 14 completely apes it, but it will appeal to a similar audience.
The Stealth 14 Studio's outer shell is available in two colourways: Star Blue and Pure White. The latter is not subtle by any means but is aesthetically pleasing and quite a looker. The lid only has the MSI logo on the top. While it does not collect fingerprint smudges, the white exterior is surely a home for dirt. With an appropriate balance between magnesium alloy and good-quality plastic, the Stealth Studio 14 tips the scales at 1.7kg — which is lighter than the HP Omen Transcend 16 (Review).
The laptop is relatively easier to pick up and carry around when compared to other gaming-oriented devices in the market. The hinge is quite sturdy and can be easily opened with a single hand. It can go all the way down to 180 degrees, providing you with multiple viewing angles. The underside of the laptop also has vents for optimal airflow with three rubber stands to keep the thing stable on a table.
The Stealth 14 Studio believes in subtlety when it comes to the RGB bling, and we love that. A portion below the lid extends a bit. This is home to the exhausts. It is very playfully designed for the RGB lights as well. You'll find 'Stealth' written on the rear vents with more subtle RGB arrays on either side.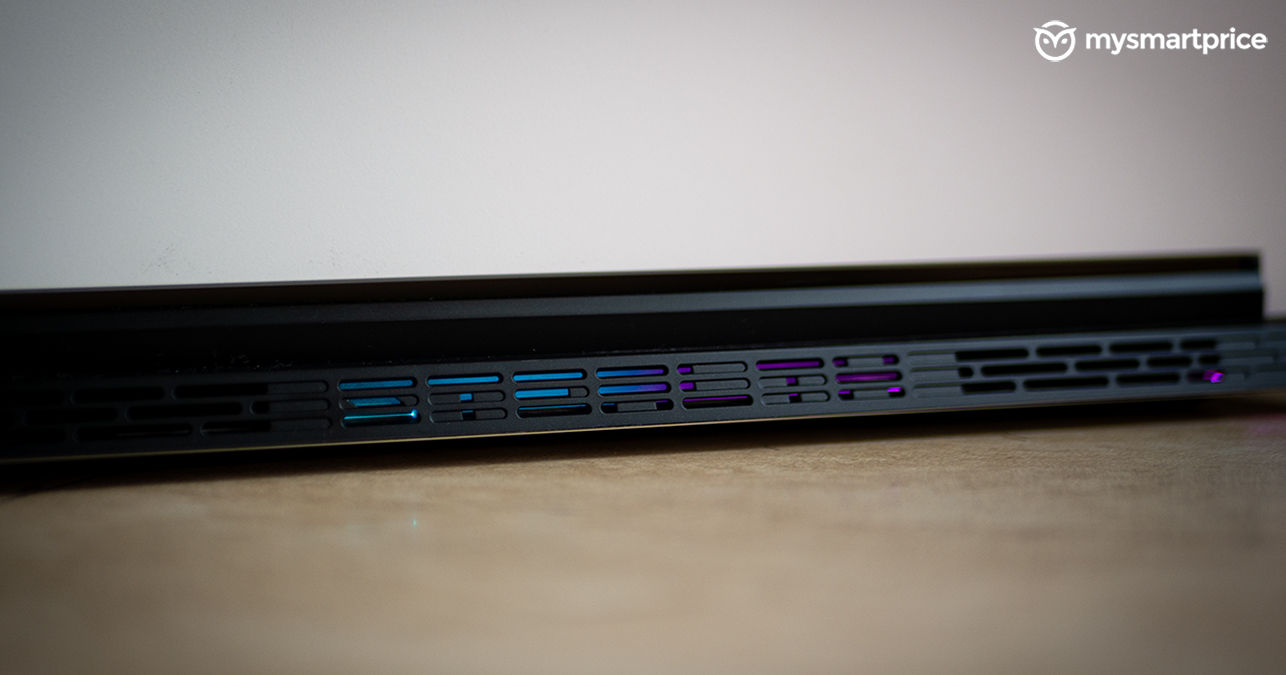 The Stealth Studio 14 compromises on port connectivity because of its smaller form factor. Regardless, you'll find most of the essential ones here. The left side features a power connector, an HDMI 2.1 port, and a USB Type-C port with Thunderbolt 4 support. On the right side, you'll find a USB Type-C Gen2 port, a USB Type-A port, and an audio jack.
Now, the single USB Type-A port can be a letdown — furthermore, its placement on the right side of the laptop makes using an external mouse a bit tougher, primarily when gaming. An ethernet jack and a microSD card reader slot are both missing. These would have been valuable additions.
The matte black painted keyboard deck tends to collect dust. MSI has focussed more on the trackpad, as the keyboard seems to be crammed on the upper side. Nevertheless, the keys are adequately spaced, avoiding any textual mishaps. The chiclet-style keyboard is responsive and has decent travel. While it is good for typing, we did not quite enjoy its company while gaming.
The arrow keys have been crammed between the Page Up and Page Down buttons. We've raged over this on multiple occasions. For RGB duties, MSI has partnered with SteelSeries with per-key lighting. You can tweak the colours on the MSI Center.
The trackpad is pretty large and gives you a lot of room to perform thumb acrobatics. The clicks are decent, too. On either side of the trackpad, you'll find a speaker grille. The audio output is crisp and clear and has a decent amount of bass. It's great for listening to music and even while watching movies. One downside, though — if you crank the volume to full, the chassis vibrates.
The 14-inch display runs at 240Hz for all your gaming needs. It has a resolution of 2560×1600 pixels and an aspect ratio of 16:10. The IPS panel covers 100 per cent of the DCI-P3 colour gamut. This is good for most games and can be used for photo or video editing.
With the MSI True Colour feature, you get granular control over the colour spaces, which is nice. The display is bright enough to operate outdoors, and the viewing angles are good. HDR video streaming is also supported on this panel.
Watching movies and TV shows on the display was a good experience, and the colours were close to natural. Games such as Death Stranding and Dying Light 2 also look quite immersive. At the top, you'll find a webcam that can record at 720p. The webcam quality is average and tends to switch between colour temperatures when on a call. You also get a physical shutter button and LED light for privacy.
MSI Stealth 14 Studio Review: Performance
An Intel i7-13700H powers the MSI Stealth Studio 14.
The laptop has 16GB of LPDDR5 RAM running at 5200MHz.
Inside, the Stealth 14 Studio is powered by Intel's i7-13700H. The processor has 14 cores (6P + 8E) and 20 threads. It can go up to a boost clock speed of 5.0GHz while drawing a base power of 45W. Comparing it to last year's i7-12700H, we can see a bunch of improvements, especially in the power efficiency department. Seeing these components fit into a smaller footprint that barely weighs much is pretty impressive. As for connectivity, you get Wi-Fi 6E and Bluetooth 5.3.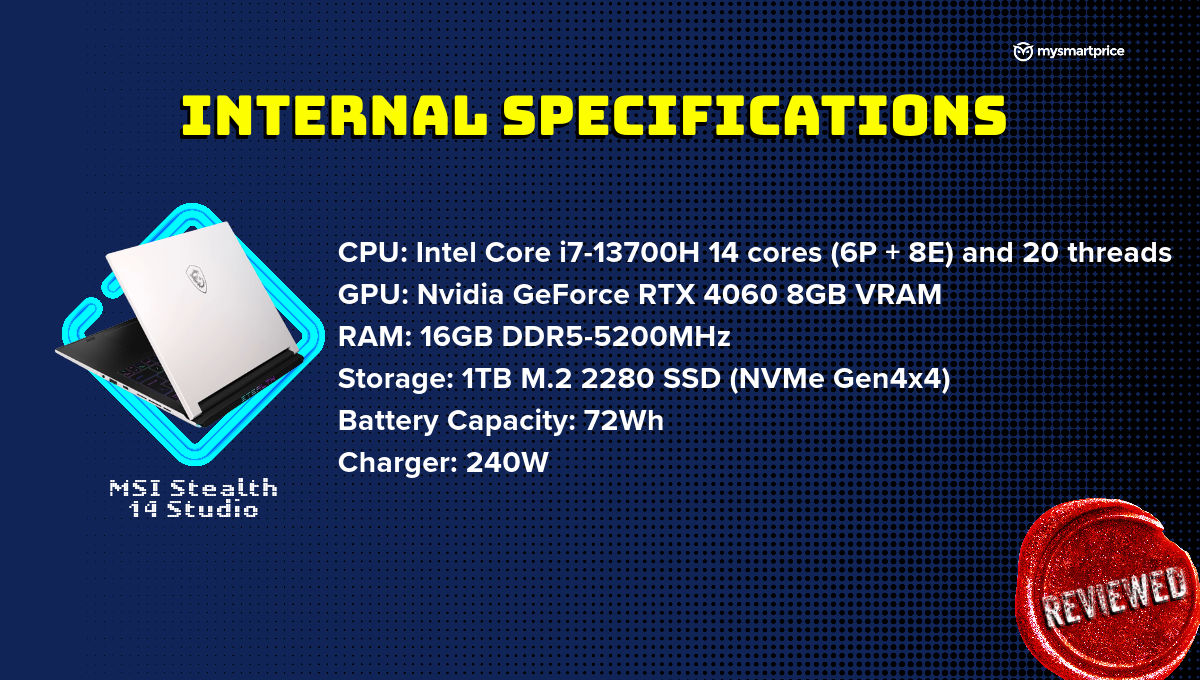 The laptop is capable of breezing through intensive tasks and games without much of an issue. We did not experience a single hint of struggle, and the benchmark numbers concur.
While it falls behind in Cinebench R23 tests, the Stealth 14 Studio beats the Asus TUF Gaming A15 (Review) and Gigabyte Aorus 15 BSF (Review) in multi-core tests. However, the price difference should also be considered. In 3DMark's CPU profile tests, it scored a maximum thread of 8,080, which easily beats the Omen Transcend 16. In gaming-centric benchmarks such as Port Royal, it returned a score of 4648.
As for CrystalDiskMark, the SSD speeds were rather impressive. We managed to clock a sequential read and write speed of 6550 MB/s and 4721 MB/s, respectively.
Since the Stealth Studio 14 is also capable of video editing, we ran a render test using a 10-minute 1080p video spiced up with a few graphical templates. It took the laptop exactly five minutes to export the entire sequence.
Like most companion apps in gaming laptops, the Stealth Studio 14 also gets one. The MSI Center is a handy tool that is easy for laymen to use. Inside, you get to monitor hardware usage, run diagnosis, tweak around with RGB presets, and more. You can also switch to the discrete GPU here for better game performance.
The laptop can run most AAA titles without much fuss. If you plan on playing at native resolution, we recommend choosing the medium graphic preset for optimal performance. Playing at higher settings is best reserved for the full HD resolution option. The benchmark numbers below should help you give an idea. All the games mentioned have been played at 'High' preset settings and native resolution.
| | |
| --- | --- |
| Games | Average Frame Rates (FPS) |
| Apex Legends | 80fps |
| Valorant | 187fps |
| Counter-Strike: Global Offensive | 250fps |
| Death Stranding | 84fps |
| GTA V | 82fps |
| Shadow of the Tomb Raider (Benchmark) | 100fps |
| Dying Light 2 (Benchmark) | 80fps |
Speaking of the thermal situation, while delivering infinite parcels around Death Stranding, we noticed the keyboard warming to 42.6 degrees — primarily around the WASD keys.
There weren't many apparent stutters, with the Stealth Studio 14 throwing out air at audible levels. However, the underside of the laptop is also prone to heat, so it's best kept on a table.
MSI Stealth 14 Studio Review: Battery and charging
It has a 72Whr battery inside
You get a 240W charger inside the box
The Stealth 14 Studio carries a 72 WHr battery inside. Gaming laptops are notoriously known for their short battery life, and this one also falls under the same category but with a slightly more appropriate run time.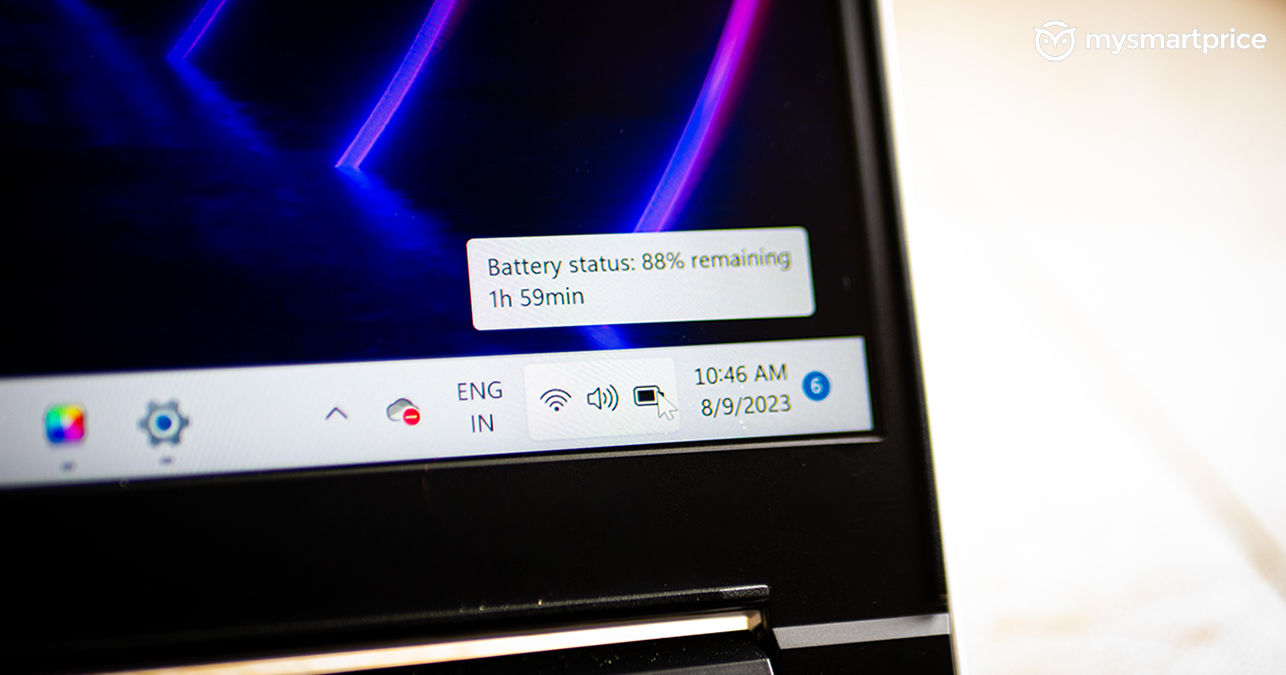 The laptop lasted us roughly three hours with medium usage. It lasts more than the Zephyrus M16 (2023), which has a larger battery capacity — but also more power-hungry components. It's best if used with integrated graphics for a slightly longer battery life.
The 240W charger inside the box fills up the battery in about two hours and fifteen minutes.
MSI Stealth 14 Studio Review: Verdict
MSI's attempt at fitting these components in a smaller form factor is commendable. And it does so whilst looking good. The 14-inch display is sufficient for gaming movie watching, and filling up infinite numbers on Excel — in short, it's a versatile panel. The keyboard and trackpad experience was pretty good, paired with per-key RGB goodness.
The Stealth Studio 14 deals with daily tasks and office work with ease. It also handles demanding games and video editing software well. While the battery life is still somewhat palatable for a gaming laptop, the heating situation could have been controlled better.
The Stealth 14 Studio is a good choice for gaming and balanced usage, but if battery and heating woes worry you — the Asus TUF A15 (Review) could be a good alternative. As for other options, the Gigabyte AORUS 15 BSF (Review) is also available at a lower price. However, the Zephyrus G14 (Review) is a way more cost-effective solution than these, except it's a year old.
If you want more CPU power (which comes at a cost), the Omen Transcend 16 (Review) with Intel i7-13700HX could serve you well.