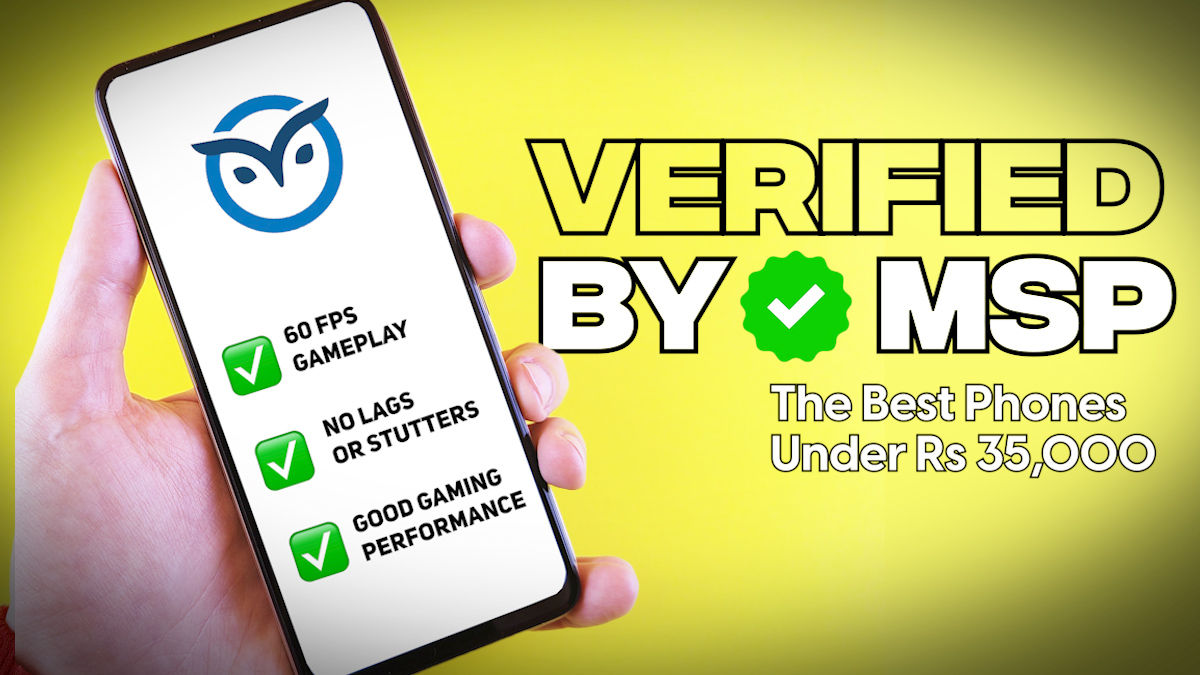 The number of gaming and performance-focused smartphones are in abundance in the market — especially in the mid-budget category. Just like you, we are also avid gamers who indulge in fun and furious BGMI, Farlight 84, New State Mobile and Call of Duty: Mobile sessions. But as reviewers, we dig a bit deeper, to ensure that your buying decision is made easier. So if you are looking to purchase a new phone under Rs 35k, especially for gaming purposes, then you are at the right place. All the smartphones in this guide have gone through MySmartPrice's rigorous testing process.
Poco F5 – Near Flagship-like Performance
The Qualcomm Snapdragon 7+ Gen 2-powered Poco F5 is a great option for gamers in this price bracket. The Poco F5 comes in 8GB and 12GB LPDDR5 RAM variants. This phone is targeted towards performance- and gamer-centric audiences. It is evident from the fact that it managed a category-leading score of 1128404 in AnTuTu v9.
In our extreme gaming test video, the phone gave us a constant of 60fps with the graphics set to HD and frame rates at Extreme. The F5 also lets you unlock the 90fps mode in New State Mobile. The game ran well, except for some frame drops when parachuting down.
The Poco F5 has another ace up its sleeves — a 12-bit display. Well, technically, it's just a 10-bit panel capable of reproducing a billion colours, the extra 2 bits come along using software trickery. Still, it's a great display with punchy, vibrant colours. It also gets a 3.5mm headphone socket, so gamers should be able to use their wired headsets.
It comes with a 67W charger in the box. The phone comes with its fair share of bloatware, so that's one thing you should be aware of.
We recommend getting the base variant of the Poco F5 with 8GB RAM. This should suffice your gaming needs, plus the higher variant falls closer to the iQOO Neo 7 Pro and Nord 3 price range.
iQOO Neo 7 Pro — A Gaming Powerhouse
The hype around the iQOO Neo 7 Pro is because it is the cheapest phone with the Qualcomm Snapdragon 8+ Gen 1 processor. This is paired with up to 12GB of LPDDR5 RAM. In AnTuTu v10, the phone returned a score of 1290468 with "Monster Mode" enabled, safe to say it outperforms most other phones in this segment.
In our extreme gaming test video, the iQOO Neo 7 Pro averaged around 60fps in BGMI. It could also run at Ultra HD graphics preset maxing out at 40fps along with Ultra frame rates, New State Mobile gave us a 90fps option. The charging situation is also handled quite well with a 120W brick, which is the fastest in this price range.
While all that is good, the Neo 7 Pro offers just two years of OS upgrades and comes with a fair share of bloatware.
The base variant should fulfil your gaming needs. The 12GB/256GB variant goes above the 35 grand price limit, but it still scores high on the value-for-money quotient.
OnePlus Nord 3 — A Flagship Killer in the Mid-Range
The OnePlus Nord 3 goes neck-to-neck with the iQOO Neo 7 Pro, not just in terms of pricing, but also performance. OnePlus went all out here – there's a MediaTek Dimensity 9000 SoC at the helm and its RAM capacity reaches 16 gigs. Heck, even my laptop does not have that much memory. All this enables the Nord 3 to have an AnTuTu v10 score of 1040639 with High-Performance Mode (HPM) enabled.
The graphics and framerate presets are similar to the iQOO Neo 7 Pro, and so is the performance. It churns out unhampered 60fps in BGMI and up to 90fps option in New State Mobile.
The no-bloat UI is quite refreshing in this segment and something potential buyers will cherish. It comes with an 80W charger in the box. The Nord 3 does not cut any corners in the camera department either.
The base variant of the Nord 3 should be good enough for almost every performance enthusiast. We honestly don't believe anybody needs the overkill 16GB variant. Instead, if you have that much money, get the OnePlus 11R.
iQOO Z7 Pro and Vivo T2 Pro — Brothers In Arms
The iQOO Z7 Pro and Vivo T2 Pro are not necessarily gaming smartphones, but the MediaTek Dimensity 7200 SoC ticking inside makes them quite capable. Both phones share similar features on the interior and exterior, including the ring light at the back.
They perform comparably in AnTuTu benchmarks, with a bit of up and down between each other. BGMI can run at HDR graphics and Ultra frame rates on these phones. The experience was quite good without any lags or stutters that would cause you a round. Moreover, the heating was also under control in our gaming test video.
The iQOO Z7 Pro has a lot of gaming-centric features such as Monster Mode, and 4D game vibration, among others — which is good to see on a phone not sold as a gaming device. Both devices also come with a good design and curved display, but they cut down on the camera capabilities by skipping on an ultra-wide angle shooter.
The mono speaker setup and bloatware can also be kind of a dealbreaker. The battery capacity, compared to a few other options in this price segment is also lower.
If the POCO F5 is not on a raging offer while you're shopping online, these two phones in their base configuration are an easy recommendation.
Infinix Zero 30 5G — A Good Gaming-Centric Option on a Budget
The Infinix Zero 30 is quite the looker with its green colourway. The phone offers a MediaTek Dimensity 8020 chipset and 8GB RAM. But, it excels in the storage section with a 256GB option for the base variant. The Zero 30 manages a score of 709608 in AnTuTu tests and glides through menial tasks.
Just like some other options in this price range, the Zero 30 can run BGMI at HDR graphics and Ultra frame rates. For 60fps gameplay, you might want to switch to Smooth and Extreme presets. The gaming experience was quite smooth without any major hiccups. The cooling was also handled well by the phone.
The Zero 30 has bloatware, somewhat tolerable for the price, but the one-year software promise might deter buyers.
There's only a Rs 1,000 difference between the two variants; so if gaming or multi-tasking is something you do a lot, the higher variant will be a better bang for your buck.
Infinix GT 10 Pro — Honourable Mention
The Infinix GT 10 Pro is the most affordable gaming-focused smartphone in the market. It focuses on not only the internals but also the externals with a very outgoing design language. The MediaTek Dimensity 8050 chipset with 8GB of RAM gives it a good performance boost for games.
It scored 724071 in the AnTuTu v10 tests, scoring above the Infinix Zero 30 at a lesser price. In BGMI, it can run on HDR graphics/Ultra frame rate at 40fps gameplay and 60 fps on Smooth/Extreme.
The most exciting part here is that the phone also supports 90 fps gameplay, which is great. The phone was able to manage thermals for the most part, but in our extreme gaming test, we saw it reach 42 degrees.
All in all, the Infinix GT 10 Pro is an excellent choice for gamers at this price.
MySmartPrice's Extreme Gaming Test Explained
If you have not watched through all of our Extreme Gaming Test videos, binge-watching them now is a great idea. They are entertaining and quite informative, if we may say so. We perform these stress tests on almost every performance-centric smartphone. The process is quite simple, and we install graphic-intensive games such as:
BGMI

Call of Duty: Mobile

CarX Street

Farlight 84

New State Mobile
The phones are then tested in a room with no fan and air conditioning. We make sure the battery is charged to 100 per cent and Aeroplane mode is enabled. All the mentioned games are then played in multiple different settings for two hours straight.
After every 30 minutes, we check the battery level and body temperature of the phone. This test helps you understand how the phone performs in the worst condition possible.
If gaming is not your thing and you want to check out smartphones with a good display or reliable battery life, we have verified guides for them too.