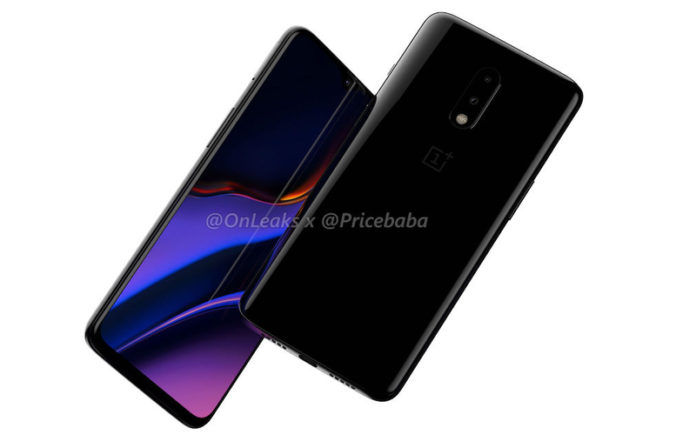 The OnePlus 7 has been making frequent appearances on the rumor mill for quite some time. Every week, we get reports claiming key details about the upcoming flagship. The latest leak comes from Ishan Agarwal stating the unconformity of the specs. Although tentative, it manages to give us a sneak peek of what to expect.
OnePlus 7 Latest Leak Hints At Dual Rear Cameras, Fast Charging, Reveals Availability
In his latest tweet, Ishan Agarwal revealed that the OnePlus 7 would feature a 48MP+24MP dual camera setup on the rear, which means that the phone will settle for a wide angle and an ultra wide-angle lens. He also stated in his tweet that the OnePlus 7 vanilla variant would not have a curved screen, in contrast to previous rumors. Furthermore, the phone may support 90hz refresh rate like the OnePlus 7 Pro, but with lower peak brightness.
The tweet also revealed that the OnePlus 7 would come with fast charging support and the design could look similar to the renders leaked by OnLeaks. As for the availability, the phone is tipped to go on sale starting May 22, 2019, in the US. However, T-Mobile subscribers would be able to buy the phone from May 14, 2019. The OnePlus 7 would debut in three color options.
Although the tweet did give us a slight idea about the OnePlus 7's availability, it did not specify the details concerning its sale timeline in India and other regions outside the US. OnePlus CEO Pete Lau recently confirmed the launch date via Twitter. The OnePlus 7 and OnePlus 7 Pro are set to debut on April 23, 2019.
Other Pre-launch Details About OnePlus 7
According to a report by The Verge, wherein the publication shared information extracted from the OnePlus chief, Pete Lau, the OnePlus 7 series would boast 2K Display with refresh rates of up to 90Hz refresh rate. In the report, Lau confirmed the existence of the OnePlus 7 Pro. He also hinted at 5G connectivity making both the phones in the series future-proof. As one can expect, the OnePlus 7 Pro version would be priced higher than the OnePlus 7, matching up to Huawei's recently launched P30 Pro smartphone.
The report also states that the company spent 3x more moolah and research on the new display. Lau claimed that the display on the OnePlus 7 series is smoother and faster than previous OnePlus phones. With 90Hz refresh rate, the new OnePlus 7 phones would match up with the gaming-centric phones by ASUS ROG Phone.
Going by all the recently surfaced details, the OnePlus 7 and OnePlus 7 Pro would make a dent in the market. Are you excited about their launch next week? Stay tuned with us to get all the updates as it happens. Share your opinion on the OnePlus 7 and OnePlus 7 Pro with us in the comments below.