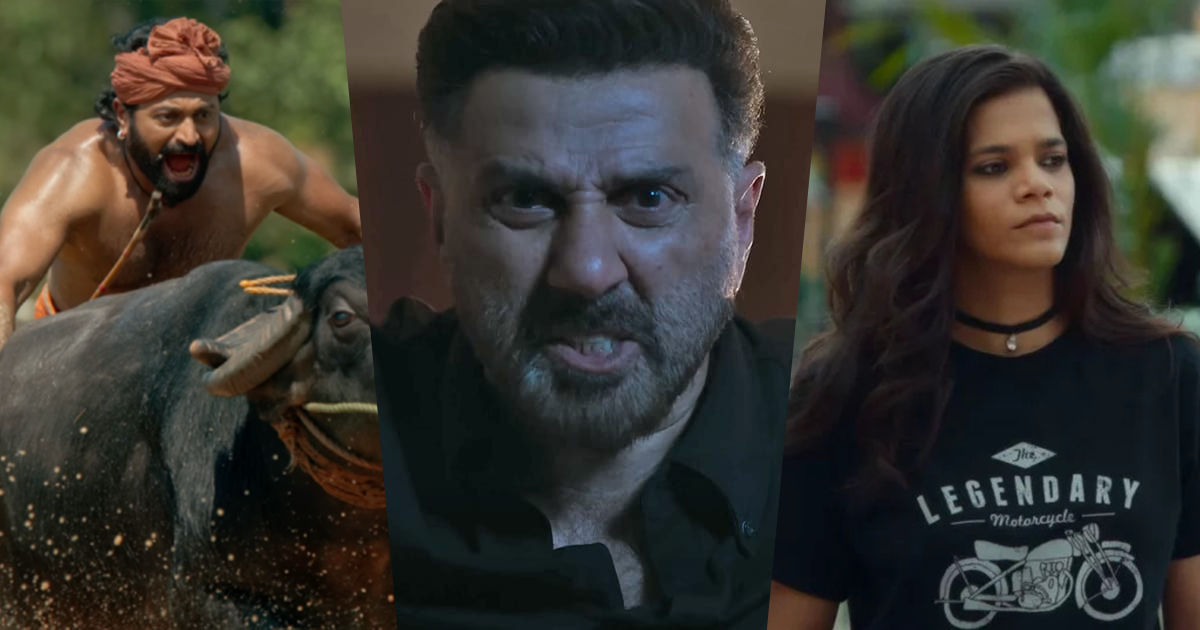 November is almost over, and OTT platforms this week have new releases planned for their audiences like exciting titles include Rishab Shetty's Kantara, Dulqeer Salmaan's Chup, and many others. And like every week MySmartPrice brings you all the major OTT releases in one place with as much information as possible so that you need not look anywhere else for your weekend entertainment information.
OTT platforms like Netflix, Amazon Prime, Voot, Disney+ Hotstar, Sony Liv ensure to bring fresh content for its viewers each week in order to keep them engaged. And this week we have multiple new OTT platform releases as well. A new watch list of the hottest things to watch on your favourite OTT platform. From action to romance, mystery, and drama, there are movies and shows of every genre. Here are the releases to watch out for.
New OTT Releases this Week
| | | |
| --- | --- | --- |
| Title | OTT Release Date | OTT Release Platform |
| Kantara | Nov-24 | Amazon Prime Video |
| Chup | Nov-25 | Zee5 |
| Girls Hostel 3.0 | Nov-25 | SonyLIV |
| Last Film Show | Nov-25 | Netflix |
| Padavettu | Nov-25 | Netflix |
| The Guardians of the Galaxy Holiday Special | Nov-25 | Disney+Hotstar |
| Khakee | Nov-25 | Netflix |
| Prince | Nov-25 | Disney+Hotstar |
| Meet Cute | Nov-25 | Disney+Hotstar |
| PS (1) – Hindi | Nov-26 | Amazon Prime Video |
Kantara ( Kannada, Telugu, Tamil, Malayalam)
Rishab Shetty's film Kantara was released in the theatres in the Kannada and Hindi versions on 30th September and 14th October, respectively. The film, written and directed by Rishab Shetty, amassed massive popularity within a few days of its release and set fire at the box office. The film crossed the Rs 400 cr gross and is still counting. The visually stunning film vividly depicts the traditional culture of Bhootha Kola and delivers the subtle message of eco-conservation. Kantara features Rishab Shetty, Sapthami Gowda, and Kishore Kumar G in pivotal roles.
Kanatara OTT Platform: Amazon Prime Video
Kantara OTT Release Date – November 24, 2022
Kantara Cast : Rishab Shetty, Sapthami Gowda, Kishore Kumar G
Kantara IMDb Rating : 9
Director: Rishab Shetty
Chup
Chas an ensemble cast of artists from different film industries. Chup is Dulquer Salmaan's third Hindi film in which he plays the role of a serial killer with a vendetta against critics who have given negative reviews of his work. The film is a nod to the late director Guru Dutt's 'Kaagaz Ke Phool,' which also received a lot of criticism.
Chup OTT Platform: Zee5
Chup OTT Release Date – November 25, 2022
Chup Cast : Amitabh Bachchan, Sunny Deol, Shreya Dhanwanthary, and Dulquer Salmaan
Chup IMDb Rating : 9
Director: R. Balki
Girls Hostel 3.0
The show is set in a girls' hostel and follows the stories of four girls who become political underdogs and raise their voices against various issues during their stay. Sharing the official plot details, the makers said, "Imagine a night in with four girls. Now imagine doing that for 4 years. In a building full of girls, that is a Girl's Hostel. Experience the Dushmani, the Dosti, the Pyaar, the Bhasad."
Girls Hostel 3.0 OTT Platform: Sony LIV
Girls Hostel 3.0 Release Date – November 25, 2022
Girls Hostel 3.0 Cast – Ahsaas Channa, Srishti Srivastava, Parul Gulati, Simran Natekar, Trupti Khamkar, Jayanti Bhatia, Kareema Barry, Tanvi Lehr Sonigra, and Akash Chopra
Girls Hostel 3.0 IMDb Rating: TBA
Director: Hanish D Kalia
Last Film Show
The Gujarati language film, India's official selection to the Oscars this year, was earlier released in theatres on October 14 and is now heading to OTT to further penetrate the audience base. Written and directed by Pan Nalin, the semi-biographical coming-of-age drama follows nine-year-old cinema lover Samay as he moves heaven and earth in pursuit of his 35mm dreams, unaware of the heartbreaking times that await him.
Last Film Show OTT Platform: Netflix
Last Film Show Release Date – November 25, 2022
Last Film Show Cast – Bhavin Rabari, Bhavesh Shrimali, Richa Meena, Dipen Raval
Last Film Show IMDb – 8.7
Directed by: Pan Nalin
Padavettu
The film follows Ravi, a talented athlete whose life is changed forever after he's met with an accident. He becomes apathetic to the happenings around him and withdraws from society. However, when a political party shows up to help his family, he gradually starts to open up again and find his voice. He becomes confident in himself once more and stands up against all odds. This socio-political drama features Shammi Thilakan in a pivotal role.
Padavettu OTT Platform: Netflix
Padavettu Release Date – November 25, 2022
Padavettu Cast – Nivin Pauly, Aditi Balan
Padavettu IMDb – 9
Directed by: Liju Krishna
The Guardians of the Galaxy Holiday Special
This movie is bound to be a treat for MCU fans as the makers wish to release this for the fans marking the end of Phase 4 for the MCU's. A lot of blockbusters have been released by MCU in the past and this is expected to carry on. With Guardians of the Galaxy, the MCU story carries on in its interesting and inimitable fashion.
The Guardians of the Galaxy Holiday Special OTT Platform- Disney+Hotstar
The Guardians of the Galaxy Holiday Special Release Date – 25th November 2022
The Guardians of the Galaxy Holiday Special Cast – Chris Pratt, Dave Bautista, Karen Gillan, Pom Klementieff, Bradley Cooper, Vin Diesel and Kevin Bacon
The Guardians of the Galaxy Holiday Special IMDb rating – TBA
Director – James Gunn
Khakee
This much-awaited show on Netflix is the official adaptation of the novel Bihar Diaries: The True Story of How Bihar's Most Dangerous Criminal Was Caught, by IPS officer Amit Lodha. The show focuses on the good cop vs the criminal and has a lot of action sequences. There are many twists and turns and nail-biting confrontations between cops and criminals.
Khakee OTT Platform – Netflix
Khakee Release Date – 25 November 2022
Khakee Cast – Neeraj Kashyap, Nikita Dutta, Shraddha Das, Avinash Tiwary, Ashutosh Rana, Ravi Kishen, Vinay Pathak,
Karan Tacker, Abhimanyu Singh, Jatin Sarna, Anup Soni, Aishwarya Sushmita, Amit Anand Raut
Khakee IMDb rating – TBA
Director – Bhav Dhulia
Prince
The story is set in rural India, where a teacher falls for a young British woman working as an English teacher at the same school. As he tries to woo her, conflicts start arising as they face the biggest hurdle of their lives – getting married.
Prince OTT Platform -Disney+Hotstar
Prince Release Date – 25th of November, 2022
Prince Cast – Premgi Amaren, Carl A Harte, Anandha Krishnan, Sathyaraj, Maria Ryaboshapkam, Sivakarthikeyan
Prince IMDb rating – 4.7
Director – Anudeep K.V
Meet Cute
In this story we deal with pure relationships in a modern world. The movie shows 5 heart-warming stories of accidental meetings between people. "Meet the boy" is the first, and is set in autumn, where we are introduced to the life of an accomplished IT professional girl who is loath to meet a boy for marriage. The second story is called 'Old is Gold" which traces the summer journey of Mohan Rao, a retired journalist and Saru. The third is called "InL(aw)ove", the story of a mother who follows her son's secret girlfriend. "Star Struck" the fourth story deals with the life of a person who gets stuck on the street and accepts a lift from a stranger. The last chapter is called "Ex Girlfriend" and is about the newly-married Anjana who runs into her husband Ajay's ex-girlfriend.
Meet Cute OTT Platform – Disney+Hotstar
Meet Cute Release Date – 25 November 2022
Meet Cute Cast – Adah Sharma, Sathyaraj, Aakanksha Singh, Varsha Bollamma, Ashwin Kumar, Ruhani Sharma, Rohini, Sanchitha Poonacha, Sunaina, Govind Padmasoorya, Raja Chembolu, Raja Chembolu, Dheekshith.
Meet Cute IMDb rating – TBA
Director – Deepthi
PS (1) – Hindi
Mani Ratnam is the director of this movie and he, along with Elango Kumaravel and B Jeyamohan serve as writers. Madras Talkies and Lyca Productions have taken on production duties. The movie follows the life of Arulmozhi Varman, a Chola prince, who goes on to become the famous emperor Rajaraja.
PS1 OTT Platform – Amazon Prime Video
PS1 Release Date – 26th November 2022
PS1 Cast – Vikram, Jayam Ravi,, Trisha Krishnan,Karthi, , Sobhita Dhulipala, Aishwarya Rai Bachchan, Jayaram, Aishwarya Lekshmi,, Ashwin Kakumanu,Vikram Prabhu, Parthiban Radhakrishnan,Sarath Kumar, Prakash Raj, Prabhu, Lal,Aswin Rao, Nassar, Nizhalgal Ravi,
PS (1) IMDb rating – 8.3
Director – Mani Ratnam
That rounds off the watchlist for November. So pick your favourite OTT and start bingeing your favourite show now!
Other OTT Releases this Week
| | | |
| --- | --- | --- |
| Title | OTT Release Date | OTT ReleasePlatform |
| Wednesday | Nov-23 | Netflix |
| 2022 FIFA World Cup | Nov-23 | JioCinema |
| India vs NZ | Nov-23 | Amazon Prime Video |
| Australia vs England | Nov-23 | SonyLIV |
| WBBL 2022 | Nov-23 | SonyLIV |
| First Love | Nov-23 | Netflix |
| Blood, Sex and Royalty | Nov-23 | Netflix |
| Trevor Noah: I Wish You Would | Nov-23 | Netflix |
| Christmas on Mistletoe Farm | Nov-23 | Netflix |
| NYC Revealed: S2 | Nov-24 | Curiosity Stream |
| The Noel Diary | Nov-24 | Netflix |
| Hostel Days | Nov-25 | Hoichoi |
| Ghislaine Maxwell – Filthy Rich | Nov-25 | Netflix |
| Good Night Oppy | Nov-25 | Amazon Prime Video |
| Unstoppable 2 with NBK: Ep 4 | Nov-25 | Aha Video |
| Haar Mana Haar | Nov-25 | Zee5 |
| Home Economics S3 | Nov-25 | Lionsgate Play |
| Paradise City | Nov-25 | Lionsgate Play |
| Crashing Through the Snow | Nov-25 | Hallmark Movies |
| Good Morning Christmas | Nov-25 | Hallmark Movies |
| Next, Stop Christmas | Nov-25 | Hallmark Movies |
| Love 360 | Nov-25 | SunNxt |
| Korea No.1 | Nov-25 | Netflix |
| The Last Dolphin King | Nov-25 | Netflix |
| Autorichskawkarante Bharya | Nov-25 | Simply South |
| Hollywood Beauty Salon | Nov-26 | DocuBay |
| Kochaal | Nov-27 | Zee5 |