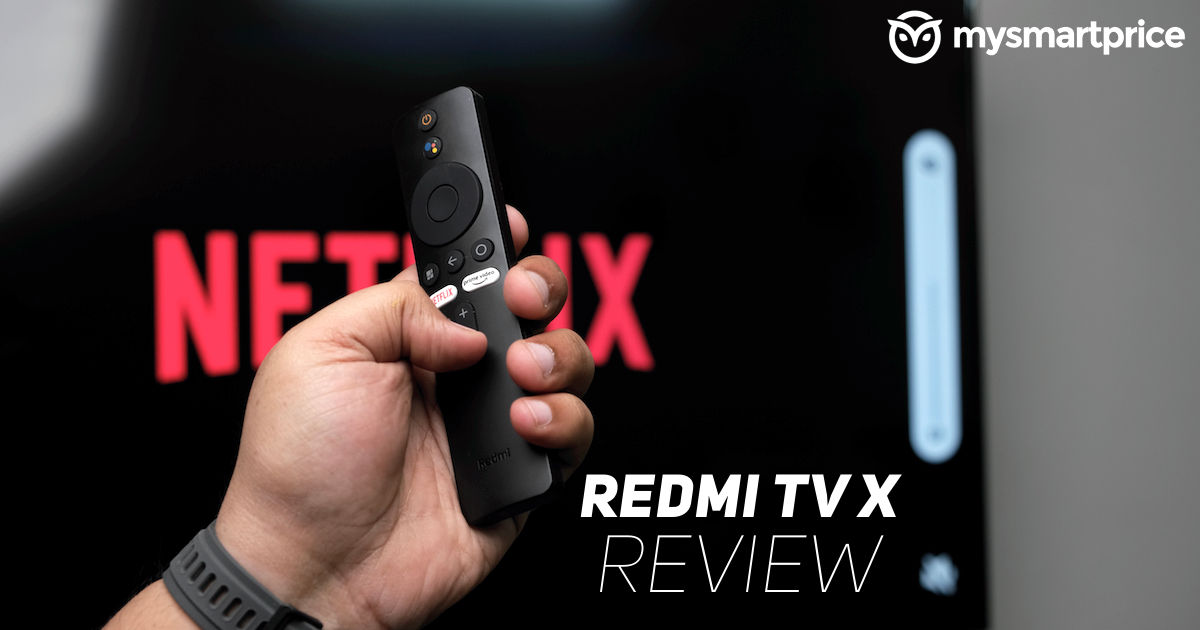 Honestly, if you ask me, there is no need for a separate Redmi brand to sell TVs in our country when the extremely popular Mi brand already exists. But, Xiaomi firmly believes that the TV market still has a lot of room for growth. And, by introducing its budget brand 'Redmi' in the TV category, Xiaomi hopes to create more inroads into the TV market in India. Basically, I can see Samsung, LG, and Vu going:
So, what I reviewed is the Redmi TV X 65-inch variant – the largest of the bunch in the new X series of Made in India TVs.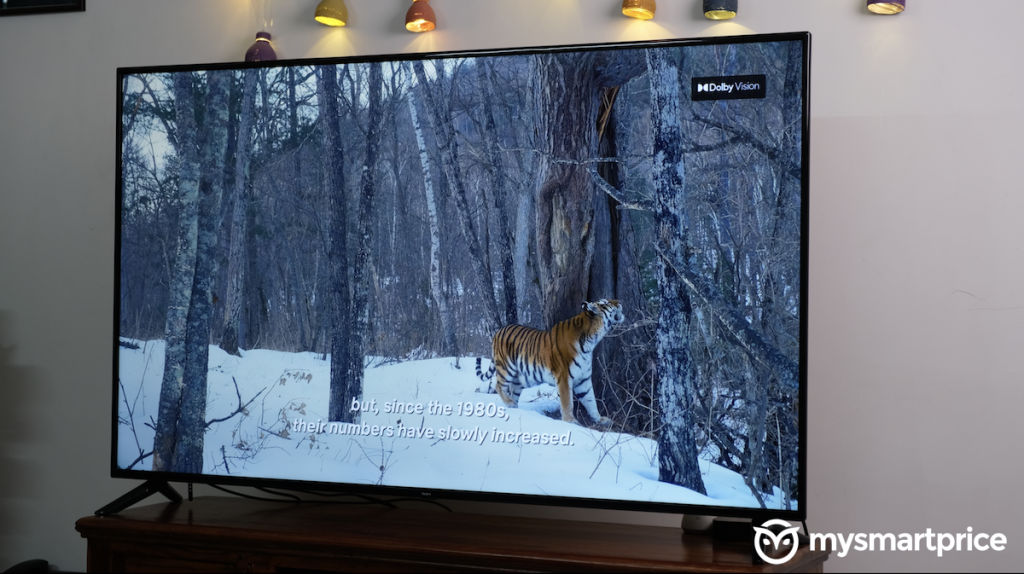 Design and Ports
So, this 65-inch TV is massive. This is the first time I have had the privilege of testing such a big TV. Therefore, I was taken aback by the sheer size of this thing. But, despite its size, the TV is pretty light, and my wife and I could easily table mount it on our TV unit ourselves. That said, the stands are too far apart, and very close to the bottom left and bottom right edges. This means that the TV was perched precariously on our TV unit.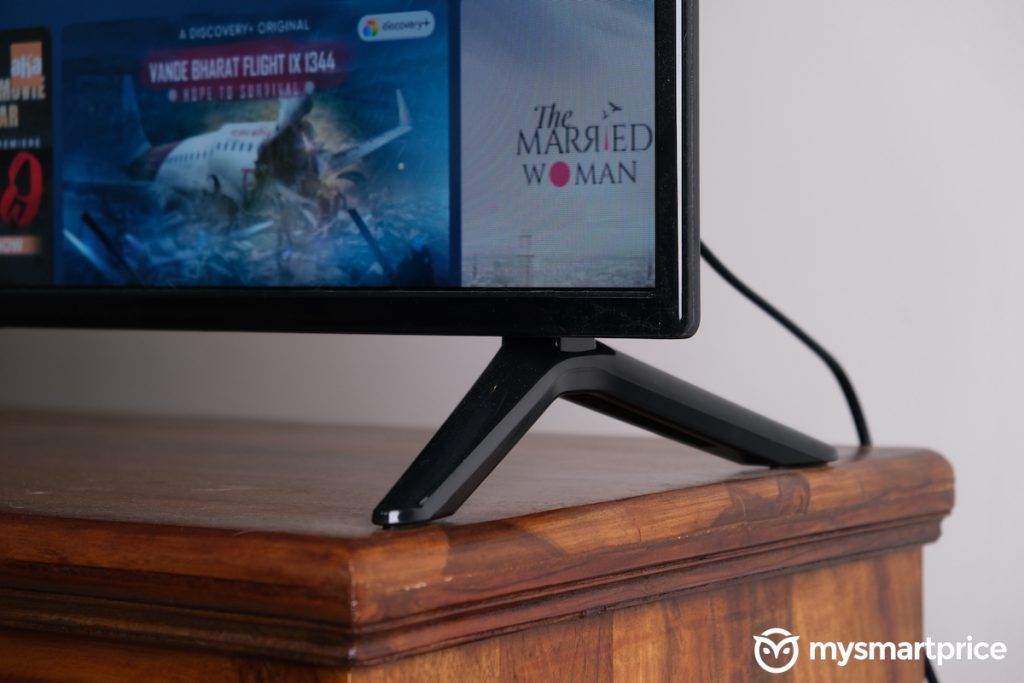 Talking about the stand, these are made of hard, glossy plastic. And, they are enough to take the weight of the TV. Although, considering its massive frame, it does tend to wobble when touched at the top. Anyway, the frame is made of plastic too. Heck, the entire construction is all glossy plastic. Not my favourite, but Xiaomi had to cut costs somewhere to reduce the price of the TV. Also, it's not exactly slim by 2021 standards for a TV.
Also read: Mi TV Q1 QLED 4K TV Review: Playing the Balancing Act
Moving on, the bezels around the display are slightly thick too. There's a tiny logo bang in the centre of the bottom bezel, below which is the white LED light and power button. Turning around to the back, you have a massive Redmi logo plastered, which is, frankly, a very odd placement and a needless inclusion.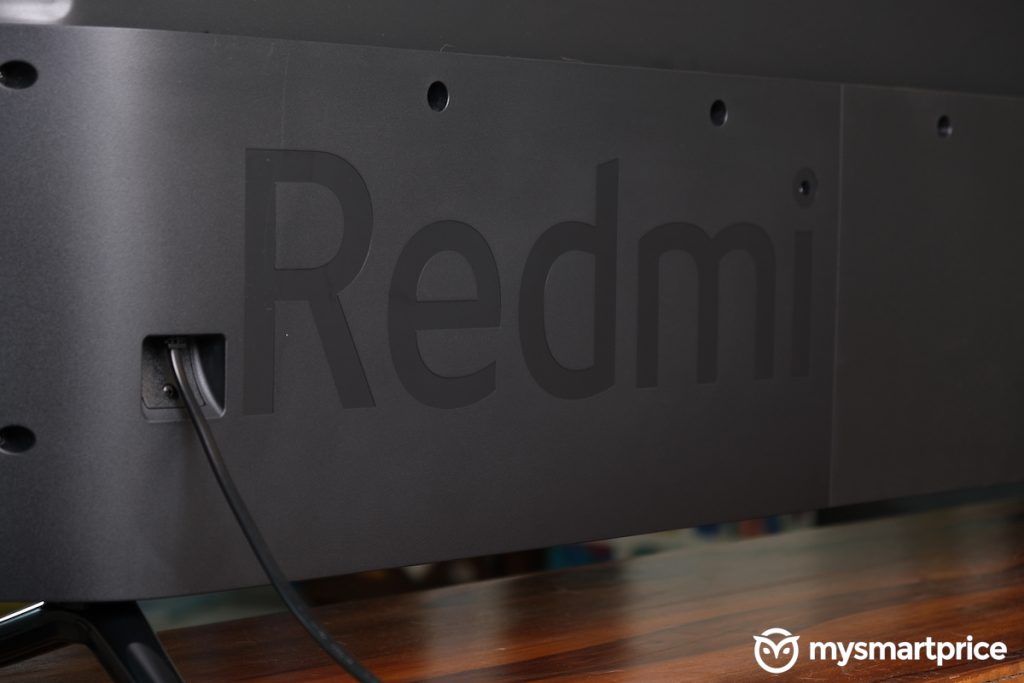 Although, I'm glad that Xiaomi is persisting with the L-shaped pattern for the port placements. Wherein, the most used ones, such as the three HDMI 2.1 ports, a couple of USB 2.0 ports, and a 3.5mm earphone out are all placed on the left. Whereas, you have the rest, such as the Ethernet port, Optical Out, Cable TV Antenna input, and the AV ports, on the underside.
Now, all the three HDMI ports use the latest HDMI 2.1 standard and support ALLM or Auto Low Latency Mode for reduced signal lag while gaming. Making it perfect for next gen consoles like the PS5 and the XBOX Series X. I tried gaming with the PS4 and the TV would automatically switch to the Game mode, which cuts out much of the processing to ensure there's very little input lag. One of the HDMI ports also supports the latest eARC standard, which means you can push a Dolby Atmos stream using a capable encoder/player. Unfortunately, I couldn't test that. Regardless, Xiaomi is going for the kill here.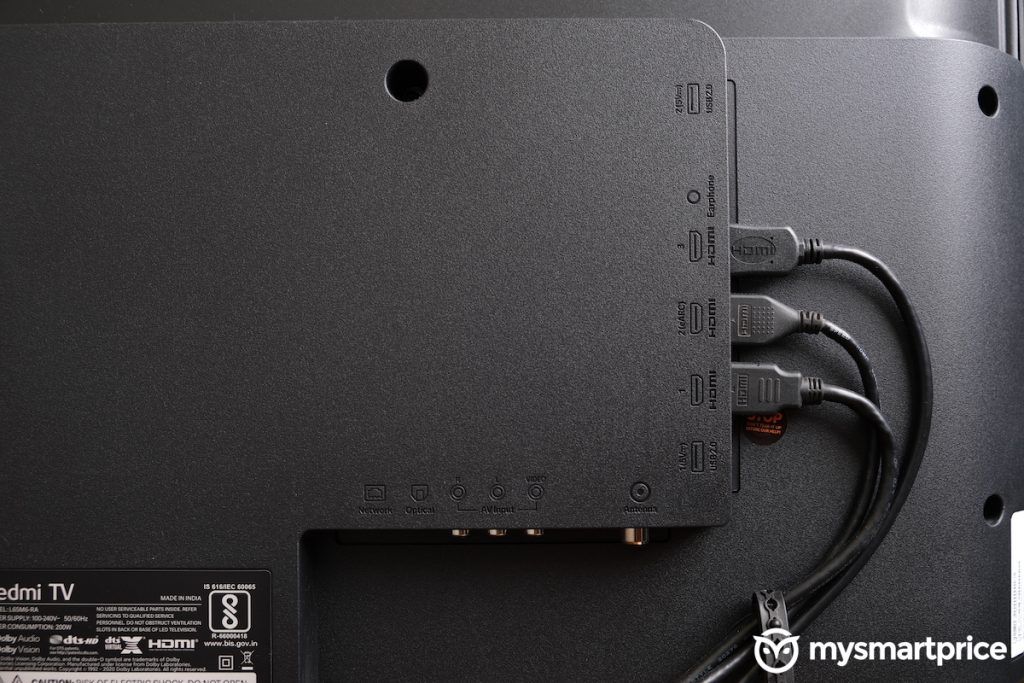 To sum it up, the TV has a very functional design language with the whole no-nonsense aesthetic. But it could seem too safe and boring for some. I don't care enough. It's a TV, the display is all that matters. Which is the perfect segue to…
Display Quality
…this massive 65-inch 4K LED panel. Now, Xiaomi uses a mix of IPS and VA panels. I could tell that mine was of the IPS kind. How? Because, it has pretty good viewing angles and an average contrast ratio. With VA panels, the contrast is generally better and, therefore, you get deeper Blacks. But, you will see colours fading even if you sit slightly off-axis.
As for the Blacks on the Redmi TV X, they are not very deep. And, I noticed some crushing too. But, I didn't find it too distracting or anything because this is par for the course for IPS LED panels. Although, I like the fact that colour tuning is done fairly well. You get multiple picture modes and I was fixated on the Movie mode with a Standard Colour temperature instead of the default Warm one. It gave me the most natural colour reproduction that I was looking for. There's support for MEMC as well, in the form of Motion Smoothing. It is good for sports but nothing more.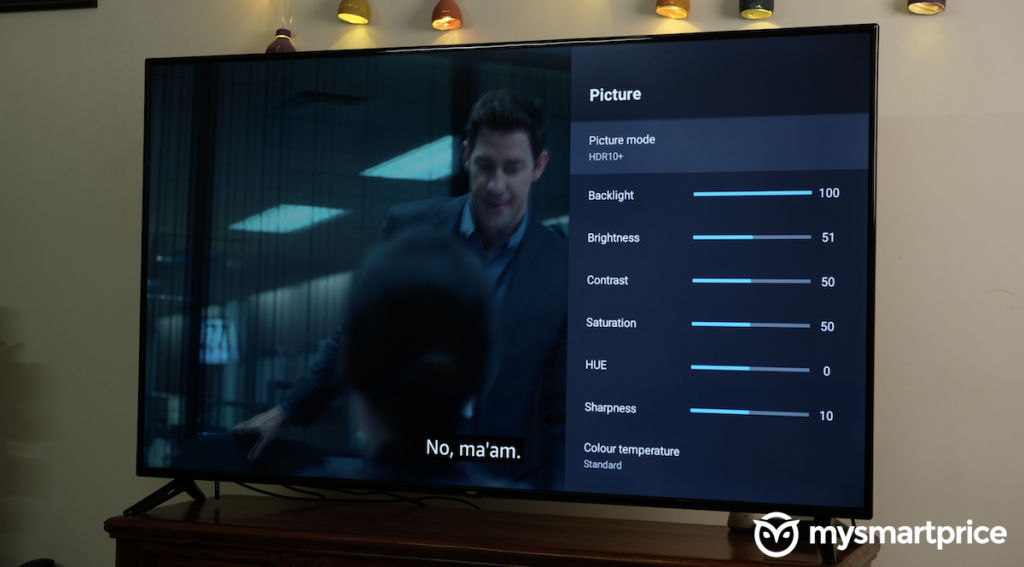 As for HDR support, you get all the formats here – HDR10, HDR10+, HLG, and Dolby Vision. So, whenever you play a Dolby Vision title on Netflix, you'll get a tiny pop up card indicating it. There are a few Dolby Vision titles on Hotstar as well, but most are upmixed from SDR content. YouTube has your standard HDR10 and HLG support, whereas you can find HDR10+ content on Prime.
The HDR performance of the TV is alright at best. It does a good job of maintaining the contrast to ensure that the brighter portions are not blown out. However, the panel doesn't get too bright or anything. I measured around 400 nits of brightness in the Interstellar docking scene. Which is why, the HDR performance doesn't look very vibrant even in titles such as Our Planet on Netflix. However, the colour accuracy is pretty good and you can switch between different colour formats, including BT.2020, DCI-P3, and more.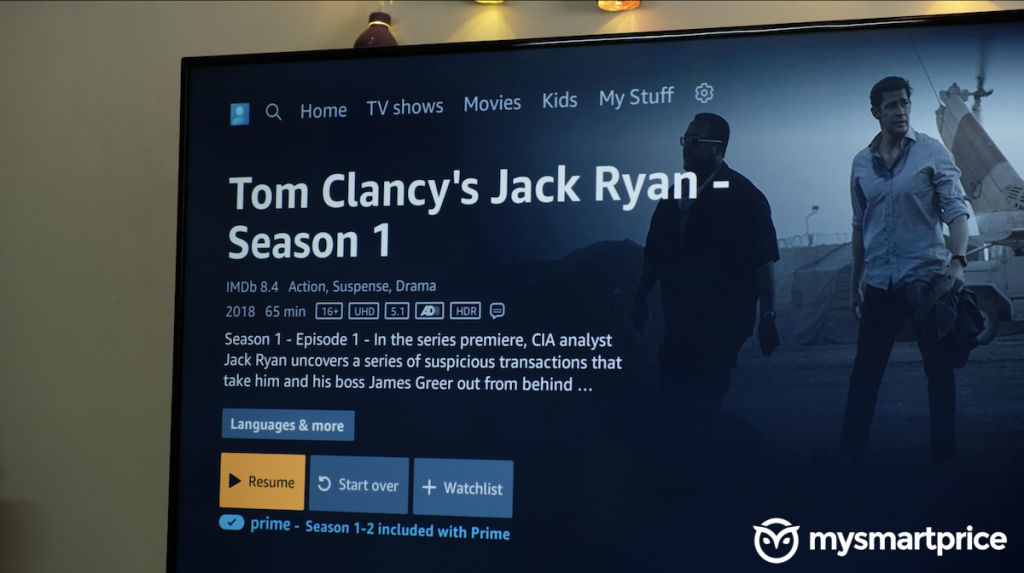 As for HD upscaling of 1080p and 720p content, it is good enough. Although, Dish TV content in SD does look odd on such a big panel. Please don't buy this TV if you want to use this for watching your Saas Bahu dramas in nonHD format. To close things off, the backlighting is completely edge lit, which is why you will see faded Blacks around the edges.
Essentially, just keep your expectations in check and you are good to go. Because, the picture quality is not bad or anything, and it is better than the Mi TV 4X. But, there are better IPS LED panels out there for sure. For example, HiSense and Toshiba TVs — which are in the ballpark range of this Redmi TV — have better LED panels but they are, unfortunately, not available in the 65-inch size.
Performance and Sound Quality
The Redmi TV X has a quad-core chip, Mali GPU, 2 gigs of RAM, and 16GB of storage. It is fairly fast for the most part but not as fast as the Mi QLED TV I tested recently. For example, I did notice an issue with the volume controls being slightly sluggish in response on certain occasions.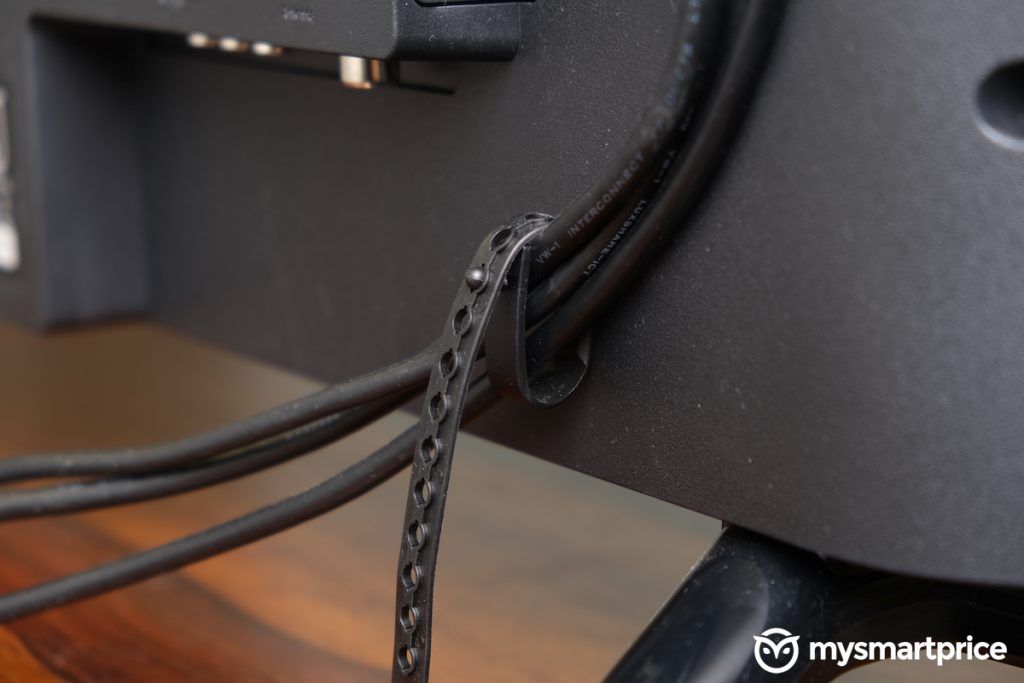 The Redmi TV X 65-inch comes with a 30W speaker but it sounds very thin. There is absolutely no bite in the low end. And, in a bid to add some dynamics to the sound, it ends up creating too much of a variance in levels. So, sometimes music will suddenly sound louder in a show and you will have to reduce the levels immediately.
Patchwall and Android TV
I am not going to spend too much time on Patchwall or Android TV 10, because I have spoken at length about it. What you need to know is that I really don't like the basic Android TV layout. It is very cumbersome and irritating to navigate.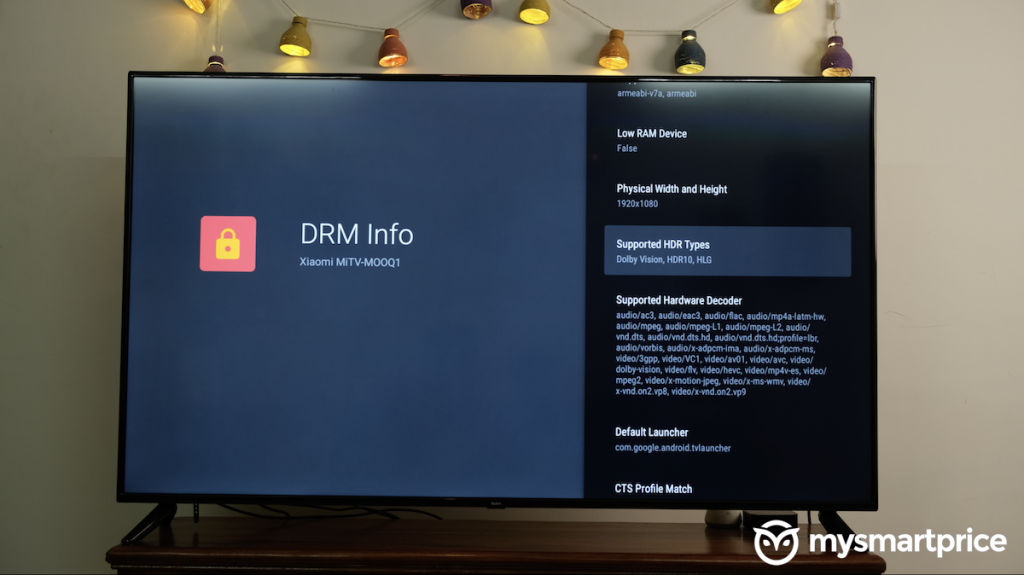 Patchwall, on the other hand, is evolving as an intuitive custom UI for TVs. I quite like how it has evolved over the years with easy access to content in the form of cards. I like the fact that curation is done really well. If you ever wanted to watch Dolby Vision or HDR 10+ content on Netflix or Prime Video, you have to go through hoops to find it. On Patchwall, it is curated in cards for easy access.
Also read: Realme Smart TV SLED 4K 55-inch Review – In Pursuit of Good Picture
With every new Xiaomi TV, the Indian software team working on Patchwall adds a new feature. In this one, it is the integration of Mi Home to Patchwall. It is a wonderfully laid out design with access to every Xiaomi device connected to your Mi Home app. Nicely done, Xiaomi.
Remote
The remote is exactly the same as the ones you find on the Mi TV. It is a basic plastic body with nice contours to sit in your palm snugly. What I like about the remote is that most of your needs are taken care of. The 'double tap volume down button to mute' has trickled down from the Mi QLED TV. Plus, the Patchwall button doubles up as a quick access for adjusting the sound settings or to cycle between HDMI inputs or to change just about any other function from the Menu on the fly. Furthermore, hitting the power button puts the TV on sleep and doesn't switch it off. And correspondingly, you can quickly wake it up too from sleep as well.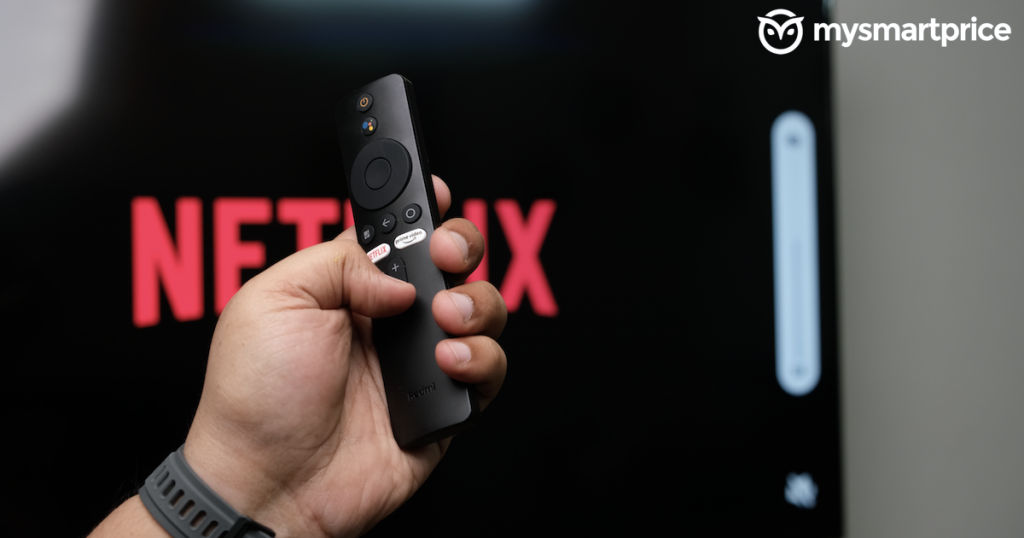 I found all of these pretty handy. But, do I have any criticism for the remote? Yeah, not really. It has the right balance of minimalism and necessary functions available for you.
Should You Buy the TV?
The Redmi TV X65 is priced at Rs 57,999. Honestly, I expected it to be priced lower considering you get options from Nokia, Motorola, Kodak, and Thomson for lower now. The Mi TV 4X has been permanently discontinued by the way. Now, if you are confused between this TV and the 55-inch QLED Mi TV, you need to know that you get 40% more viewing area on the Redmi TV X 65-inch. Which is still a very important factor while buying TVs because size does matter.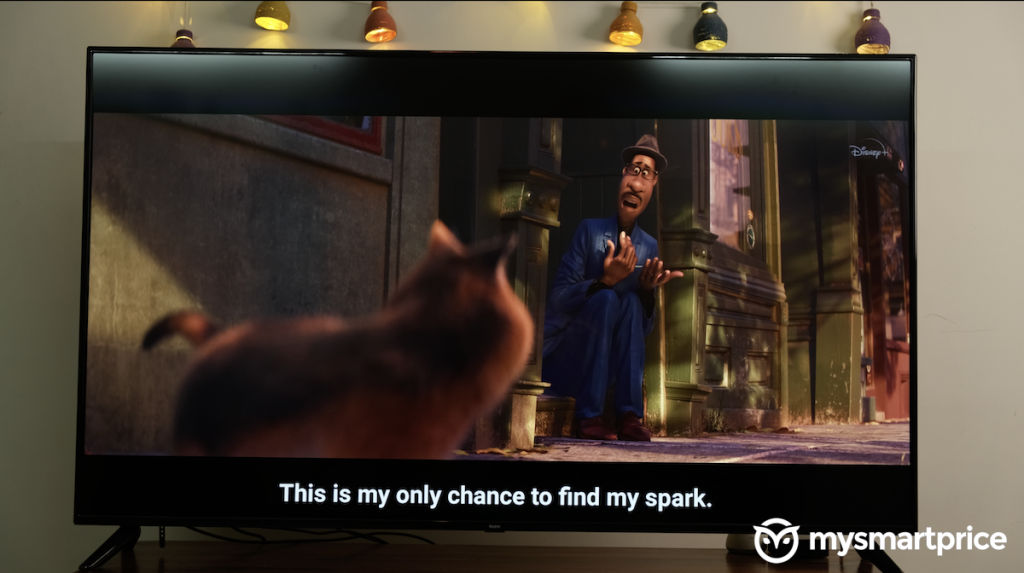 Is this the best 65-inch LED TV in terms of picture quality? Maybe not, considering there are better but expensive options from Samsung, LG, Sony, and the likes. But, in terms of features Redmi leaves no stone unturned. Also, when compared to a Kodak or Thomson, the Redmi TV has better display panel.
So, take a call accordingly. What do you think? Would you buy the Redmi TV over the other cheaper options in the market? Let me know in the comments below.