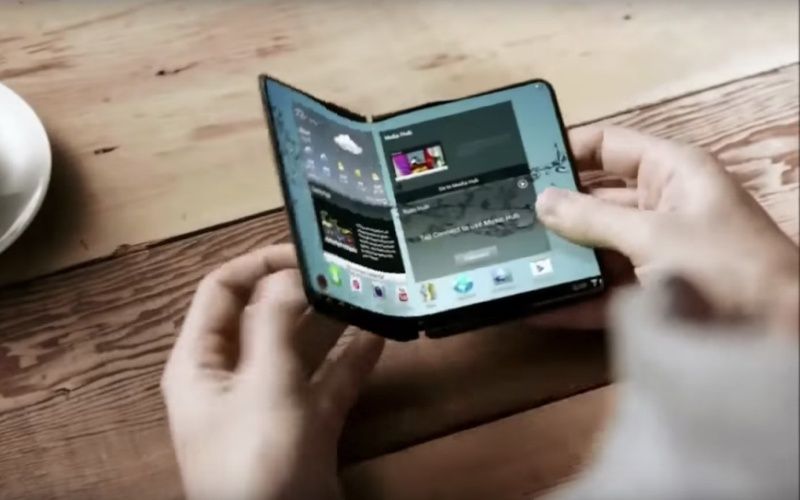 Samsung Electronics is expected to announce its first foldable smartphone at its upcoming Developer Conference, which is set to take place on November 07 and 08 this year. Ahead of the big event, a report published by Korea's The Bell claims Samsung has confirmed the display specifications of its foldable smartphone.
As expected, the report claims the Samsung foldable phone will have two OLED smartphones. Thanks to the two displays, the smartphone can be used as a smartphone when folded and as a tablet when opened.
Samsung Foldable Smartphone to Feature a 7.29-inch Main Display
Samsung's first foldable smartphone will come with two Super AMOLED displays. The main display is said to measure 7.29 inches diagonally, while the secondary display will measure 4.58 inches. Samsung will be marketing the displays as being 7.3-inches and 4.6-inches, respectively. When folded, the smartphone can be used as a regular smartphone, although the 4.6-inch display size may feel a little small for most users. When the foldable smartphone is opened, it can be used as a tablet, thanks to the large 7.3-inch panel on the inside.
Samsung Display, which is the manufacturer of both panels is expected to begin mass producing them this month. The initial volume will be around 100,000 units a month. Samsung Display expects to produce between 500,000 to 1 million units per year. Since Samsung will be the first major manufacturer to release a foldable smartphone, the company plans to sell only a limited number of units initially.
Samsung was reportedly unable to decide whether or not it should add a 4.6-inch panel on the outside. On the plus side, a panel on the outside would allow users to perform basic smartphone tasks such as making phone calls and chat with friends without having to open the phone. On the other hand, the addition of a display on the outside would make the phone thicker and increase power consumption at the same time. It would also raise the overall cost of manufacturing the device. In the end, however, Samsung decided that it would be advantageous to have a smaller display on the outside.
To ensure that its foldable smartphone is highly durable, Samsung is using a hinge developed by KH Vatec, a Korean company. When folded, the KH Vatec hinge ensures that there is a minute space between the two panels, preventing them from breaking upon impact. The hinge will also allow users to fold out the main display at various angles, similar to a notebook hinge. More details regarding the foldable smartphone will be revealed at the 2018 Samsung Developer Conference (SDC) in San Francisco, USA.
World's First Foldable Smartphone Already Announced
While Samsung is set to announce its first foldable smartphone next week, California-based start-up Royole has already announced what it claims is the world's first foldable smartphone. Dubbed FlexPai, the smartphone was unveiled this past week at a conference held in Beijing.
Royole FlexPai sports a 7.8-inch AMOLED display with 1920 x 1440 Full HD+ resolution and is said to run on a flagship Snapdragon mobile SoC. When it comes to memory, the foldable smartphone comes with up to 8GB of RAM and 512GB of onboard storage. In terms of optics, the foldable smartphone comes with a 16MP + 20MP dual-camera setup.
The FlexPai is priced at CNY 8,999 (INR 95,200 approx.) for the base version and goes up to a whopping CNY 12,999 (INR 1,37,500 approx.) for the top-end configuration.