Highlights
A Twitter user shared her hilarious conversation with a WhatsApp scammer.
The user offered a job to the scammer.
Funnily, the scammer blocked the user after she offered him a job.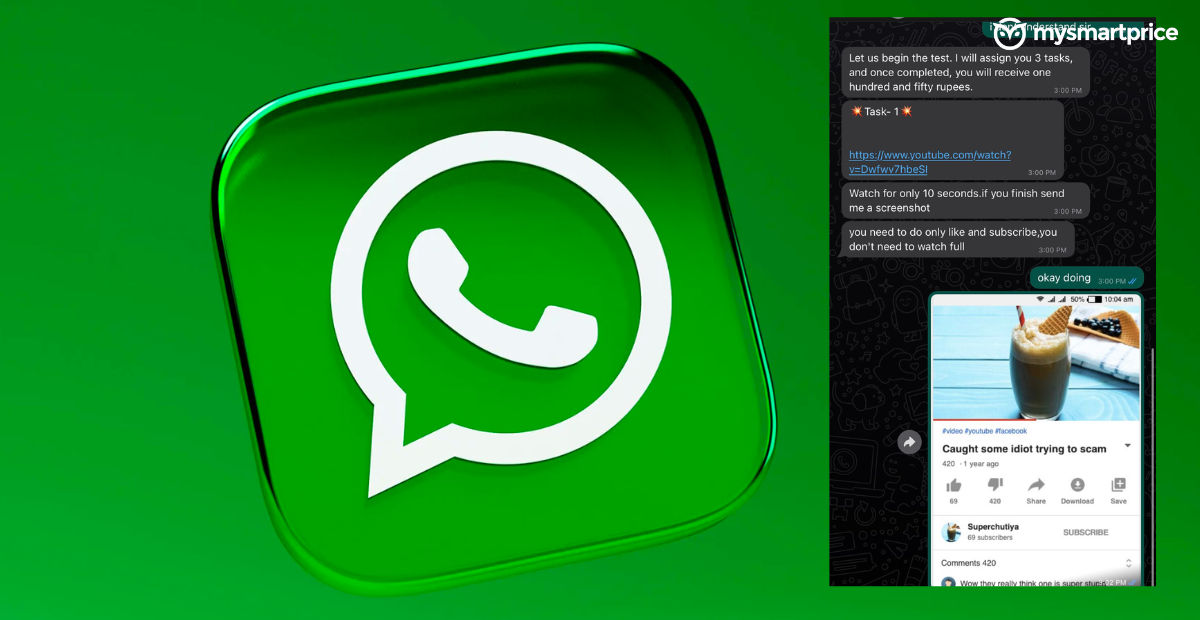 WhatsApp scams are becoming common nowadays, and some users accidentally fall for them. Lately, the most common scam WhatsApp users are facing is getting calls and messages from international numbers. Several users reported unknown voice calls from international numbers. However, WhatsApp is said to be working on a feature that will silence calls from unknown numbers.
In a recent conversation, a scammer had to block his victim because of her hilarious response to him. She shared all her conversations with the scammer on Twitter. Let's check out everything that happened between her and the scammer.
Woman's Hilarious Responses to the Scammer Got Her Blocked
A Twitter user named Udita Pal, an entrepreneur from Bengaluru and the co-founder of SaltPe, shared the hilarious exchange between her and the scammer. Udita received a message from an unknown international number with the country code 221 used for Senegal.
I'm going to hell for this 🔪 pic.twitter.com/84CK3v7HlM

— Udita Pal 🧂 (@i_Udita) May 5, 2023
The scammer introduced himself as Devikar, a recruiter in a Mumbai-based firm, Taurus Capital Company Limited. The scammer offers the lady a job that says she must like and subscribe to the company's videos. This a very common scam on WhatsApp where scammers ask users to like and subscribe for Rs 50 per video.
Now, the scammer asks Udita to complete her first task, i.e. to watch a video for 10 seconds and like and subscribe to it. Here comes the hilarious part, Udita, instead of opening the given video link, opens YouTube and plays a video titled 'Caught Someone Trying to Scam'. Then, she sends the scammer screenshot of liking and sharing that video.
Aur wo raaz unke block ke saath chala Gaya pic.twitter.com/GaNwQejOPF

— Udita Pal 🧂 (@i_Udita) May 5, 2023
This makes the scammer realise that Udita is aware of this whole conversation being a scam. However, he still asked her to like the video that he shared. Udita, to which, again, open YouTube and plays a video titled 'Idiot Still Doesn't Get it'. The scammer again asked her to open the link he shared.
Udita now confronts the scammer by saying they both know she is not getting paid. Surprisingly, she offers the scammer a job in her company and asks for his Linkedin account, but the scammer blocks her.
More Twitter Users Share Similar Conversation
After Udita's incident, more Twitter users slide into her tweet replies to share their hilarious conversation with the scammers.
A user named Sanjeev received a message from 'Gandhi, the manager at Coindesk' whereas a user @faisahme8 received a message from 'Dayami from Expo Job Consultancy'. There are many more hilarious conversations that you can read below.
from this morning.
"Gandhi" from CoinDesk pic.twitter.com/LiJRPmSDRd

— Sanjeev (@mrsanjeevg) May 6, 2023
Something I am also getting on the similar lines pic.twitter.com/j5iFLxqEgA

— F A (@faisahme8) May 7, 2023
This was yesterday
Even I was jobless 😄 pic.twitter.com/sykV7kv7J6

— Yathiraj Moolya (@yathirajmoolya) May 8, 2023
I received that too 🤣 pic.twitter.com/tqWqLYfjLk

— Viral (@viral_codes) May 5, 2023
They are sometimes so persuasive 😂 pic.twitter.com/2PZjq4CGFm

— Prathamesh by factos 👍 👀 (@PansePrathamesh) May 8, 2023
By far, you must have realised that such messages are scams, and the first thing you should do is report and block them. The frequency of such scammers is increasing day by day. Users are complaining that they are now receiving direct calls from such scammers. In such cases, you should block the number first.