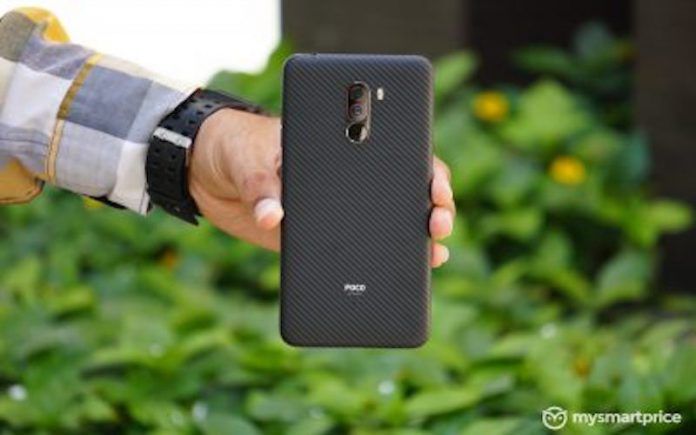 Xiaomi POCO F1 recently got treated to Android 9.0 Pie-based MIUI 10 stable update. The users sure were excited to receive the latest update for their budget flagship. However, their happiness was interrupted by some issues that started popping up after they moved to the new version. Xiaomi was quick to acknowledge most of these issues, but we don't know when the company will be able to fix all the known issues. Some of these issues include the battery drain, disability of hide-notch option, touch issues, and more.
Xiaomi POCO F1 Android 9.0 Pie Update Aftermath
Many of the Xiaomi POCO F1 users who installed the latest update, were quick to take it to Twitter. Xiaomi being a responsible OEM, tend to each complaint directed towards the POCO F1. The company promised every user that they are aware of the issues and are working on a fix for all of them. Of course, like every software-level issue, another software update is rolled out to fix the bugs. One of the issues that went down badly with the users was the battery drain issue. One of the users pointed that he is only getting 5 hours of battery backup after installing the new update. To recall, Xiaomi POCO F1 comes with a 4,000mAh battery, and with such capacity, the phone should not shut down in just 5 hours.
Hey Saumyadeep, we are aware of this. We are working on a solution. Rest assured, we will have it solved in the upcoming updates. Also, please share the feedback in the feedback app.

— POCO India Support (@POCOSupport) December 17, 2018
Another problem started with the disability of the hide-notch option. Due to this issue, many users are not able to play games or watch videos on a full screen. One of the users tweeted the screenshot of PUBG on his phone, which is not the full screen and with lesser screen real estate available, it seems to be a big issue for the mobile gamers who use the POCO F1. Answering one of such tweets, Xiaomi's POCO F1 team wrote, "We are working on a solution. Rest assured, we will have it solved in the upcoming updates."
Team looking into it. Feedback issue id is always helpful for the engineers. Thanks

— Alvin Tse (@atytse) December 15, 2018
Other Issues With POCO F1 Currently In Works
Earlier this week, Xiaomi shared a list of bug fixes and new features that they are working on, for the POCO F1. Going by this list, it seems that Xiaomi has a lot to solve concerning the POCO F1. Some of these issues include 'OK, Google' not working; Support for Widevine L1 (for using Netflix HD); Face Unlock support for apps; 4K 60FPS recording; Availability of Full-screen display for third-party apps; App Badges; and more.
Xiaomi POCO F1 Issues That Have Been Resolved, and New Features Implemented
All is not wrong in the paradise though, Xiaomi did fix some of the issues and implemented new features for the POCO F1. Let's take a look at them.
The company has included Night mode support for the POCO F1 alongside 1080P 960 FPS slow-motion in open beta. On the brighter side, the POCO launcher now supports Dark mode and custom app icon. Xiaomi has fixed the issue with the battery icon while charging. For the gamers, the compatibility issue with the Asphalt 8 and Asphalt 9 has been fixed. Moreover, notification overlap by Time and Weather data has been corrected.
Concerning the 'Status bar – no notifications app icons display' issue, Xiaomi recently announced that users on the beta version MIUI 10 Global 8.10.17 can now enable the feature like 'Settings-Notifications & Status bar-Show Icons for incoming notifications.' The company said that the app icons will start displaying either after unlocking the phone or when getting a new notification.
Well, to sum it up, issues with a new update are not good news for the users. Although Xiaomi has acknowledged the issues quickly, we hope it is quick enough to roll out a fix for them. While we are talking about the POCO F1, you can check out our review video for it.
Thanks for reading till the end of this article. For more such informative and exclusive tech content, like our Facebook page