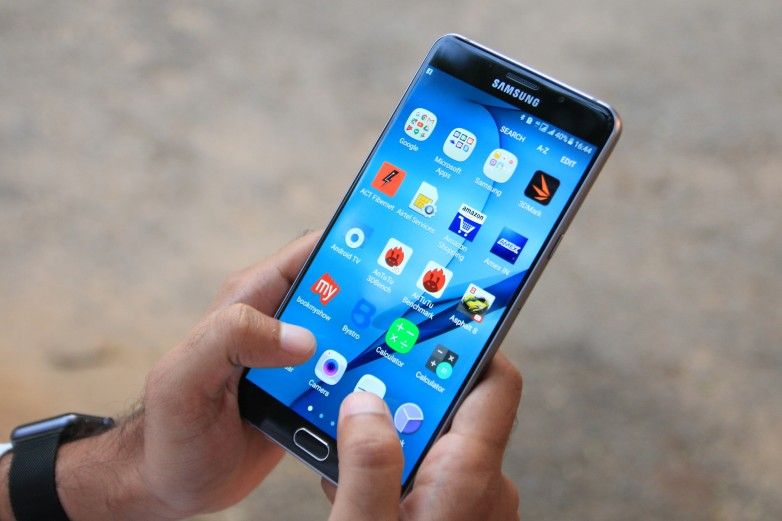 I can't think of many instances of irony more ironic than the fact that the USP of Rs 32,490 Samsung Galaxy A9 Pro happens to be its battery. I mean, it's a bit funny when you acknowledge that's exactly the reason for Samsung's newfound woes and a projected loss running into billions of dollars, not to mention the irreparable loss to the brand image. But even as more reports of Galaxy Note 7 exploding batteries pour in, allow me to reassure you that both me and my Galaxy A9 Pro review unit are in one piece. And with a battery that offers a colossal 5000 mAh capacity, this phone offers what most premium and upper mid-range phones don't because there the manufacturers are more concerned about keeping the phones light and slim.
This disregard for form in lieu of function allows the A9 Pro to be one of the very rare phones in this price segment to offer nigh dumb phone levels of battery backup, even while looking downright gorgeous. However, does the battery gimmick justify its price tag? Is the rest of the phone good enough as its USP? Well, there's only one way to find out.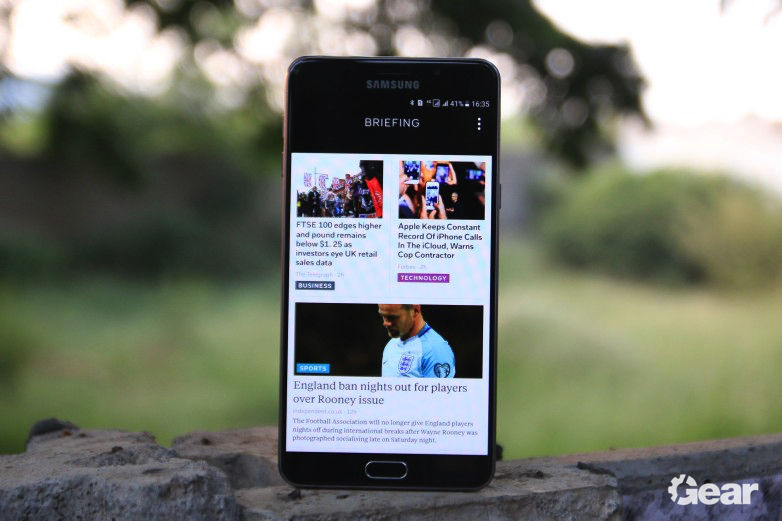 Samsung Galaxy A9 Pro: Design and Build Quality
The Galaxy A9 Pro is a veritable juggernaut. This 6-inch monstrosity weighs 210 grammes, which would go up to quarter of a kilo when you factor in a sturdy case. With that sort of heft, you can literally budgeon someone to death with the phone. And I'm not exaggerating here. The phone's comprised of tough aluminium chassis sandwiched between tastefully bevelled Corning Gorilla Glass 4 sheets on either faces. The whole shebang feels so sturdy and reassuring that you tend to forget that dropping this glass covered behemoth could result in a shattered screen or two. Needless to say, in the three-odd weeks that I have been using the phone, I have dropped it several times on hard granite and marble floors. At times, it has free fallen from a height of four feet onto my hard bathroom flooring, only to leave an imperceptibly small dent in the aluminium chassis.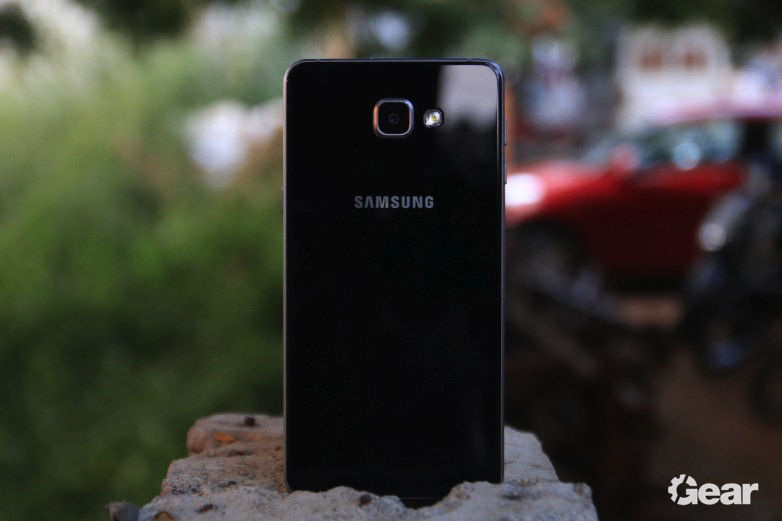 I know I'm making the Galaxy A9 Pro seem like a ugly hulking brute here, but it's more like an iron fist in a velvet glove. The 6-inch display sports a bezel of just over 2 mm on either sides, giving it a screen-to-body ratio of a little over 75-percent. That means, the phone isn't all that larger than the screen with a length of 6.37-inch and width of 3.19-inch. The thickness, however, has been increased over the plain vanilla Galaxy A9 (sans the Pro) to accommodate a 5000 mAh battery, which is a substantial 1000 mAh more than its slightly slimmer cousin. The phone looks gorgeous in a dual-tone finish comprising of grey aluminium chassis surrounding the  glass-covered black faces on either sides. The front is minimalist with the prominent chrome Samsung logo and a chrome lined Home button flanked by backlit capacitive App Switcher and Back buttons.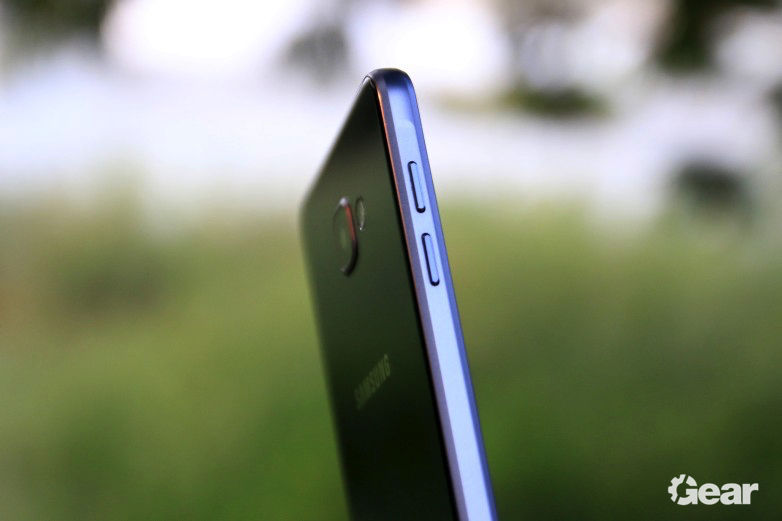 The black earpiece and the tiny 8-megapixel front camera disappear into the front fascia. There are two microphones on the top and bottom edges, which support active noise cancellation as well. What's more, you even get a micro-USB port and a headphone jack, which is increasingly becoming a rarity in these times. My only real grouse with the design is the single mono speaker sitting behind a grille drilled out into the bottom edge of the aluminium chassis. While I understand that the glass panels don't leave any other place for the speaker, but you're more than likely to block out the sound when holding the phone horizontally. You know, when you're watching videos and playing games, or otherwise using the speaker for its intended purpose.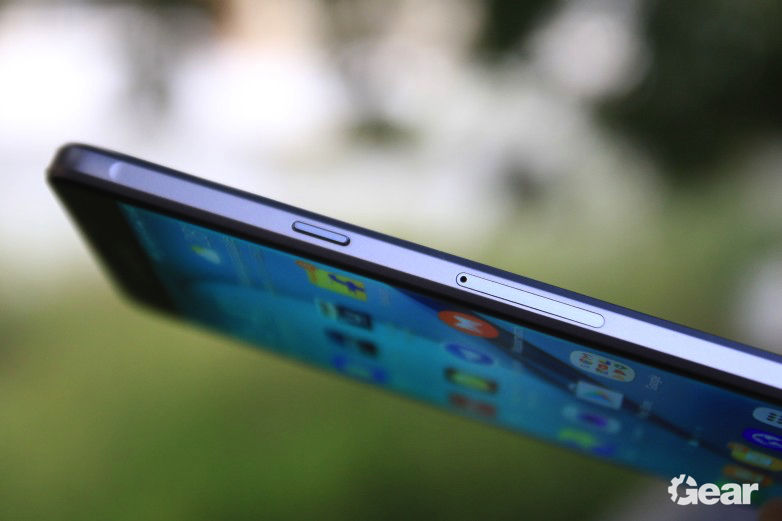 The sheer size of this device makes single-handed use futile. Samsung engineers have acknowledged this fact and positioned the power and volume rocker buttons in such a way that they fall naturally within reach of the left hand, leaving the right-hand free to interact with the touchscreen. Having said that, don't even bother to use the phone with only your right hand, because while reaching for the back capacitive button requires quite a bit of dexterity, hitting the App Switcher is nigh impossible without contorting hard enough to risk dropping the phone. Thankfully, the large size of the phone means that you get two separate card trays; one for a pair of nano SIMs and another dedicated tray to accommodate microSD cards of up to 256 GB capacity. The phone's rear end is equally minimalist with a conspicuous chrome Samsung logo resting below the protruding square 16-megapixel camera lens sporting the same grey aluminium bevel as the chassis. The camera is flanked by a recessed LED flash lined with a thin chrome bezel. Overall, the phone may be big, but it sure is pleasing to look at.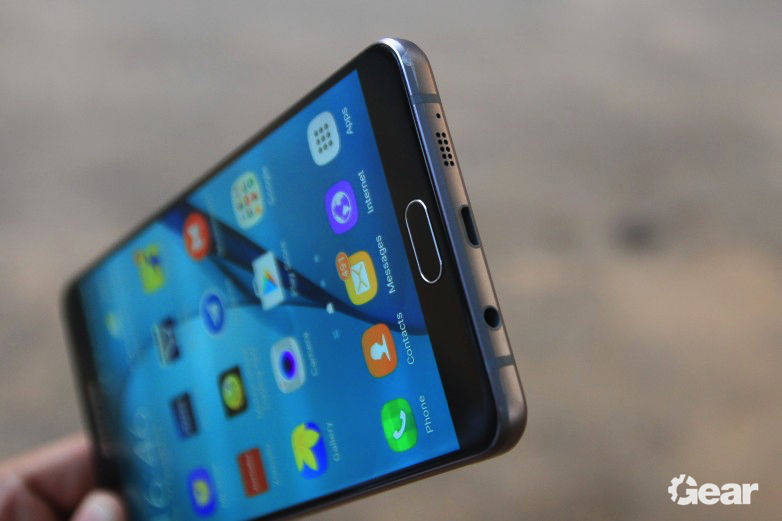 Samsung Galaxy A9 Pro: Hardware, Connectivity, and Performance
Samsung can get quite stingy when it comes to incorporating the basic necessities in its low-end phone, let's not forget that the Galaxy A9 Pro is an upper mid-range phone with a price tag of Rs 32,500. Thankfully, Samsung hasn't skipped the basics and has in fact been kind enough to incorporate pretty much all of the premium features one expects at this price range. For your money you get full LTE support, with VoLTE compatibility as well, dual-band Wi-Fi compatibility up to 802.11ac, Wi-Fi direct for connectivity with TVs and other devices, Wi-Fi hotspot, the latest Bluetooth v4.2, NFC, GPS with A-GPS and GLONASS, and not to mention FM radio with recording.
GPS navigation works flawlessly. The phone is able to get a lock quickly and the overall accuracy is top notch as well. The network reception is rock solid on both my Vodafone and Airtel networks, which is especially good because I have issues with Airtel on other phones. Latching onto and maintaining 4G internet speeds wasn't an issue either. The sensor array is complete with gyroscope, accelerometer, proximity and ambient light sensor, compass, and a fingerprint sensor. The fingerprint sensor incorporated into the home button, however, is a letdown compared to even the ones on mid-range and low-end Xiaomi phones. It's slower and requires the Home button to be pressed in order to wake up the phone. Not only does it only store three prints, as opposed to the industry standard of five, but it's also pretty slow and tends to glitch at times. In fact, after using the lightning quick fingerprint sensor on the Xiaomi Mi Max, I was dissatisfied enough to turn it off altogether on the Samsung Galaxy A9 Pro.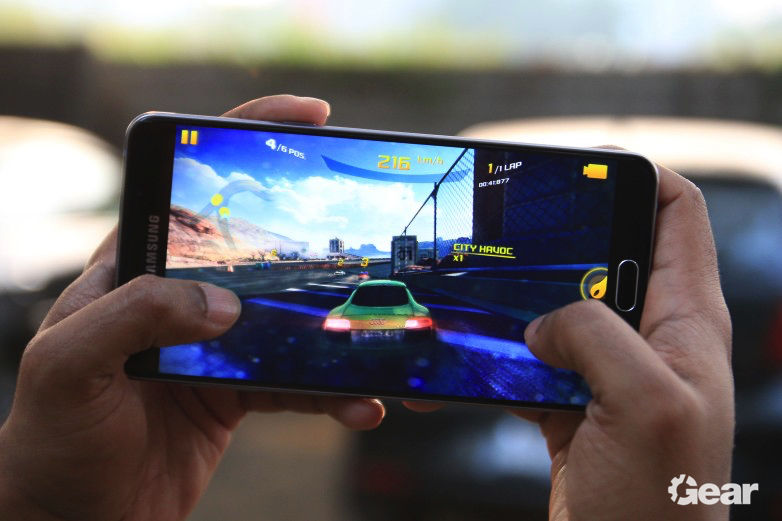 The phone is powered by the octa-core Snapdragon 652 SoC, sporting four high-powered Cortex A-72 cores clocked at 1.8 GHz and low-power 1.4 GHz Cortex A-53 cores. This is where you interject that phones costing 18 grand, such as the LeEco Le Max2 and Lenovo Z2 Plus, ship with Snapdragon 820 chipsets, so why should you put up with a mid-range chipset in a phone that costs nearly twice as much? Well, that's a tough question, and I personally would buy the Z2 Plus, but this is the price you pay for the Samsung brand. You can't really expect the generosity of its Chinese competitors. Having said that, even mid-range chipsets such as the Snapdragon 652 are pretty powerful, and performance is all down to how well the phone is optimised. Case in point, the Xiaomi Mi Max was pretty snappy and lag/stutter free despite having a Snapdragon 650 chipset powering a 1080p screen.
The Samsung Galaxy A9 Pro is no different. It's runs pretty smooth and shows no signs of stutter or lag during everyday operation. The Geekbench scores of 1339 for single-core and 3766 for dual-core performance are par for the course for the chipset, whereas the Antutu score of 74,218 is pretty decent as well. The phone could easily handle graphics intensive games such as Asphalt Airborne 8 and Modern Combat 5 without any hiccup or dropped frames. What's more, the Pro version comes with an extra gigabyte of RAM at 4 GB, which helps multi-tasking a great deal. I tried keeping multiple messaging, email, video, and other assorted apps in the background along with a resource-intensive game, but the phone was able to switch between these apps without any signs of suspending them in the background. You're more likely to lose track of all the apps visible in the App Switcher menu before the phone runs out of memory.
Unfortunately, the phone showed signs of freezing and lag after about two weeks of usage without a single reset. Samsung phones are notorious for slowing down after installing a lot of apps, and this one seems to suffer from the same malady after three weeks of intensive usage. Having said that, the phone went back to its snappy lag/stutter free self after the latest firmware update that came a few days prior to publishing this review. Hopefully, Samsung has ironed out the optimisation kinks this time around, but I'd still invoke the good ol' caveat emptor.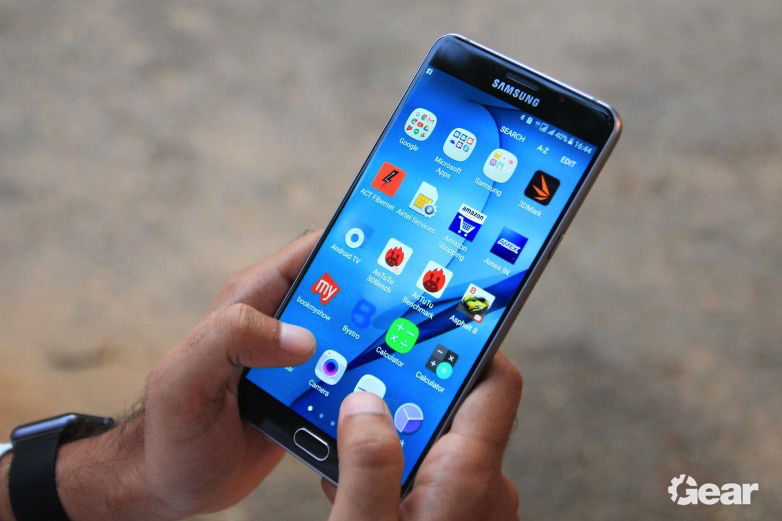 Samsung Galaxy A9 Pro: Display, Software, and UI
It's hard to go wrong with the display in a Samsung phone. Unless, of course, you make the mistake of buying any of its budget offerings. The Galaxy A9 Pro, however, rests firmly in the upper mid-range segment, and predictably its display is pretty damn good. For your money, you get a brilliant 6-inch Super AMOLED display sporting a resolution of 1080×1920 pixels. That gives it a great pixel density of 367 ppi, which in turn results in sharp and crisp images. It's no secret that Samsung is peerless in AMOLED phone displays, and the A9 Pro's screen is no exception. The colour gamut is wide and exhibits the tell-tale high-saturation characteristic of Samsung's AMOLEDs. The black levels are terrific, which makes the claimed 100,000:1 contrast ratio seem somewhat plausible, whereas the viewing angles wide as well, without showing much colour shift either. The display excelled in all my objective tests, which isn't a surprise coming from a premium Samsung phone.
The phone ships with Android 6.0.1 Marshmallow out of the box; however, the phone is expected to get a Nougat update, although it hasn't been officially confirmed yet. The A9 Pro runs the TouchWiz UI baked on top of Marshmallow. It's exactly the same sort of affair you'll find on any of the recent Samsung Galaxy phones, so you might want to check out this review for a more detailed explanation of TouchWiz exclusive features.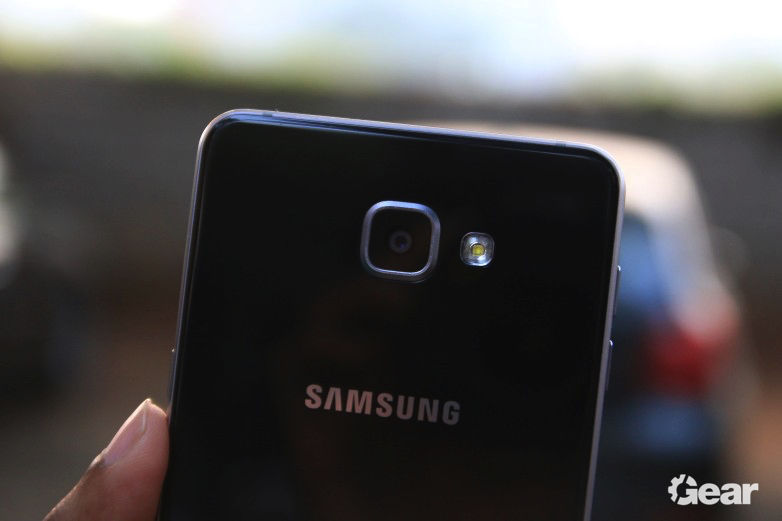 Samsung Galaxy A9 Pro: Camera
The Galaxy A9 Pro comes with a 16-megapixel primary and an 8-megapixel front camera. Both of these sport an aperture of F1.9, which when combined with a 1/2.8-inch sensor and fast image processing capability makes for a pretty fast camera. This also holds surprisingly true in low light conditions. The Galaxy A9 Pro shoots images quick, but the results necessarily aren't all that impressive. For starters, the colours and white balance with the primary camera look natural under bright outdoor conditions, but even then the image appears soft and doesn't exhibit the sort of detail you'd expect from cameras at this price range. In fact, you'll find plenty of phones costing ten grand less showing better image quality.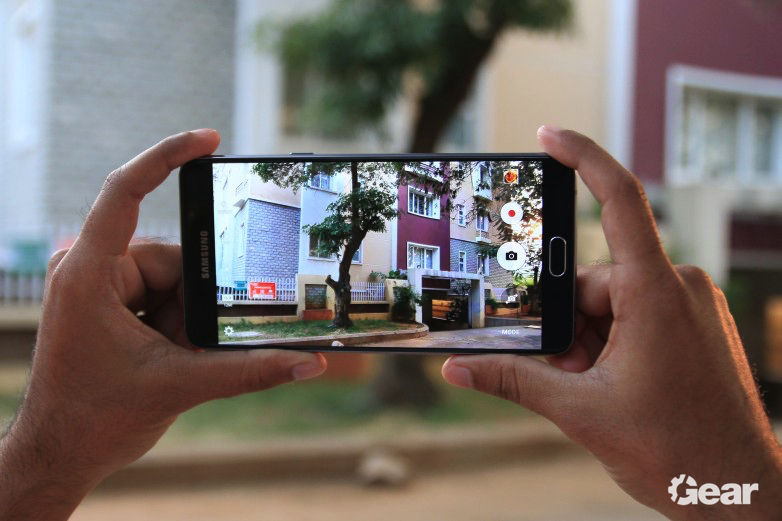 The front camera is even worse, with the object edges exhibiting an artificially sharpened look to the extent that the selfies end up looking almost posterised. The colours and white balance are way off the mark as well. Low light performance isn't great, as there's some considerable loss in detail. The camera also has a hard time focusing in these conditions. Thankfully, the camera gets the basics right with some decent quality, optically stabilised 1080p video recording, geo-tagging, touch focus, face detection, panorama, and HDR modes. Just don't expect 4K and 60 fps recording, which some phones such as the One Plus 3 offer for cheaper.
The camera interface is a standard affair with one of the screen edges meant for the virtual camera shutter button, video recording button, camera switching, and preview, whereas the other edge has options handy for settings, picture resolution/aspect ratio, flash, timer, and effects such vintage, cartoon, and greyscale. Additional modes include the standard Panorama, which is decent enough to capture wider vistas and a Pro mode that gives control over exposure, ISO, metering, and white balance. The continuous shot snaps a series of images in rapid succession. Furthermore, you can download additional effects and modes such as the animated GIF, Sports Shot, and Beauty Face.
Samsung Galaxy A9 Pro: Battery and Verdict
Some of the primary reasons for the Samsung Galaxy A9 Pro's existence over the plain vanilla A9 are the extra gigabyte of RAM and additional 1000 mAh of battery capacity. With a 5000 mAh battery, the phone lasted me just a few hours short of two days, with a screen-on time of a whopping 12 hours. This is simply unprecedented considering the fact that I had crammed up the phone with tonnes of apps and spent quite a lot of time on 4G data, with a good helping of gaming, HTML5 content, emails, and instant messaging.
The supplied 15 watt charger can take the phone from empty to full in two and a half hours, whereas a 30-percent charge takes 30 minutes from empty. This is good enough for half a day of moderate to light usage. The two progressively stingier power saving modes extend battery life further by switching off wireless radios, vibration, and cutting down on app usage, performance, in addition to turning the home screen greyscale. The only area of complaint here is that sometimes the phone heats up while charging. This isn't a major issue as long as the phone doesn't blow up like its more expensive cousin.
This is where we come back to the million dollar question. Should you buy the Samsung Galaxy A9 Pro? That completely depends on what you look for in a phone. If you have 32 grand to spend on a phone, you cannot go wrong with the OnePlus 3, which costs 28 grand, besides the updated OnePlus 3T for a couple of thousand extra. However, if you're someone who keeps moving about a lot and are looking for a phone with more juice, there's really nothing else this side of the 5000 mAh Asus ZenFone Max or the massive 6020 mAh Gionee Marathon M5 that can compare with the A9 Pro. And both these phones don't offer the level of performance, build quality, and features of the Samsung phone.
That leaves only the 6.44-inch Xiaomi Mi Max (review), which offers comparable battery backup (10 hours of screen-on time), but still isn't as premium as the A9 Pro since it costs less than half as much. In short, the Galaxy A9 Pro is pretty much peerless if you want a 6-inch AMOLED phone, with all the bells and whistles of an upper mid-range device, and a terrific design/build quality combined with a whopper of a battery that can last nearly two days of heavy usage. Because once you ignore the mediocre camera, there's nothing really wrong with the A9 Pro. It's beautiful, built like a tank, powerful, and a terrific battery life. There really isn't any phone in this segment that can offers this combination. So if these parameters happen be what you seek in a phone, go right ahead with the Samsung Galaxy A9 Pro.
Samsung Galaxy A9 Pro
₹ 32490
Thanks for reading till the end of this article. For more such informative and exclusive tech content, like our Facebook page