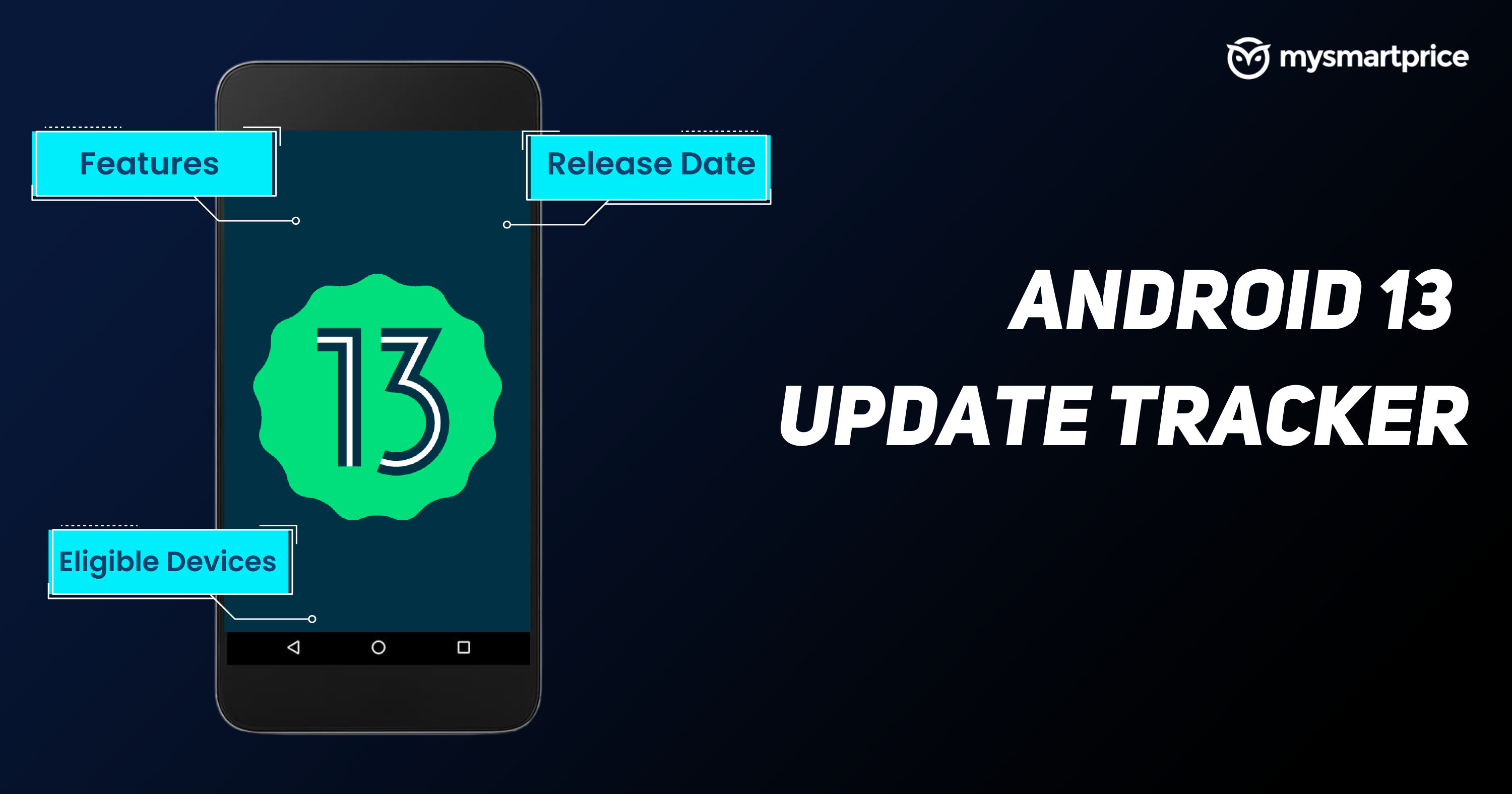 Android updates are always exciting as Google adds their latest bit of software innovations including new Google Assistant features, animations, themes, and many more under the hood changes. With many phones yet to receive the stable Android 12, Google has already announced Android 13 and in fact, the Android 13 Beta 1 was pushed recently.
Like always, Google first released the developer preview and then, and then three Beta updates are scheduled finally, once the system reaches stability, the stable Android 13 version will be released later in the year. As usual, the Google Pixel devices are the first set of phones to get the updates and once the Beta 2 is released, we can expect a few OEMs to come up with Android 13 for some of their phones.
In this guide, we will be taking a look at all the top features and latest news related to Android 13 and also, and we will be taking a look at the expected release date of the OS finally, we have also listed a list of all the eligible devices that are expected to get Android 13 update.
Also Read: Android 14 Update Tracker: Expected Release Date, Top Features, Compatible Devices, and More
Android 13 Expected Release Date
Google released the first developer preview of the Android 13 back in February and on April 26, the company dropped the first Android 13 Beta for Pixel devices. As per the original timeline shared by Google, the second beta is expected in May, which we can expect to happen at the Google I/O 2022. Beta 3 and 4 are scheduled for June and July release and once the platform reaches the stability phase, Google is expected to release the final and stable version of Android 13 in August 2022.
Also Read: ColorOS 13 Update Tracker: Release Date, Top Features, List of Compatible OPPO Mobiles and Tablets
Android 13 Top Features
With Android 13, Google has focused more on privacy and security features, at least in the developer previews. There are also some visual changes and most of the other changes are happening under the hood, which are not visually available for users to see, but overall, Google is adding all the new features to improve the overall user experience and performance of the Android device.
Photo Picker
The new photo picker feature on Android 13 allows users to share photos and videos securely with other apps. The picker 13 will bring both local and cloud-based photos securely. Apps can use the photo picker APIs to access shared photos and videos without needing permission to view all media files on the device, which is a big win as you are noting giving any apps unnecessary access to all your media files.
Nearby Wi-Fi Devices Permission
The new version of vanilla Android brings new NEARBY_WIFI_DEVICES runtime permission. This permission will be required for apps that request commonly-used Wi-Fi APIs and enables apps to discover and connect to nearby devices over Wi-Fi without needing location permission.
Quick Settings Tile
Google is making it easier for users to discover and add tiles to Quick Settings with the introduction of a new tile placement API. With this API, developers will be able to add their app's tiles directly to the set of active Quick Settings tiles, which also makes it easier for users to discover tiles in the quick settings area.
More Material You Design

Google introduced the Material You Design, which is a system-wide theme engine on Android 12. With version 13, the company is expanding the Material You beyond Google's app to all the icons, allowing users to opt into icons that inherit the tint of their wallpaper and other theme preferences. Developers can now add a monochromatic app icon and a tweak to the adaptive icon XML, so their app can adapt to the Material You theme.
Also Read: OxygenOS 13 Update Based on Android 13: India Release Date, Top Features, List of Eligible OnePlus Mobile Phones
Per-app Language
Although this feature has been in the talks for a few years now, the feature was launched along with the first developer preview. With this functionality, you will be able to use an app in a particular language without affecting the global system language of any other app's language. At the start, only a few select apps will come with this feature. This can come in handy for multilingual users. The settings can be accessed by heading to Settings > Apps > All apps > <select any app> > Language.
Install Apps on Guest Profile
In Android 13, if you are the owner and you are setting up a guest profile, you will be allowed to choose which all apps can be installed on the guest profiles. The data between owner and guest users won't be shared and in case the guest profile user has to use any apps, they will have to sign in.
App Drawer in the taskbar
With Android 12L, Google started prioritizing the Android experience on tablets and foldable as well. The taskbar was first found on Android 12L and version 13, if you happen to have a large screen device, this will be enabled by default and you will see six apps along with an app launcher.
Clipboard editor overlay
Google has added a handy new clipboard tool. When you copy a text, link, or image, a clipboard overlay preview will appear on the bottom of the screen. The preview contains what you just copied and it also comes with an edit button, in case you want to quickly edit something. In case you copy an address, you will see Google Maps intent next to the edit button and the same also applies to phone numbers and links copied.
New Quick Settings Tiles
Tiles in the quick settings are the quickest way to access shortcuts. With Android 13, Google has added a few handy ones to the tiles. These include:
Colour correction quick setting tile
One-handed mode quick setting tile
Security and Privacy Controls quick setting tile
Device Controls quick setting tile to control smart home devices
QR code scanner quick toggle
Switch Screen Resolution
There's a hidden settings page for changing the screen resolution between FHD and QHD👀

This should appear as Settings > Display > Screen resolution but it isn't showing up yet. pic.twitter.com/tmRKQubMQv

— Mishaal Rahman (@MishaalRahman) April 26, 2022
While this feature is already present on many Android smartphones like OnePlus, Samsung, etc, Google is bringing the ability to change screen resolution with Android 13. This option can be accessed under Display settings. Users will be able to switch between QHD+ and FHD+ screen resolutions.
Media Player Squiggly Progress Bar
Yet another minor UI charge that comes as a part of Beta 1, the music player now supports a squiggly progress bar, instead of just a straight progress bar. The unplayed part of the media/ song stays straight, but the current playing media moves up and down like a waveform.
Predictive Back Gesture
This feature has been announced as a part of Beta 2 and this is a new gesture for Android phones, tablets, and foldables. Once this feature is completely implemented, it will let users preview the destination or other result of a back gesture before they fully complete it, allowing them to decide whether to continue or stay in the current view.
For instance, using the predictive back gesture can display an animated preview of the Home screen behind your app. The final stable version of this feature will be available with the final release, users should be able to test this back-to-home animation by enabling a developer option. You can enable this feature by heading to Settings > System > Developer options and then selecting Predictive back animations.
Resource Files For Specifying Per-app Language Support
With Beta 1, Google introduced Per-app Language support and with beta 2, developers will be now able to specify what languages the app supports in the res/xml/locales_config.xml, which allows users to choose languages on a per-app basis. Once the developers update this on their app, users can go to Settings > System > Languages & Input > App Languages > (select an app) and change the language.
Other Android 13 Features
Optimized experience for tablets, foldables, and Chromebooks
Flashlight toggle in a quick tap
MIDI 2.0 support
Activate dark mode at bedtime
Revamped screen saver
NFC payment support for Work profiles
Support for spatial audio
USE_EXACT_ALARM allows apps to use exact alarms without needing to request this permission from the user

Android 13 Beta: List of Eligible Devices
Google Pixel 6 Pro, Google Pixel 6, Google Pixel 5a 5G, Google Pixel 5, Google Pixel 4a / 5G, Google Pixel 4 XL, Google Pixel 4

OnePlus 10 Pro

Realme GT 2 Pro

Vivo X80 Pro

Xiaomi 12, Xiaomi 12 Pro and Xiaomi Pad 5

Oppo Find X5 Pro

Asus Zenfone 8

Lenovo P12 Pro

Nokia XR20

AQUOS sense6

Tecno Camon 19 Pro

ZTE Axon 40 Ultra
In case you have any of the eligible devices mentioned in the above list, If you have any of these devices, you can head to the Android 13 Beta devices webpage and click on the relevant device and download the Beta update for your eligible device.
Android 13 List of Compatible Devices
With the new version of Android comes excitement for enthusiasts to try out the later OS that Google has to offer. As you'd expect Google Pixel devices are always the first to get Day 1 updates. However, many OEMs have started pushing out Beta updates quickly to their top smartphones in the past couple of years. We have compiled a list of phones that are expected to get Android 13 from all the major OEMs based on the brand's promise and update life cycle.
Note: We will update the list as we get more confirmation from brands.
Samsung Galaxy S series
Samsung Galaxy S22

Samsung Galaxy S22 Ultra 5G

Samsung Galaxy S22+ 5G

Samsung Galaxy S21

Samsung Galaxy S21

Samsung Galaxy S21+ 5G

Samsung Galaxy S21 G FE 5G

Samsung Galaxy S21 Ultra 5G

Samsung Galaxy S10 5G

Samsung Galaxy S10+

Samsung Galaxy S10

Samsung Galaxy S10e

Samsung Galaxy S10 Lite

Galaxy Tab S8

Galaxy Tab S8+

Galaxy Tab S8 Ultra

Samsung Galaxy Tab S7+ 5G

Samsung Galaxy Tab S7+

Samsung Galaxy Tab S7 5G

Samsung Galaxy Tab S7

Samsung Galaxy Tab S6 5G

Samsung Galaxy Tab S6

Samsung Galaxy Tab S6 Lite
Samsung Galaxy Z series
Galaxy Z Fold3

Galaxy Z Flip3

Samsung Galaxy Z Fold2 5G

Samsung Galaxy Z Fold2

Samsung Galaxy Z Flip 5G

Samsung Galaxy Z Flip

Samsung Galaxy Fold 5G

Samsung Galaxy Fold
Samsung Galaxy A series
Samsung Galaxy A73

Samsung Galaxy A53

Samsung Galaxy A33

Samsung Galaxy A51

Samsung Galaxy A71

Samsung Galaxy A51 5G

Samsung Galaxy A71 5G

Samsung Galaxy A90 5G
Samsung Galaxy Note series
Samsung Galaxy Note20 Ultra 5G

Samsung Galaxy Note20 Ultra

Samsung Galaxy Note20 5G

Samsung Galaxy Note20

Samsung Galaxy Note10+ 5G

Samsung Galaxy Note10+

Samsung Galaxy Note10 5G

Samsung Galaxy Note10

Samsung Galaxy Note10 Lite
OnePlus
OnePlus 10 Pro

OnePlus 10R

OnePlus 9 Pro

OnePlus 9

OnePlus 9R

OnePlus 9RT

OnePlus 8

OnePlus 8 Pro

OnePlus 8T

OnePlus Nord 2

OnePlus Nord CE 2

OnePlus Nord CE 2 Lite
Realme
Realme GT Neo 3

Realme GT 2 Pro

Realme GT 2

Realme GT

Realme GT Neo

Realme 9 4G / 5G

Realme 9 SE 5G

Realme 9 Pro+

Realme 9 Pro

Realme 9i

Realme 8 Pro

Realme 8 4G

Realme 8 5G

Realme 8i

Realme 8s 5G

Realme GT Neo 2

Realme GT Master Edition

Realme GT Master Explorer Edition

Realme Narzo 30 Pro

Realme Narzo 30 4G/ 5G

Realme Narzo 30A

Realme X7 Max

Realme X7 Pro

Realme V13

Realme V11

Realme Q3

Realme Q3i

Realme Q3 Pro
Xiaomi/ Mi series
Xiaomi Mi 10S

Xiaomi Mi 11

Xiaomi Mi 11 Pro

Xiaomi Mi 11 Ultra

Xiaomi Mi 11i

Xiaomi Mi 11X

Xiaomi Mi 11X Pro

Xiaomi 11X

Xiaomi 11X Hyper Charge

Xiaomi 11T

Xiaomi 11T Pro

Xiaomi 12

Xiaomi 12 Pro

Xiaomi 12 Lite

Mi 11 Lite 4G

Mi 11 Lite 5G

Mi 11 Lite LE

Mi 11 Lite NE 5G

Xiaomi MIX 4

Xiaomi MIX 5

Xiaomi MIX 5 Pro

Xiaomi MIX FOLD

Xiaomi CIVI

Xiaomi Pad 5

Xiaomi Pad 5 Pro
Redmi series
Redmi 10

Redmi 10 Prime

Redmi 10 2022

Redmi 10 Prime 2022

Redmi Note 10

Redmi Note 10S

Redmi Note 10 Pro

Redmi Note 10 Pro Max

Redmi Note 10 Pro 5G

Redmi Note 10T

Redmi Note 10 5G

Redmi Note 11

Redmi Note 11 NFC

Redmi Note 11S

Redmi Note 11 Pro 4G

Redmi Note 11 Pro 5G

Redmi Note 11 Pro

Redmi Note 11 Pro+

Redmi Note 11E Pro

Redmi Note 11T

Redmi Note 11 5G

Redmi Note 11T 4G

Redmi K40

Redmi K40 Pro

Redmi K40 Pro+

Redmi K40 Gaming

Redmi K50

Redmi K50 Pro

Redmi K50 Gaming

Redmi K50 Gaming Lite
Poco
Poco F3

Poco F3 GT

Poco X3 GT

Poco X3 Pro

Poco F4

Poco F4 Pro

Poco F4 GT

Poco M3 Pro 4G/5G

Poco C4
Motorola
Motorola Edge 20

Motorola Edge 20 Lite

Motorola Edge 20 Pro

Motorola Edge Plus

Motorola Edge 30 Pro

Moto G60

Moto G51 5G

Moto G52

Moto G22

Moto G31

Moto G40 Fusion

Moto G71 5G
Nokia
Nokia G10

Nokia G20

Nokia G21

Nokia G50

Nokia X10

Nokia X100

Nokia X20

Nokia XR20
Oppo
Oppo Find N (foldable)

Oppo Find X2 Pro

Oppo Find X3

Oppo Find X3 Lite

Oppo Find X3 Neo

Oppo Find X3 Pro

Oppo Find X5

Oppo Find X5 Lite

Oppo Find X5 Pro

Oppo Reno 6 4G/ 5G

Oppo Reno 6 Pro 5G

Oppo Reno 6 Pro+ 5G

Oppo Reno 6 Z

Oppo Reno 7 5G

Oppo Reno 7 Pro 5G
Asus
ZenFone 8/ Asus 8z

ZenFone 8 Flip

ROG Phone 5

ROG Phone 5s
Iqoo
Iqoo 9

Iqoo 9 Pro

Iqoo 8

Iqoo 8 Pro

Iqoo 9 SE

Iqoo Z6

Iqoo Z5
Vivo
Vivo X60 Pro

Vivo X70

Vivo X70 Pro

Vivo X70 Pro+
Android 13 Latest News
Here are the latest news related to Android 13 from Google and other OEMs.
Google Rolls out Android 13 November Update to its Pixel Lineup, QPR1 Beta Rolled out As well (November 10, 2022)
Google has rolled out its November 2022 update, which is based on Android 13, for its range of Pixel smartphones. The update brings fixes for the issues that were causing more power consumption for the Pixel 6 series and some patches for issues related to the Pixel 7 series. The latest Android 13 QPR1 Beta 3.1 comes with a whole lot of fixed issues and bugs
Google Rolls out Android 13 October Patch Update to its Pixel Lineup (October 03, 2022)
Google has rolled out the Android 13 October security update to its range of Pixel smartphones. The latest security update brings nine additional security fixes. The brand has rolled out the update to its Pixel 4/XL, 4a, 4a 5G, 5, 5a, 6, 6 Pro, and 6a
Google Reveals the Minimum Phone Specifications Requirement for Android 13 OS (September 15, 2022)
Google has raised the minimum phone specifications requirements for its latest Android 13 operating system. The company has revealed that a smartphone can only run the latest version of Android if it has a minimum 2GB of RAM. This is an increase of 1GB compared to Android 11 and Android 12 operating system. Moreover, the Android Go Edition phones need to have at least 2GB of RAM and 16GB of internal storage in order to run the latest Android 13 operating system.
Google Pixel Users Complain of Wireless Charging Not Working After Android 13 Update (September 01, 2022)
Multiple Pixel users have complained about a bug that is not allowing them to charge their Pixel smartphone after the Android 13 update wirelessly. The issue seems to be primarily for Pixel 4 owners. However, other Pixel phones like Pixel 6 or more also report a similar issue.
Google Pixel 6A, Pixel 4A Get Android 13 Stable Update in India (August 26, 2022)
Google has started rolling out the stable Android 13 update to its Pixel lineup of smartphones. The brand has confirmed that the Google Pixel 6A and Pixel 4a have started getting the stable version of the latest operating system. Users can download the latest update by going to Settings > System > System Update.
YouTube Gets Support For Android 13 Media Controls (August 12, 2022)
Google has started rolling out new features to its YouTube application to make it compatible with Android 13 features. The company has rolled out a new version 17.32.32 of YouTube for Android that comes with Android 13 media controls.
OnePlus 10 Pro get Third Android 13 Beta Update (July 22, 2022)
OnePlus has started rolling out a third Beta update for the Android 13 operating system. The new update comes with some bug fixes and stability improvements. Moreover, the brand has revealed that it will showcase Android 13 update during OnePlus 10T launch event. Meanwhile, here's the complete changelog of the Android 13 3 Beta update:
Changelog

[Improved] system stability

Known issues

User Interface display sometimes might be abnormal.
Music playing cannot be paused normally via wired headphones.
Occasional abnormal response for gesture operation when the screen was off.
No response when tapping the video call button.
Auto brightness sometimes works abnormally.
Crash issue when setting the Fingerprint animation in Personalizations.
Lagging issue caused by switching the refresh rate of the screen.
Some applications might be lost after upgrading.
Android 13 Final Beta Update Goes Live, Official Release Expected Soon (July 15, 2022)
Google has released the final beta update of the Android 13 operating system. The fourth beta update for Android 13 is meant for app developers to perform the final testing and development. With this, the next update from Google will be the official update of the Android 13 operating system.
Samsung Could Start Android 13 Beta Programme for Galaxy S22 Soon (June 28, 2022)
Samsung might soon bring the Android 13 beta programme for its flagship smartphone, the Samsung Galaxy S22, pretty soon. As per a report by TizenHelp, Samsung has been reportedly working on an Android 13 beta update for the Galaxy S22 in South Korea. The beta update may come with version number S906NKSU2ZVF6.
Google Rolls Out Android 13 beta 3.1 Update to Fix Issues with Beta 3 (June 13, 2022)
Google has started rolling out the Android 13 beta 3.1 update that is compatible with Pixel devices. The new update brings the bug fixes for the Beta 3 update that was rolled out a few days back. This minor update to Android 13 Beta 3 fixes an issue where the Android Beta Feedback app was not available on Android 13 Beta 3 in some cases.
Nokia X20 Gets its First Android 13 Developer Preview Update (May 16, 2022)
HMD Global has revealed that its latest Nokia X20 is the first phone from the company that has got the Android 13 Developer Preview update. Users can enrol for the Developer Preview update by going to the My Device application and clicking on the Support banner. Users then need to go Android developer preview section and fill in the details to enrol for the Android 13 Developer Preview. Once accepted, users can go to Settings > About Phone > System Updates to download the latest version of Android. However, it is important to note that all the data will be wiped out before installing the developer preview, so it is important to back up the data before installing the new version.
Android 13 Beta 1 Released
Google pushed out Beta 1 on April 25 for Google Pixel devices bringing in new features like a new playback progress bar, dynamic Material You themes, app suggestions on the app bar, better smart home control, new clipboard preview and overlay, support for spatial audio on Pixel 6, and much more.
Android 13-based OneUI 5.0 Could Arrive in May
Samsung has been very quick to update its devices in recent times and we've seen that with Android 12. The company is expected to announce the first Android 13 Beta in July and the final stable version of the update could rollout at the end of 2022.