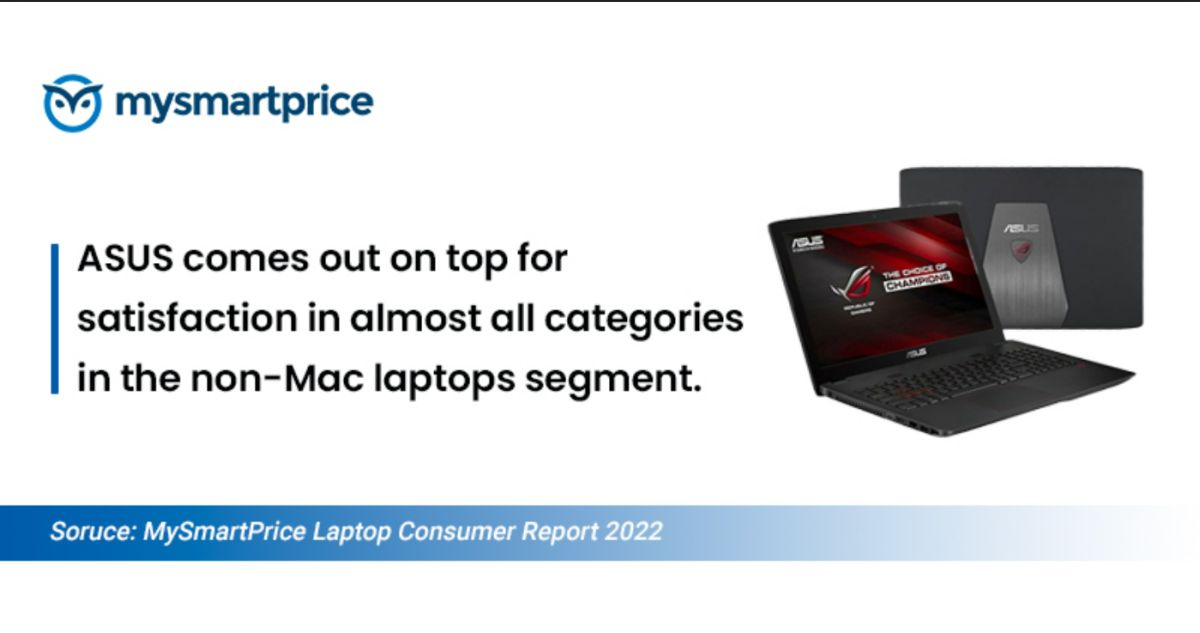 The laptop market in India has burst forth in the past couple of years with a boost in sales and legitimate need from users. The Covid pandemic led more and more people to take up working from home, which meant the need for multiple computing devices in a home and for individual members of the family.
While many people already owned laptops and PCs to use at home, the trends for purchasing new laptops is changing with the most basic being users looking to buy more laptops than PCs. Laptops have become just as powerful as desktop PCs with thinner and lighter devices being launched everyday. Companies on their part have been innovating constantly to bring better and more advanced technologies to laptops like the ever more powerful Apple MacBook Air with M2 chip or the ASUS Zenbook 17 Fold OLED with a foldable display. MySmartPrice Laptop Consumer Report 2022 highlights the observations.
Also Read: MSP Laptop Consumer Report 2022: HP Most Popular Laptop Brand in India, Top Features are Battery, Performance
Apple Users Most Likely to Buy Another MacBook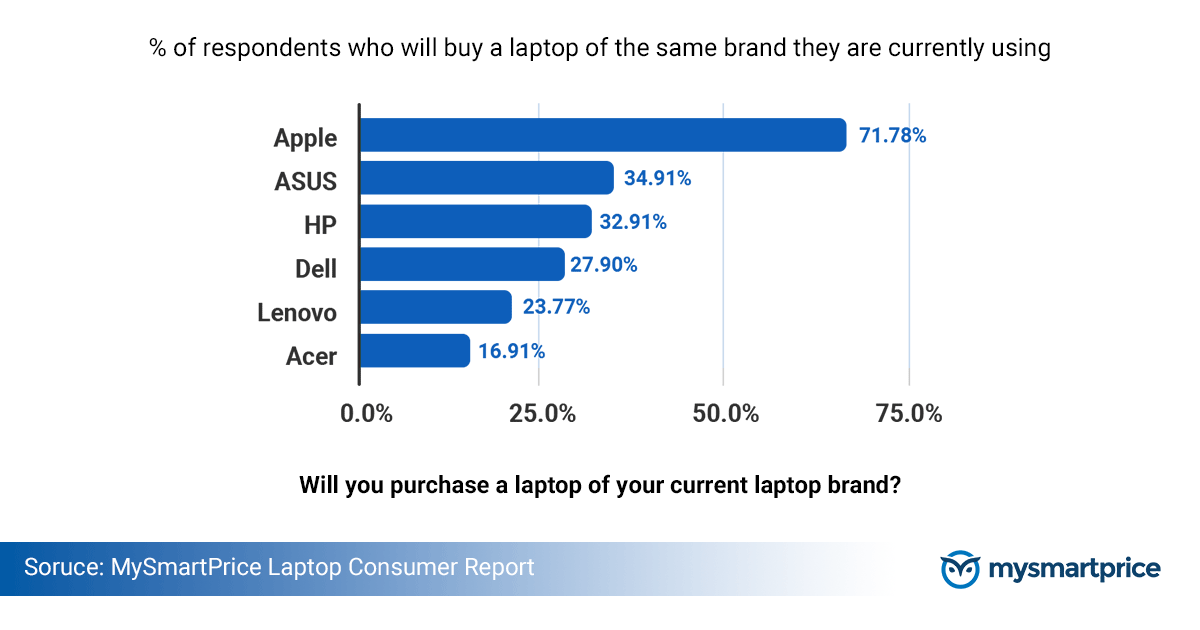 Brand loyalty is earned by a brand when its products satisfy its users most in overall performance and looks and feel, and Apple seems to have nailed this with MacBooks. Just like in the smartphone segment, Apple has carved a space for itself in the laptop market as well. With 71.78% users voting to retain Apple as their preferred laptop brand, it has an overwhelming lead over ASUS at 34.91% followed by HP at 32.91%.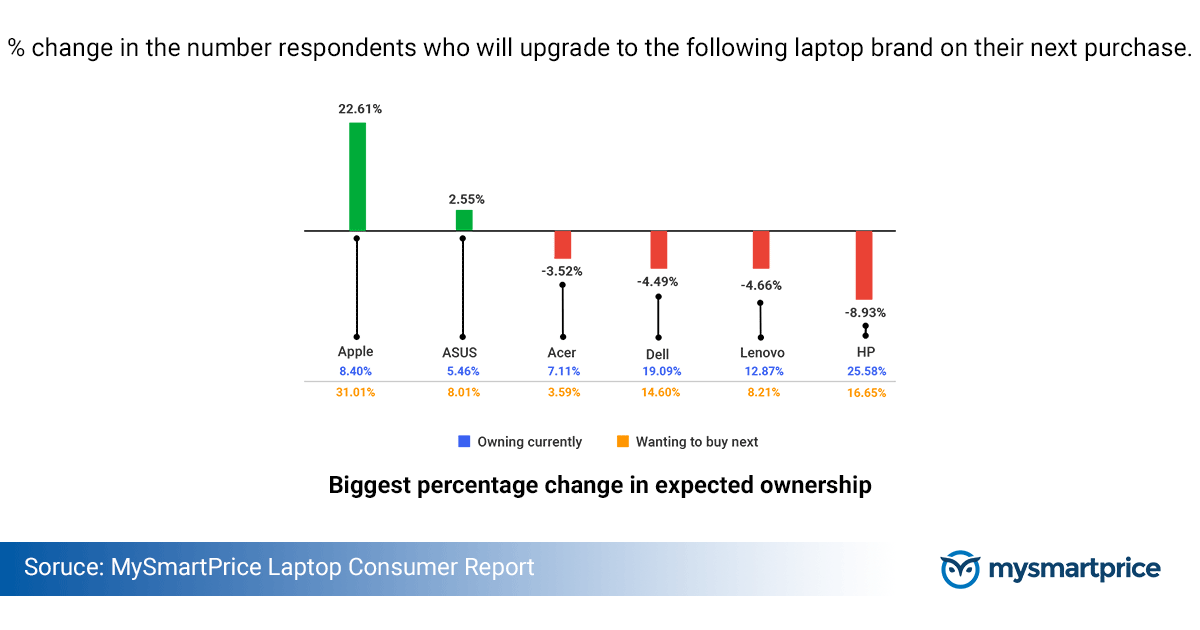 But the biggest change has to be in the expected ownership of laptops from consumers. Only two brands are in the positive and Apple leads the race with 22.61% expected positive rating followed by ASUS at 2.55% in the positive. The rest of the brands that follow are all the negative.
Apple and ASUS Top Individual Laptop Requirements Segment
Apple and ASUS have become the breakout winners in the new consumer report with users preferring the laptop from either of the two when it comes to individual aspects of the laptops they want to buy.
Apple is the most preferred laptop brand that users of other brands to switch to which includes users of brands like HP, Dell, Lenovo, Acer and ASUS. Apple also top the list of preferred brands for laptop purchases about the price point of Rs 1 lakh with 52.68% votes followed by ASUS at 10.24% and Dell at 8.29%.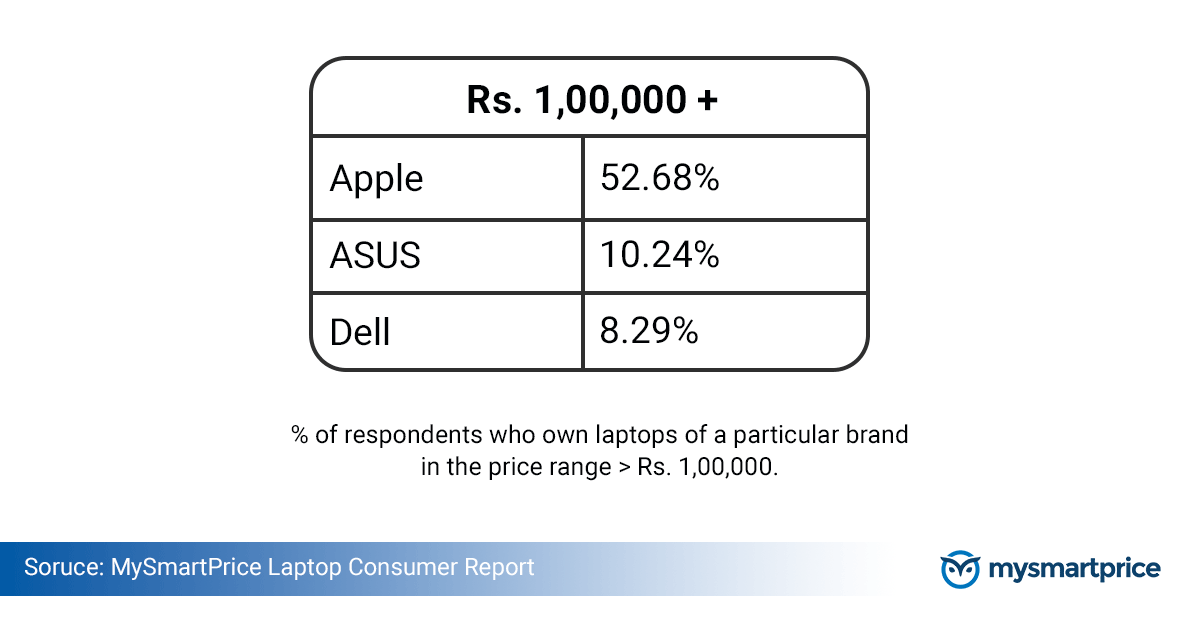 Moving on the users and their preference of laptop brands in terms of specific aspects of laptops, Apple and ASUS come out on top.
ASUS Laptops Most Preferred for Display Quality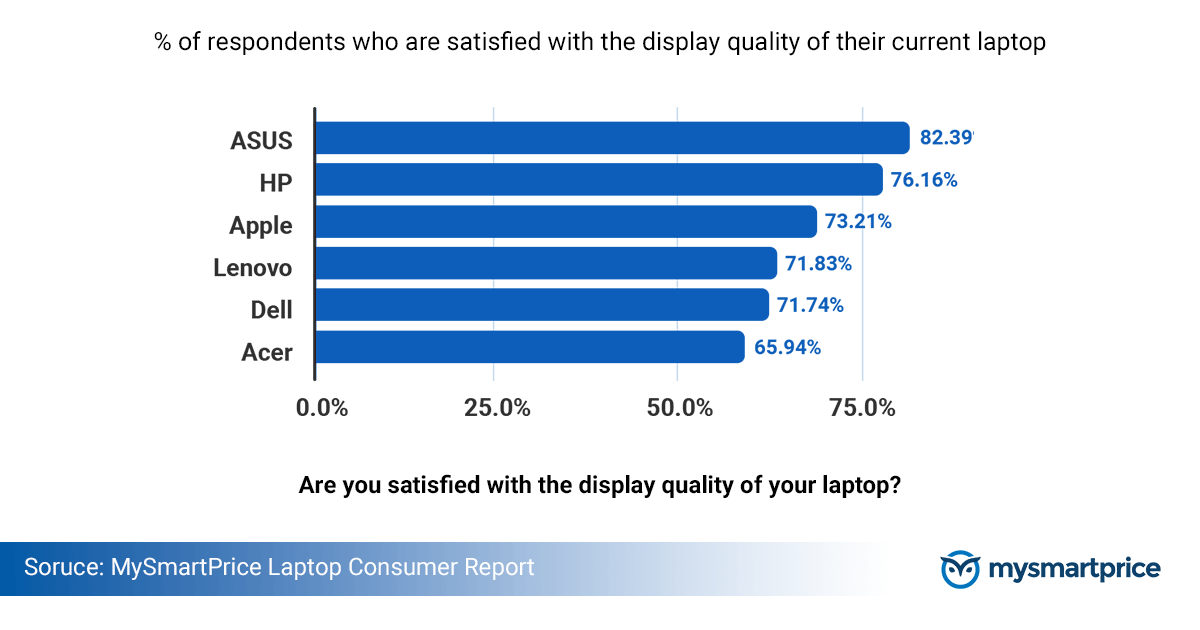 ASUS laptop users are the most satisfied with their display quality and 82.39% of users feel the company provides the best laptop display. This is followed by HP in second with 76.16% and Apple in third with 73.21%. This is a something that has been a selling point for ASUS for a while now and it does push for top of the line display panels for its laptops.
Apple Ahead in Terms of Battery Life Expectations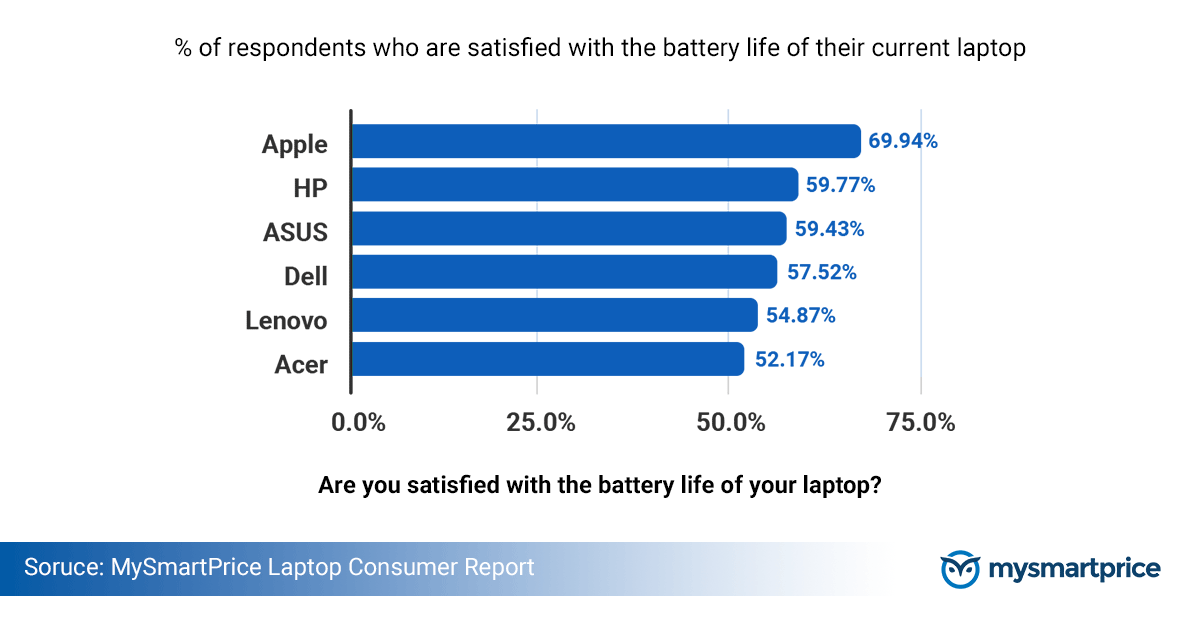 Battery life has been the USP for MacBooks hence it is not a big surprise that Apple leads this segment. Apple has the lead for people most satisficed with the battery life of their laptops with 69.64% users in their corner. HP is second here as well with a 59.77% users preferring its laptops for battery performance followd by ASUS in third with 59.43%.
Charging Speed Segment Lead is Apple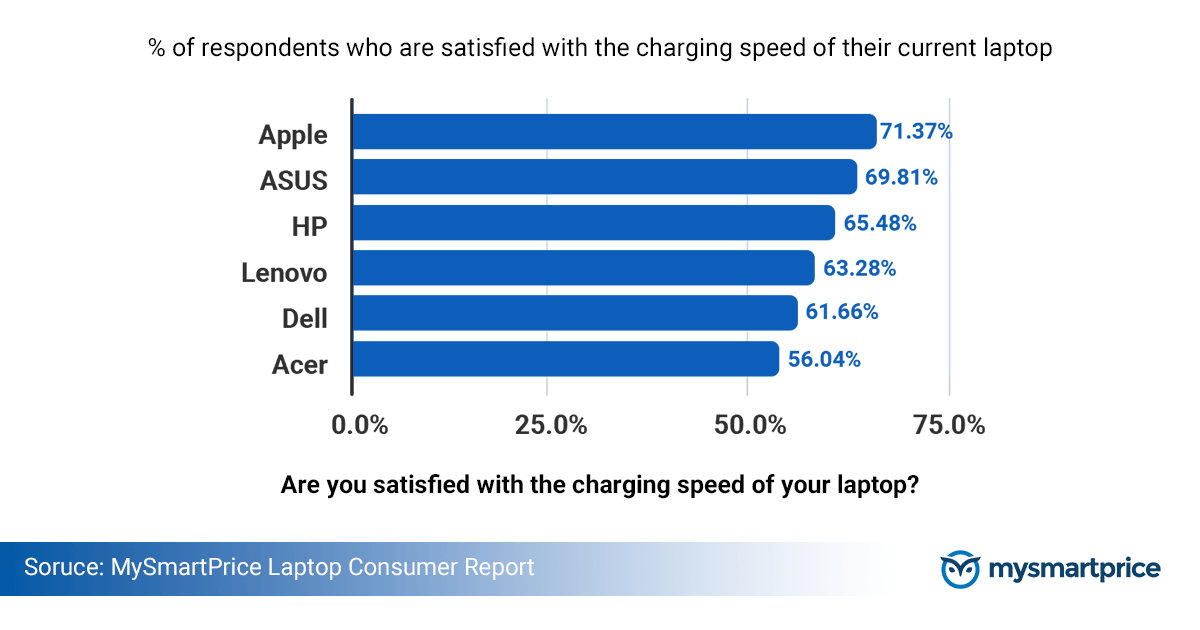 Like the battery backup, the charging speed segment lead is also Apple with most people being satisfied with the charging speed of MacBooks. It leads with 72.37% of people backing it up followed by ASUS and HP with 69.81% and 65.48% people backing those brands up.
Apple, ASUS Top Laptop Storage Providers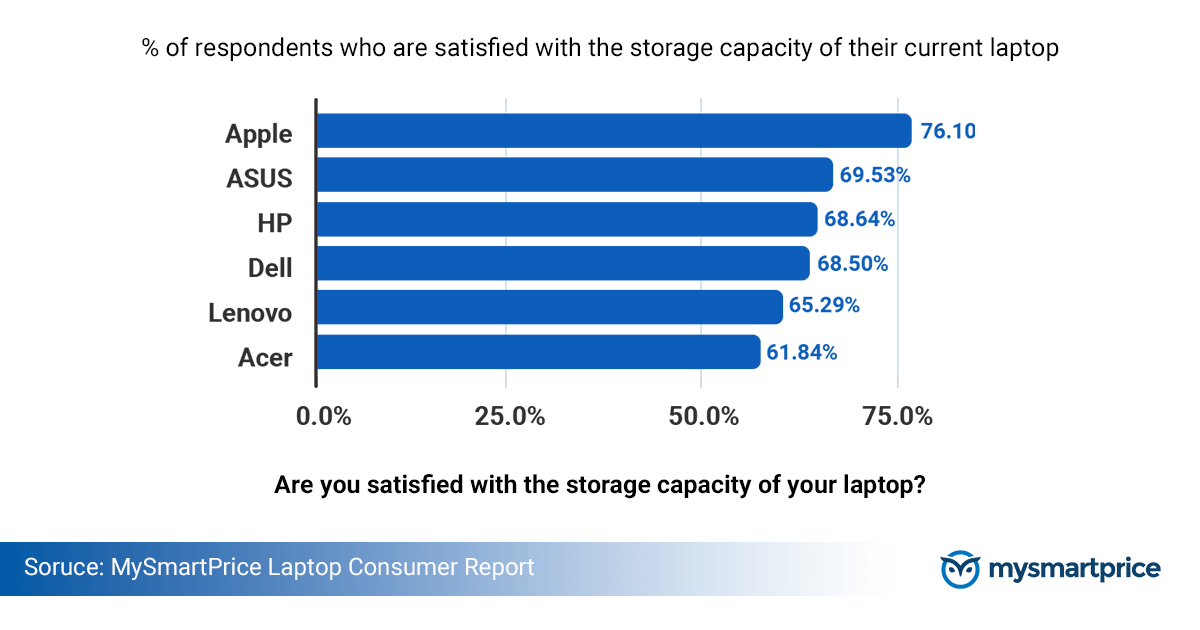 Laptop storage has been one of the strongest point of contention for consumers and providing larger storage options always go down well with them. Apple leads this category as well with 76.10% of people saying that they are satisfied with the laptop storage capacity and type options for MacBooks. ASUS is second with 69.53% and HP is third with 68.64%.
Graphics Cards for Laptops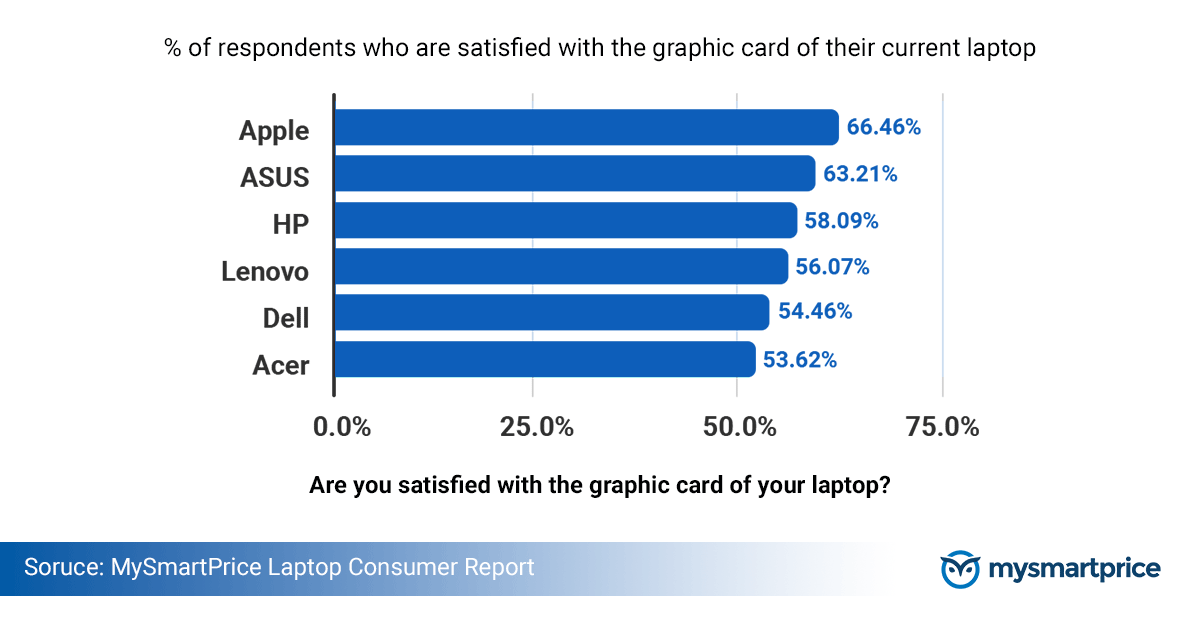 Apple is the surprise leader in the category which asked users if they are satisfied with the grpahics cards provided on laptops by different brands. While MacBooks have not been billed as gaming devices, a large chunk of content creators do prefer these devices. 66.46% users are satisfied with Apple for graphics cards they provide on laptops followed by ASUS with 63.21% and HP with 58.09%.
Laptops and How They Handle Heating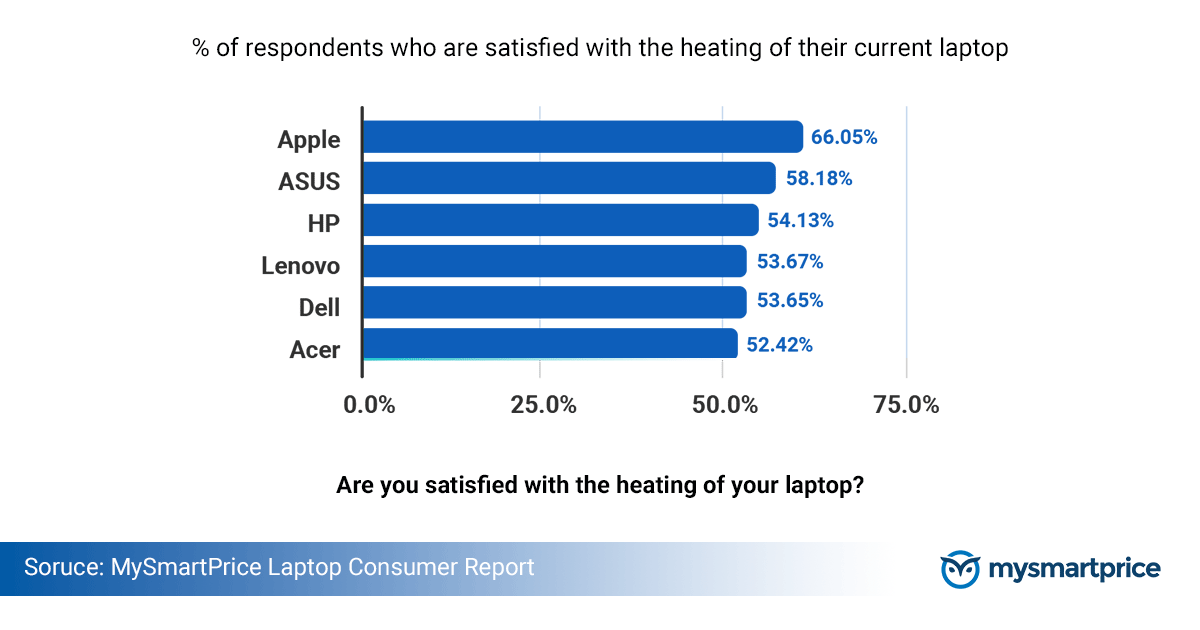 This is another category that Apple is leading with most users satisfied with how MacBooks handle the heating issue. 66.05% users are satisfied with MacBook heat management, followed by 58.18% users voting for ASUS and 54.13% for HP.
Apple Top in Terms of Laptop Performance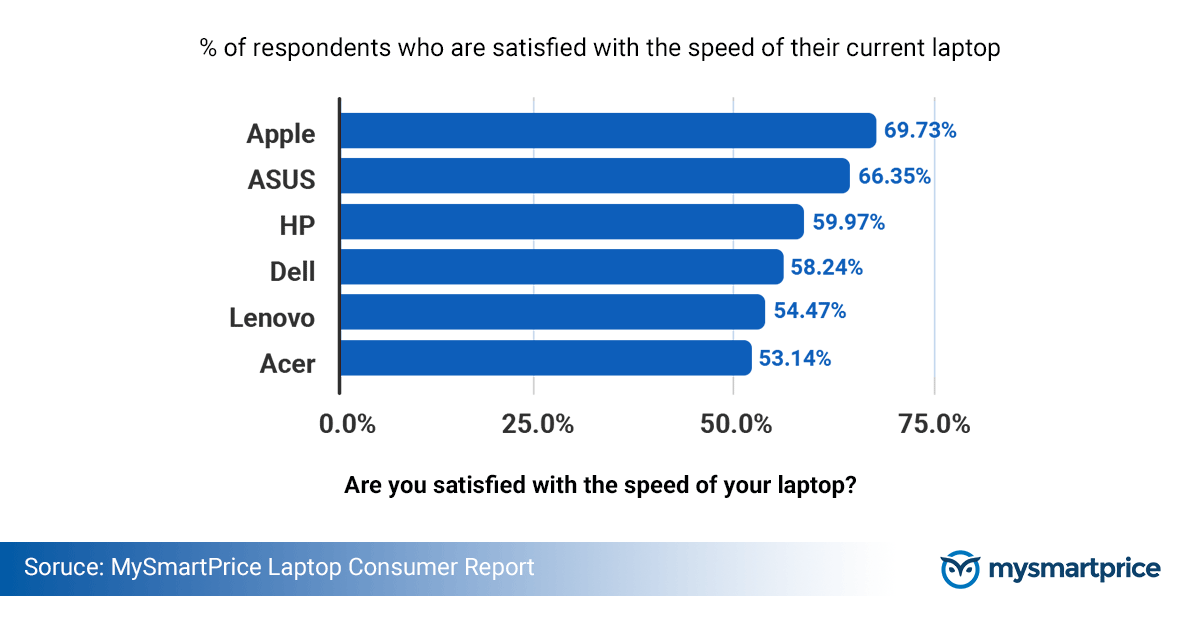 Laptop that zip through different tasks are the ones that end up being the most preferred, and MacBooks are a big hit in this aspect. 69.73% users voted that Apple's laptops are the quickest, with 66.35% voting for ASUS and 59.97% voting for HP.
ASUS Laptops Have the Best Look and Design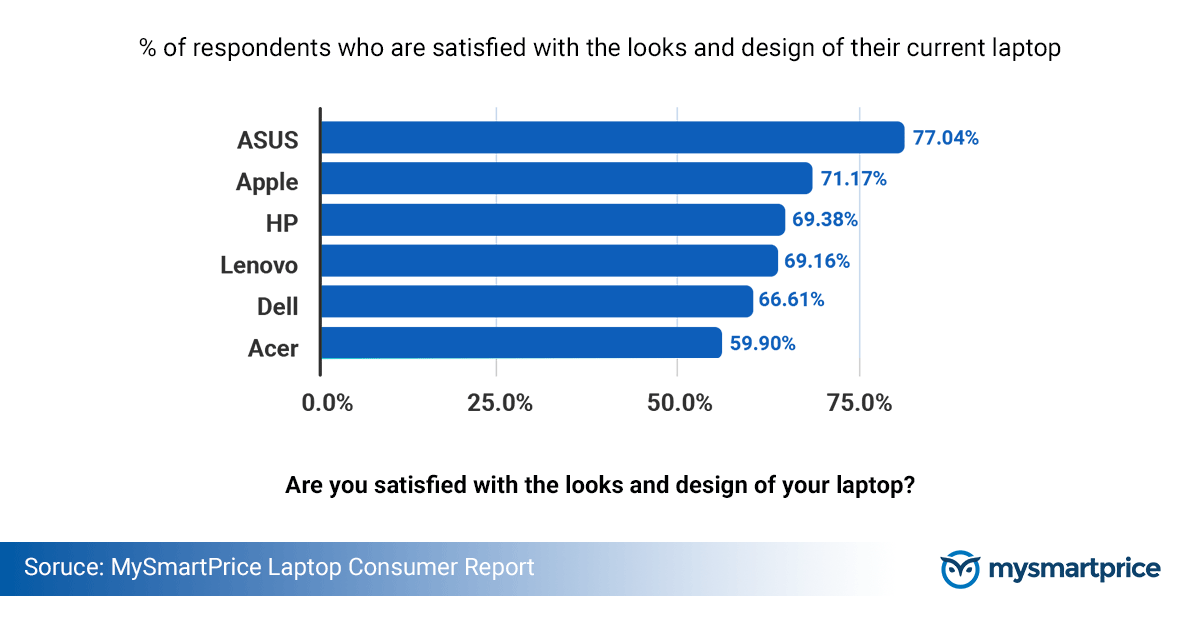 Design is that segment that ASUS has been consistently doing good. Most users think that ASUS is the standout leader in terms of how its laptops look and are designed. 77.04% users voted for ASUS followed by Apple at 71.17% and HP at 69.38%.
Also Read: MSP Smartphone Consumer Report
The consumer report also deals with the consumer habits and tendencies when it comes to laptops and the whole report can be read here.