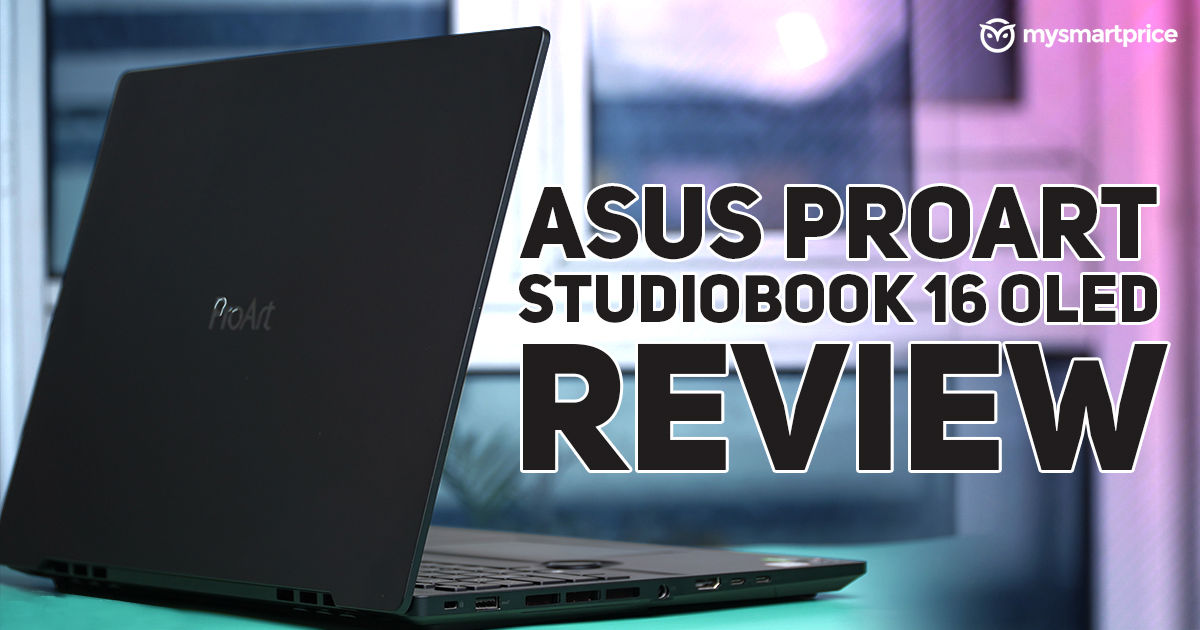 With the world exploding with content creators, the need for capable mobile workstations have never been more apparent. Prices of desktop CPUs are soaring with the demand, so creators are flocking towards gaming laptops to edit videos and photos. But these are often not ideal for serious content creation. Filling the gap is the Asus ProArt StudioBook 16, part of a new creator-focused lineup. The specs are just as good as Asus' gaming laptops, but they are designed to make creators go weak at their knees.
Asus ProArt StudioBook 16 OLED
1,69,990
Keyboard and Trackpad
8.2/10
What Is Good?
Stunning 4K HDR OLED display
Fantastic, stable performance with no heating
Asus Dial useful for creators and fidgeting
What Is Bad?
No Thunderbolt 4/USB 4.0 ports
16A power socket required
60Hz refresh rate display
Our review unit had a stunning 16-inch 4K OLED display with the AMD Ryzen 9 5900HX under the hood and the Nvidia RTX 3070. There was 16GB DDR4 RAM and 1TB PCIe 3.0 M.2 storage. And sitting under the keyboard was a wheel, and a trackpad that doubles up into a Waccom pad. There's a lot going here to entice video editors and graphics designers, but can it really be relied upon for a career in content creation? Let's find out —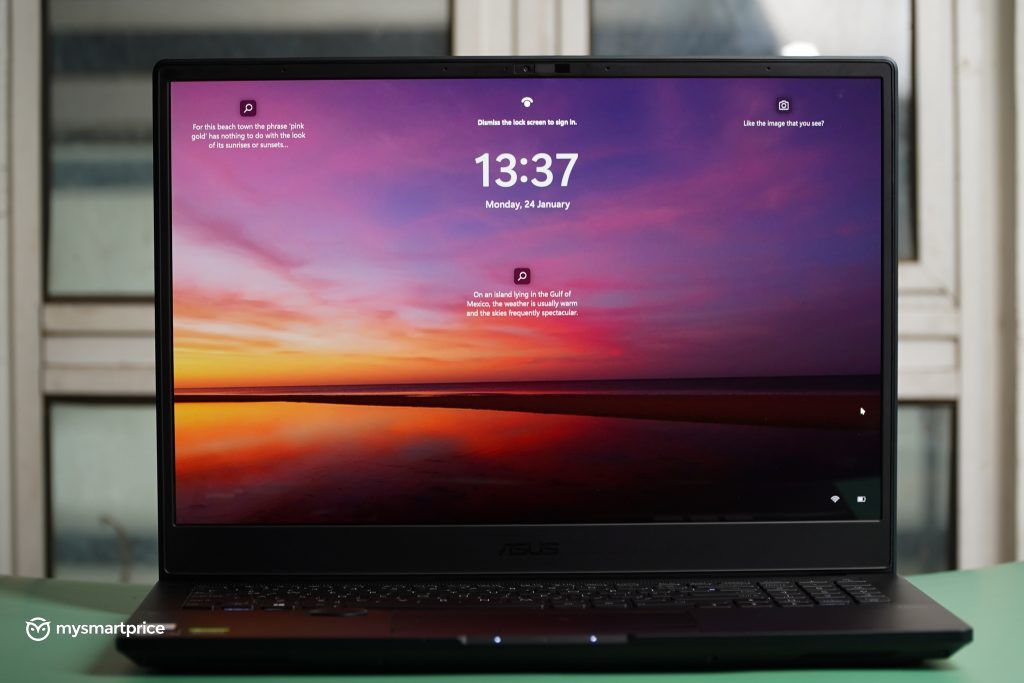 Asus ProArt StudioBook 16 Key Specs
CPU: AMD Ryzen 9 5900HX
GPU: Nvidia RTX 3070 (110W TGP)
RAM: 16GB DDR4 3200MHz (Up to 64GB in dual channel)
Storage: 1TB PCIe 3.0 M.2 SSD (1 additional slot)
Display: 16-inch 4K OLED, 60Hz, 16:10 aspect ratio, VESA Display HDR, Pantone Validated.
I/O Ports: 2xUSB 3.2 Gen2 Type-A
2x USB 3.2 Gen2 Type-C with PD, DisplayPort, VR
1xHDMI 2.1 Arc
SD Express 7.0 Card Reader
3.5mm headphone jack
RJ45 Gigabit Ethernet
DC-in
Benchmark Performance
While there is a Studiobook Pro with Nvidia A-series GPUs, the regular Studiobook will work for most mainstream users. The Ryzen 9 CPU and the RTX 3070 are assuring components to have when setting out to work on creative tools. The benchmark scores of the laptop are similar to some of the high-end gaming laptops we tested last year, which is always a good sight for real world performance.
The Studiobook scores the highest on the PCMark 10 test that includes both office tasks as well as productivity and creative tools. This is a clear indication of how well tuned the laptop is for creative tasks. The multi-core performance on both Geekbench 5 and Cinebench R23 are the highest we have recorded in the past year. The single-core performance is expectedly lower than the laptop's Intel-powered rivals, but as we will see in the next segment, multi-threaded performance takes more precedence over single-threaded performance during content creation.
Content Creation Performance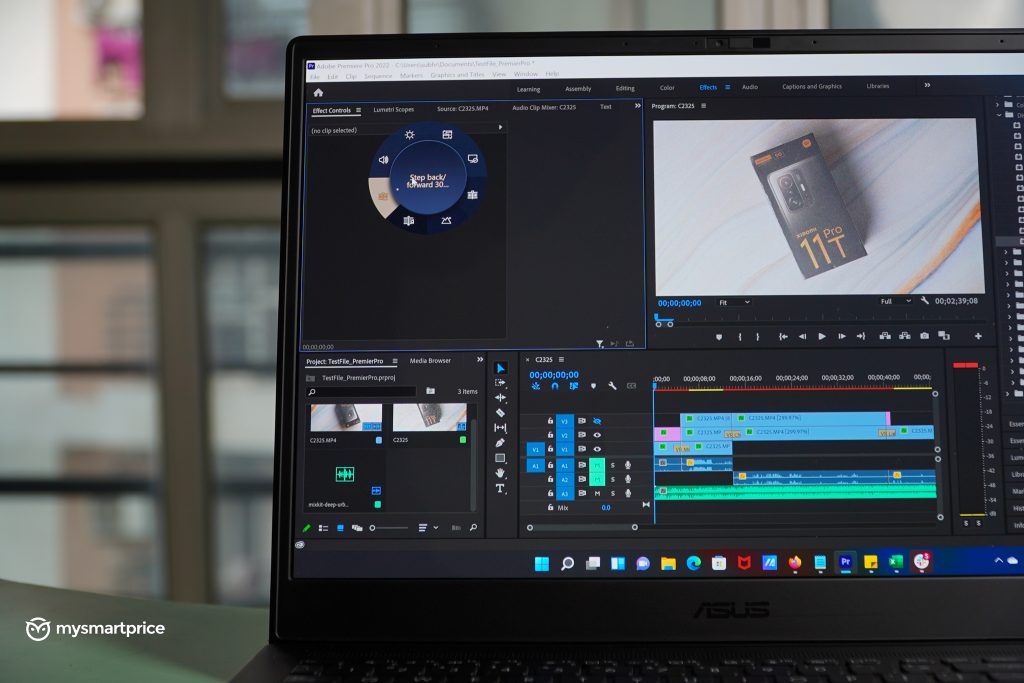 The best way to test a creator laptop is use it like a creator. So I did. I learnt how to edit videos on this machine, spending a couple of sleepless nights with Adobe Premiere Pro. I took one of our unboxing shoots to create a test sample, comparing the render times against the MSI GE76 Raider running on the Intel Core i9 with the RTX 3080. The first sample was pretty basic, with a few snips and stitches, transitions and texts. The 1 minute video took the same 1 minute to render and export. A 1:1 output, which is not surprising. Next, I loaded up the sample with more complex effects and transitions. The 2m39s video took 8m45s to export. The MSI GE76 Raider took around the same time. It's interesting to note despite AMD's performance gains on paper, it takes the same time to render a video as compared to a similarly-specced Intel machine. The new MacBooks with Apple Silicon does not natively support Adobe Premiere Pro. It still runs the x86 version with Rosetta emulator, so the comparison wouldn't be apples to apples, but the same edit on Final Cut does render much faster.
The Blender BMW benchmark took 3m26s to render on the Studiobook, and 3m58s on the MSI GE76 Raider. This of course, whille benchmarking the CPU on both these machines. The RTX 3070 will expectedly take more time to render than the RTX 3080. But the reason why AMD is able to finish the render faster is purely for its superior multi-core performance. Intel chipsets were ahead in single-core performance in 2021, which gets realised primarily in gaming, but for content creation, it's the chipset's multi-core performance that comes into play. So going with AMD if you plan on editing videos or illustrating graphics, is a better choice.
However, there are a few things amiss with AMD onboard. The most important is Thunderbolt 4 ports that is life-changing for transferring data from external SSDs or when hooking up a 4K or 8K monitor.
As for thermals, the cooling profile was set to 'Full Speed Mode' that keeps the fans running at their peak 5700RPM speeds. It gets pretty noisy, but I've never felt a cooler laptop. The CPU temps did touch the 100-degree mark, but maybe it's the chilling winter of Delhi, but the keyboard didn't even become warm.
CPU Behaviour during Premiere Pro Export
Premiere Pro also used up every bit of juice from the CPU. The core clocks hovered around the peak 4.4GHz speed, and max thread usage touched 100% briefly indicating the laptop is making full use of AMD's superior Zen3 multi-core performance. The render also activated the discrete RTX 3070 GPU, with memory utilization hovering around 70%, which is decent.
As for the Asus Dial, I found little use of it outside of scrubbing and zooming in and out of the timeline. What restricts it is the set number of features you can program it for. Instead, if it simply adapted to the task at hand like the scrollbar on Windows does, it'd have been far more useful. For instance, the wheel should've activated when I clicked to adjust effects parameters, with the dial jogging to hit the accurate spot, something that's often difficult to do with the trackpad, and even a mouse. But for a first-generation feature, it's fun and quirky, and an excellent fidget tool to play around with.
Display and Audio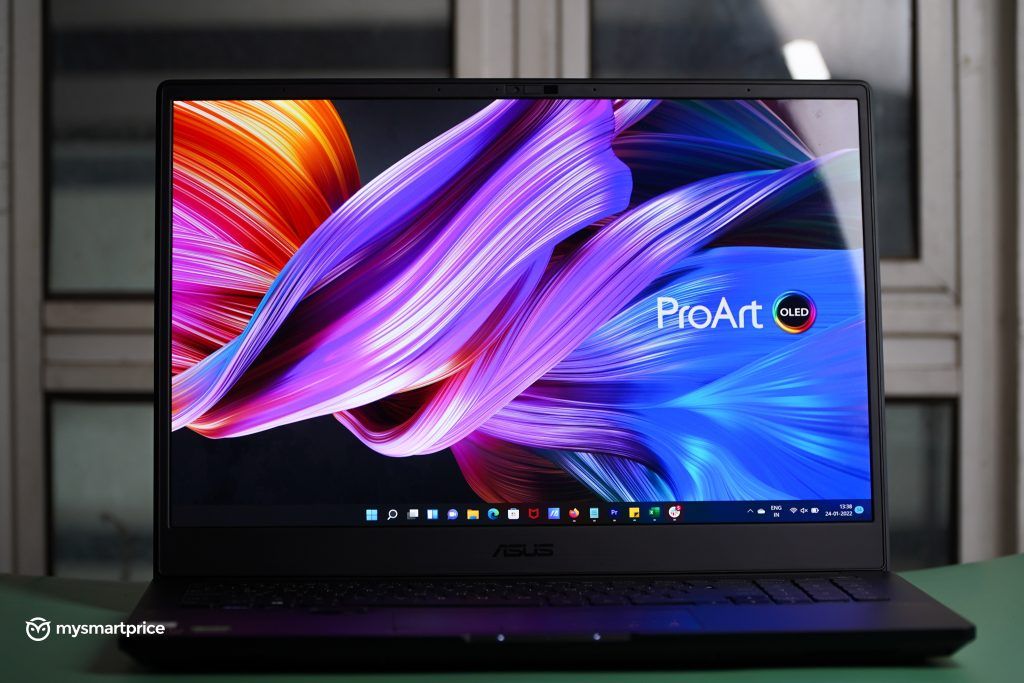 The ProArt StudioBook is defined by the large 16-inch OLED display. It's actually the first laptop to rock a 4K HDR OLED display, and what a stunning experience it is! There's that very apparent, very visible richness to the display. The colours feel more organic and lifelike, and the brightness is perfect for every scenario. It's difficult to go back to an LCD panel after using this OLED display, but such is life. Nevertheless, this one's a glossy panel, made so that the visuals don't look dim. That's a problem with content creation on gaming laptops. They mostly have matte displays to cut down on reflections during gaming, which aren't ideal for content creation. Similarly, the Studiobook is also not the ideal gaming machine. It may have the hardware under the hood to handle most games, the display refresh rate is just 60Hz.
The StudioBook display comes factory-calibrated with the CalMan colorimeter, and is Pantone valdiated for accuracy. Even the HDR performance has a certificaton from VESA Display. Clearly, Asus has gone out of its way to address the concerns of creators. It's also the perfect size. Large enough for the multi-window interfaces in creator apps like Premiere Pro.
However, it's pretty much given that an OLED display will look better than an LCD display. But the reason why OLEDs haven't become mainstream is because of its inherent flaw of burn-in. Because the OLED pixels are organic in nature, that is, they emit their own light, there is a chance of the pixels being burnt into the screen if the same visual is displayed for prolonged periods. This would happen even on the most expensive OLED displays, but manufacturers have figured a way around it.
The pixels on the 16-inch OLED display on the Studiobook are shifted ever so slightly every few minutes, to prevent one pixel from burning in for long. This prevents that one pixel to burn out completely, and thus prevent it the screen from burning in. The display also has DC-dimming enabled for high brightness that prevents the screen from flickering. However, this doesn't work when the brightness is dialled down, and you may experience flickering on the screen.
The audio is powered by four speakers from Harman Kardon. It's quite loud and there's a noticeable stereo effect. It was audible even over the fans spinning at full-speed, and I suppose it should also remain audible during summers with the ceiling fan and AC on. There are array microphones to cancel out noise during video calls, and far-field mics to wake Alexa or Cortana, whichever assistant you prefer.
Keyboard and Trackpad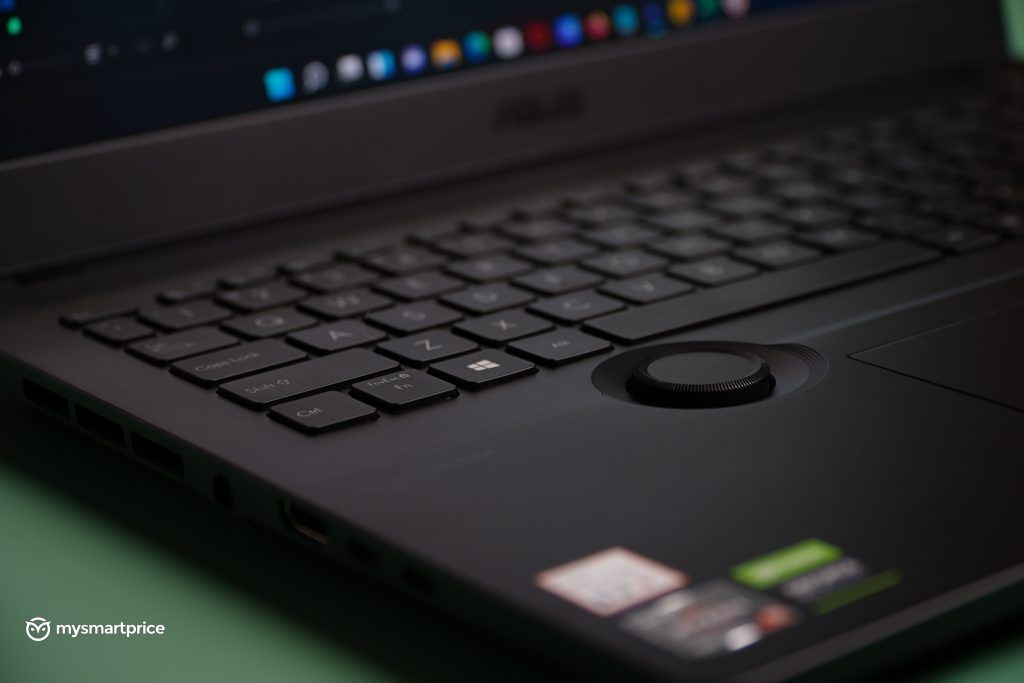 Content creators have had to suffice with keyboards on gaming laptops. They aren't bad at all, but tend to make compromises that might not sit well with creators. The StudioBook fixes that. It features a full-sized backlit keyboard, including the number pad and full-sized arrow keys that also have a striped texture for easy identification. The keys are mushy, and have short actuation points, making for a satisfying typing experience. It sort of imitates the feel of a mechanical keyboard, but it's actually super silent. The white backlight lights up the keys uniformly and doesn't bleed out of the corners.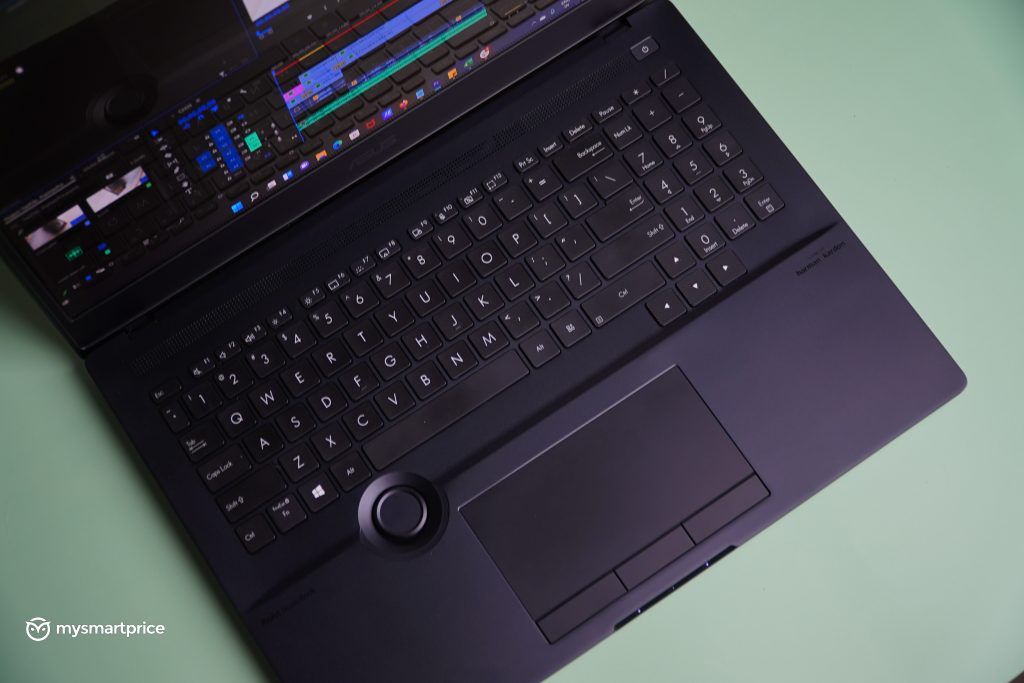 Next is the huge trackpad that also doubles up as a pad to use a stylus. Graphics illustrators would find it quite handy. The trackpad is fixed. You can't press down on it. Instead, there are three buttons at the bottom.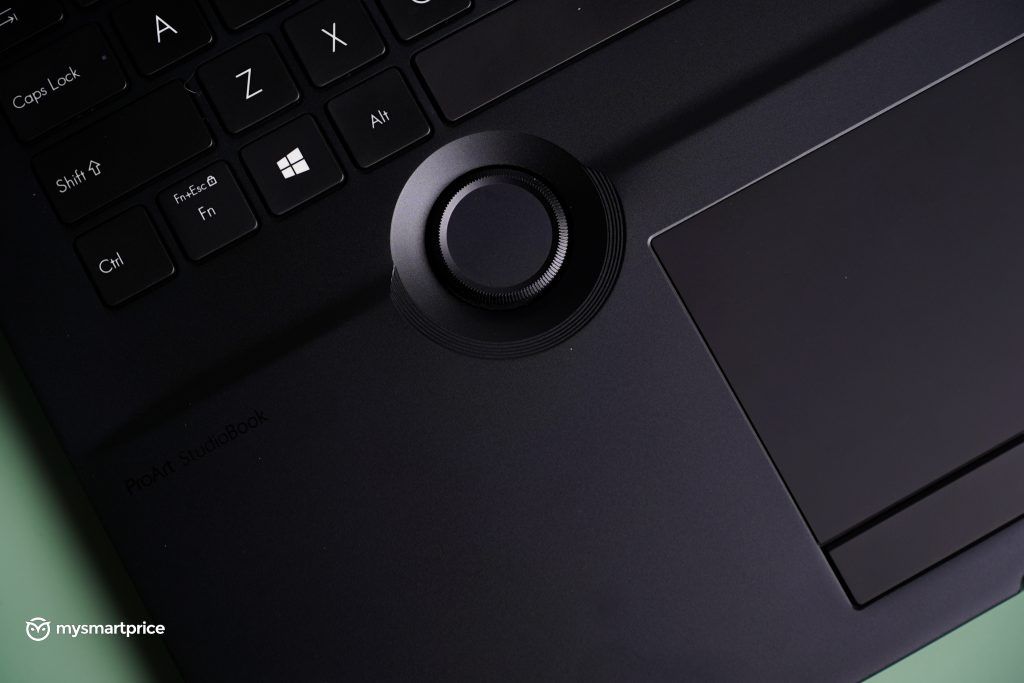 Then there's the dial. I fiddled around with it more than I actually used it. But it does come handy sometimes, even outside Adobe apps. You can use it to adjust the volume and brightness, scroll the page, or cycle between tabs in Firefox. I couldn't program it for games, though. It would've been so cool to enable it for FIFA, with the dial becoming a D-pad for additional controls. That's essentially the story of the Dial. It's great for the specific set of functions its programmed for, but it can be so much more!
Design and Build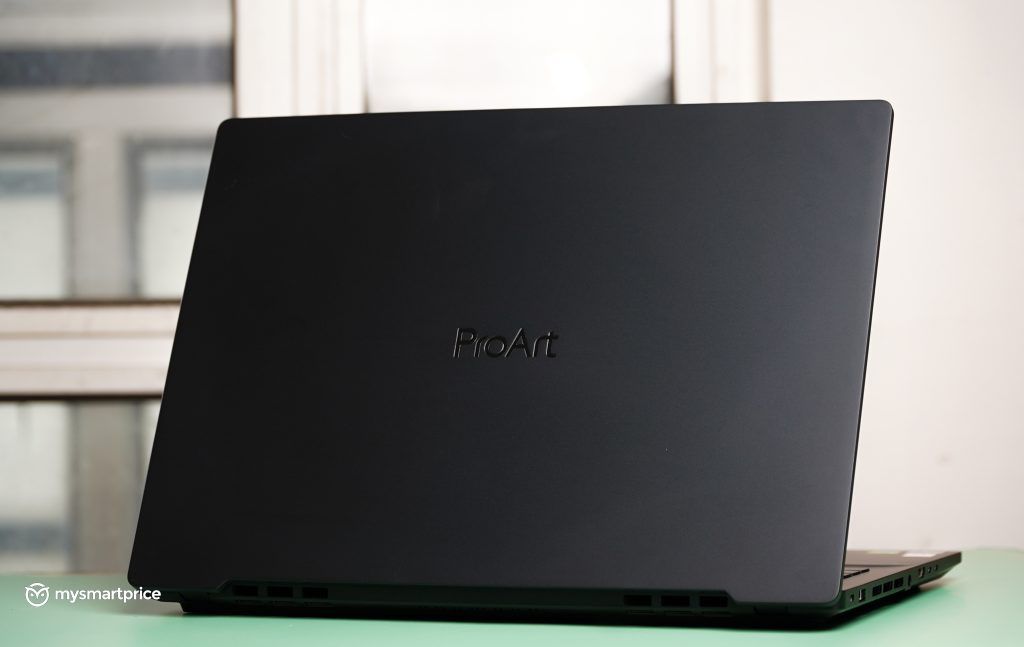 The ProArt Studiobook is built like a tank. It comes in a stealthy, uniform, matte black finish with the ProArt logo etched in the center of the lid. It weighs 2.4Kgs and has passed MIL-STD 810H durability tests. It certainly feels robust. Made almost entirely out of metal, with a soft matte coating on top, the laptop is meant to blend in with the surroundings, putting all the focus on the screen. There's plenty of space to rest your palm, and enough air vents to help the fans push out heat. It's fairly portable for a high-end 16-inch laptop.
If you must be wondering, the dial doesn't come in the way of typing at all, as it's positioned in a place where the wrist is raised over the surface. Even the large trackpad had excellent palm rejection, although it's placed center to the body, and is covered by the right hand while typing.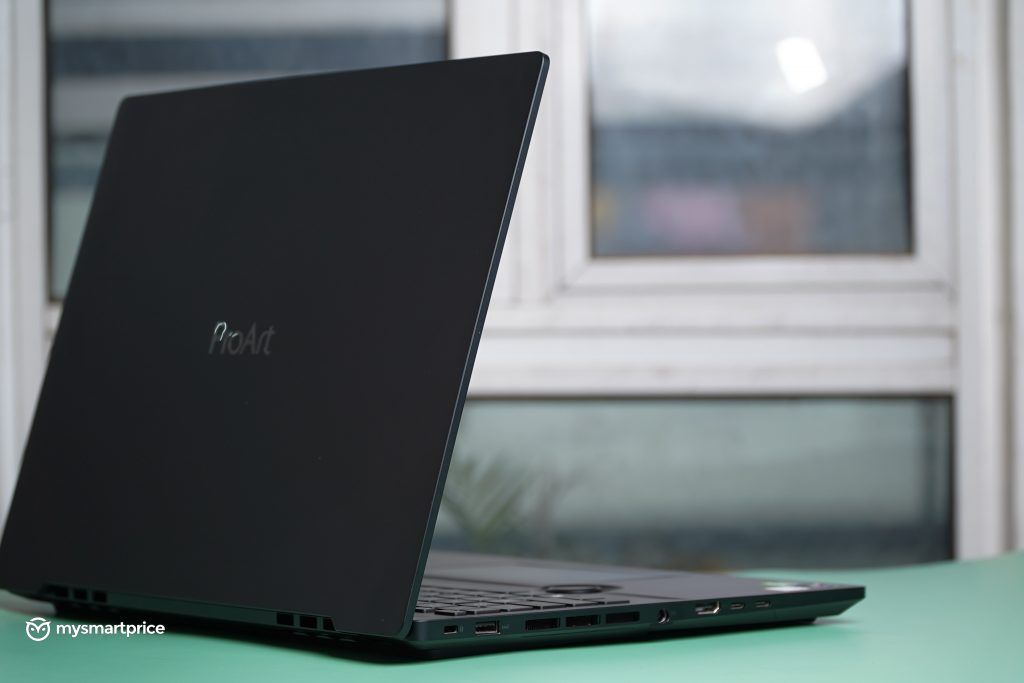 Asus covers all the I/O options needed for creative work. There's an SD Express 7.0 slot that can transfer data from supported cards at a whopping 985MB/s, along with HDMI 2.1 with 8K 120Hz output. There are two each of USB 3.2 Gen2 Type-C and Type-A ports and the usual headphone jack and DC-In ports, all placed at the sides. Sorely missing here is the presence of Thunderbolt 4, which is hard to get on an AMD machine. That, and the fact that there aren't more USB ports for creators to plug in their peripherals. The two USB-A ports in my case were occupied by a wired mouse and external HDD, and I had no space to plug in my headphone dongle.
Battery Life
Asus claims 8.5 hours of battery life from a 90Whr battery, but in daily use which didn't include running intensive software like Premiere Pro, the battery life ranged anywhere between 6 to 7 hours. It's one of the most power efficient high-end laptop I've used so far, and it's mostly thanks to the OLED display. With no backlight that's always on, OLED displays help cut down on eating up a lot of power, even as it brings a higher contrast ratio and richer visuals. Furthermore, the ProArt Creator Hub software has options to tweak the performance profile. Keeping it at dynamic tunes the performance for maximum battery, without throttling the hardware.
However, when you're doing the actual creative heavylifting on this laptop, it needs to be connected to a 16A socket, which isn't always readily available in India households. They are reserved for refrigerators and ACs and not for gadgets like laptops and mobiles. This is something that could be a potential dealbreaker for some.
Should you buy the Asus ProArt Studiobook 16 OLED?
The Studiobook 16 OLED makes for a convincing choice for creators if you want to stick to Windows for your work. The laptop doesn't compromise on the performance or the certifications necessary to assure creators. It's as powerful as the high-end gaming laptops but has all the required calibrations for accurate output. I had no problem using the laptop to edit a video for the first time. Smooth scrubbing, near instant rendering of effects and 1:1 export times are things any editor would desire, and the Studiobook 16 delivers that with finesse. There are no glaring faults to pinpoint here, save for the fact that it misses out on a few important features by going with an AMD chipset. Things like Thunderbolt 4, PCIe 4.0 are big performance multipliers for creators who has to deal with external displays and storage all the time. There is an Intel variant of the Studiobook 16 OLED, but sadly not available in India yet. Having said that, the AMD variant does offer better performance in creativity suites, and that should be the most important factor when making that purchase decision.