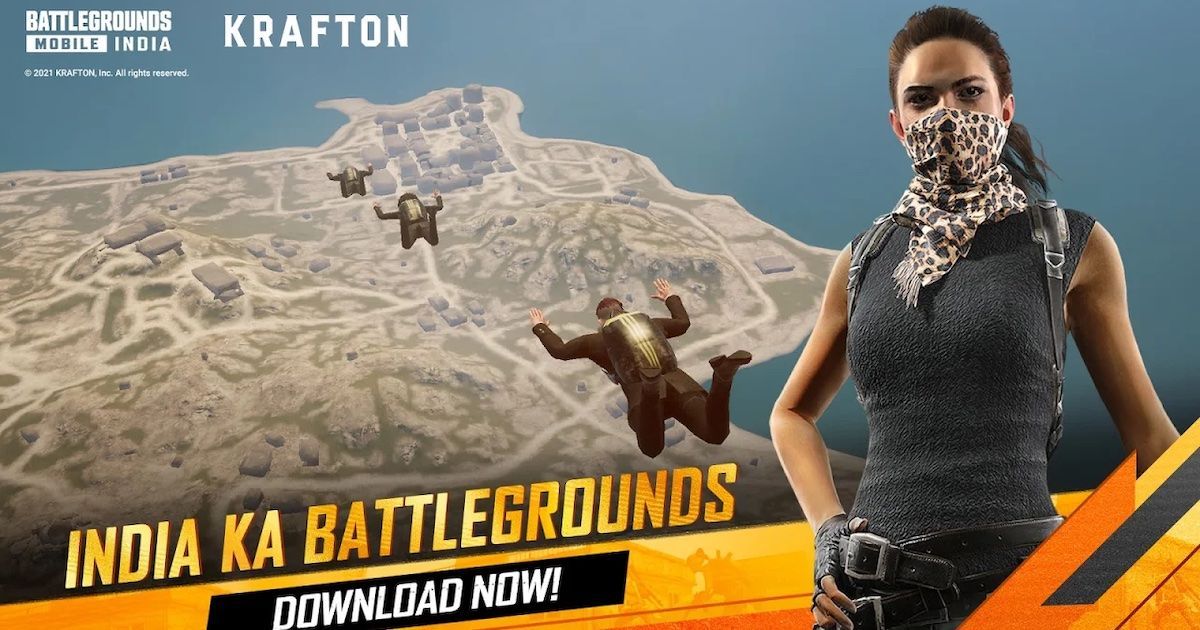 Battlegrounds Mobile India is the new sensation in the mobile gaming space. The game, which is a revamped version of the PUBG Mobile, is making headlines in India with its official launch. The battle royale game is here for your entertainment with its wide range of weapons and guns. Whether it be the mighty AKM or the reliable M416, choosing the right gun is very crucial for survival in this game. So, if you are one of those who have downloaded the game for the very first time and you haven't played PUBG Mobile in the past, we are here to help you. In this article, we are going to present you with the list of the best guns in BGMI for beginners. Here's what you need to know!
Also Read: Battlegrounds Mobile India (BGMI): APK Download, Final Version Link, iOS Version & 1.5 Update Details
List of Best Guns for Beginners in Battlegrounds Mobile India aka PUBG Mobile
M416
UZI
Vector
AUG A3
Mini 14
DP-28
M416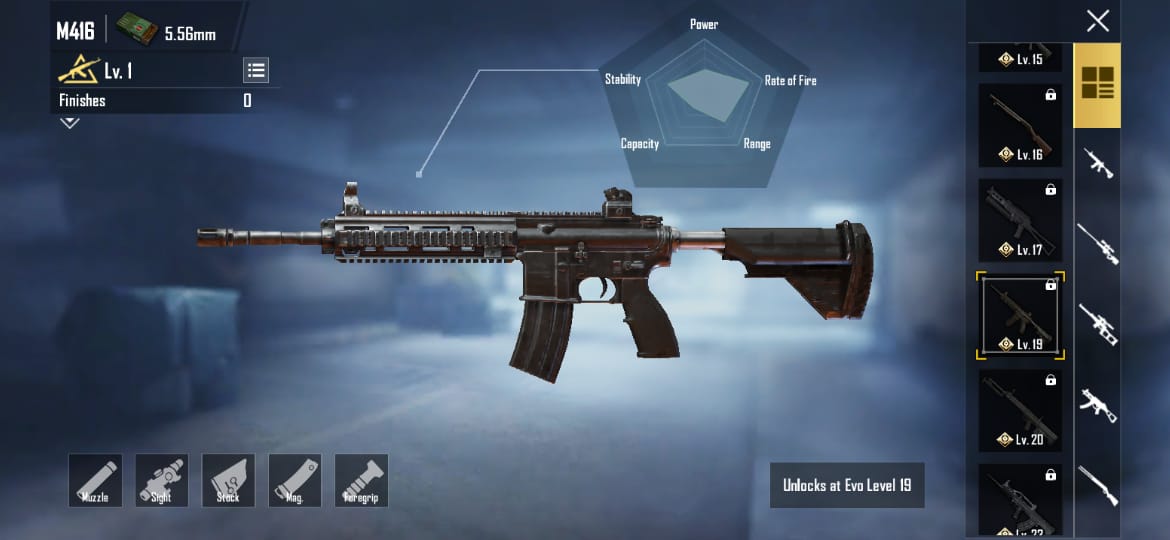 M416 is probably one of the best guns for those who have just started playing Battlegrounds Mobile India. The gun falls under the assault rifle or AR category and brings some amazing recoil controls. This gun is particularly a favorite of many Pro players due to the fact that it comes with a number of accessories. The gun can be loaded with stocks and grips, which helps in further controlling the recoil. The M416 is ideal for mid-range and mid to long-range fights. Furthermore, you can add up to 6X Scope, which will further help you to kill enemies from a distance. Controlling the recoil of the gun is pretty easy and you can easily get a good grasp of the gun mechanics once you play a match or two with it.
Also Read: BGMI Sensitivity Settings: Best Camera, ADS, and Gyroscope Settings for Battlegrounds Mobile India
UZI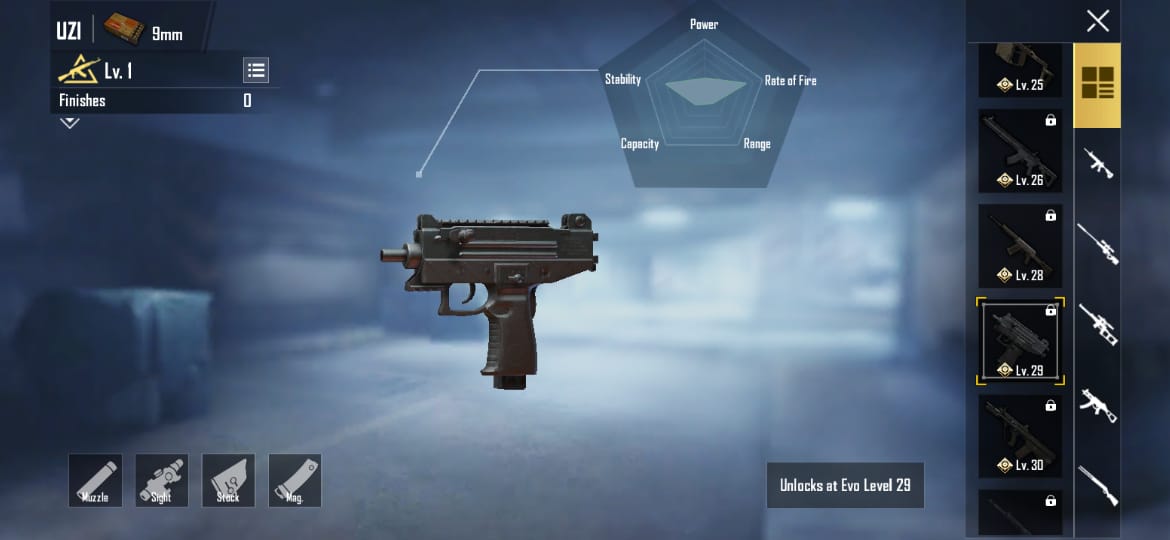 Micro UZI or UZI is a submachine gun that is pretty good for close-range combat. The best part about the gun is the high firing rate. The UZI is perfect in 1vs1 situations or in those panic rushes. However, the downside of this gun is that you can only use it for close range and you need to be a bit precise with your target. That being said, the gun can be quite useful in the early phase of the game, i.e. when you land or have combat at the starting of the game. The gun comes with a base damage of 26 and comes with 9mm bullets.
Vector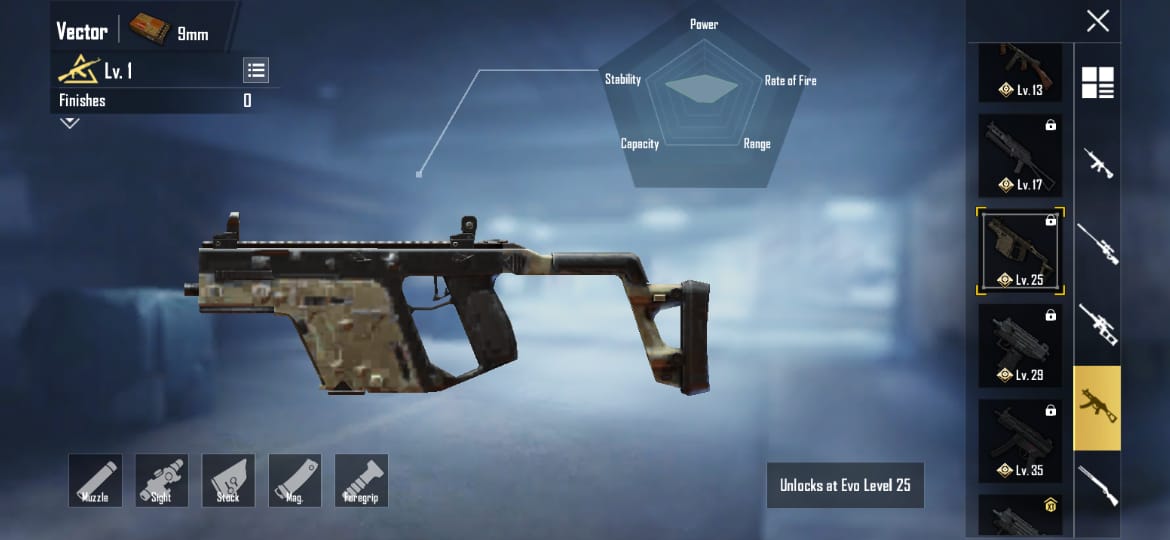 Vector is yet another SMG weapon that is reliable for close-range fights. This is also a good weapon for the early game phase and can be helpful for intense gameplay. The gun offers good damage and has a high firing range. The gun uses a plethora of attachments. The best combination is by using a muzzle, a red dot sight, a tactical stock, an extended magazine, and a good grip like the half grip.
Also Read: BGMI Names: 50+ Best Stylish Design Nicknames for Battlegrounds Mobile India
AUG A3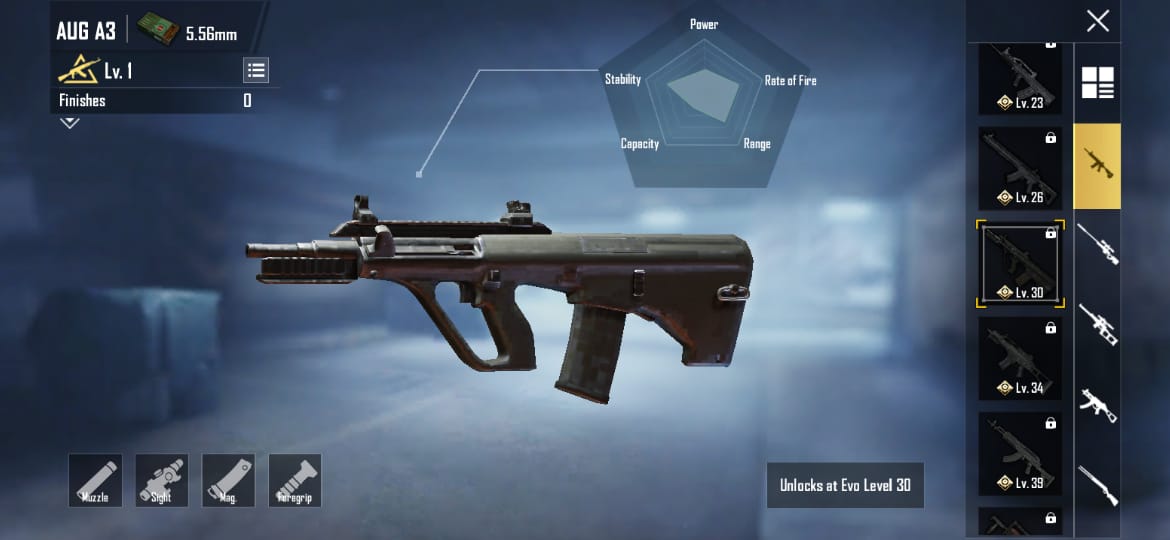 AUG A3 is a rank A weapon when it comes to the Battlegrounds Mobile India. The gun is obtained from the airdrop and is probably one of the best guns you will find in the game. The assault rifle has high stability and low recoil, which is quite helpful in mid-long range combat. However, the gun comes with a noticeable reload speed. So, it is best you quick Extended Quickdraw magazine with this gun. Furthermore, one can also give you 3X scope with it to get better visibility during mid to long combats. The gun uses 5.56mm ammo and one can a muzzle like a compensator, and foregrip for better stability.
Also Read: Battlegrounds Mobile India (BGMI): How to Change ID Name, Appearance, Avatar Picture, Title and More
Mini 14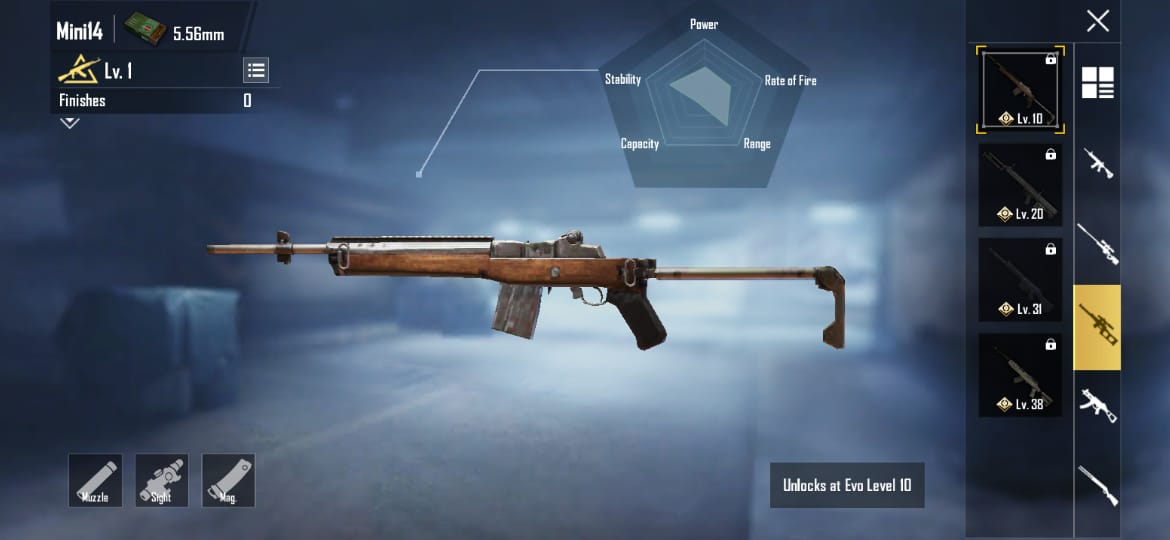 Mini 14 is a semi-automatic DMR gun that is one of the best long-range guns you will find in the game. The gun offers better stability and low recoil, making it one of the most effective guns in long-range combat. The gun uses all the AR attachments including compensators, suppressors, up to 8x scope, grips, extended magazines, and more. Furthermore, you can equip cheek pads for better recoil control. The DMR uses 5.56mm ammo and has good damage up to 90 meters. Furthermore, the high firing rate will surely help you to knock down an enemy in the open field.
Also Read: BGMI Clan Name List (July 2021): 50+ Best Stylish Clan Names for Battlegrounds Mobile India
DP-28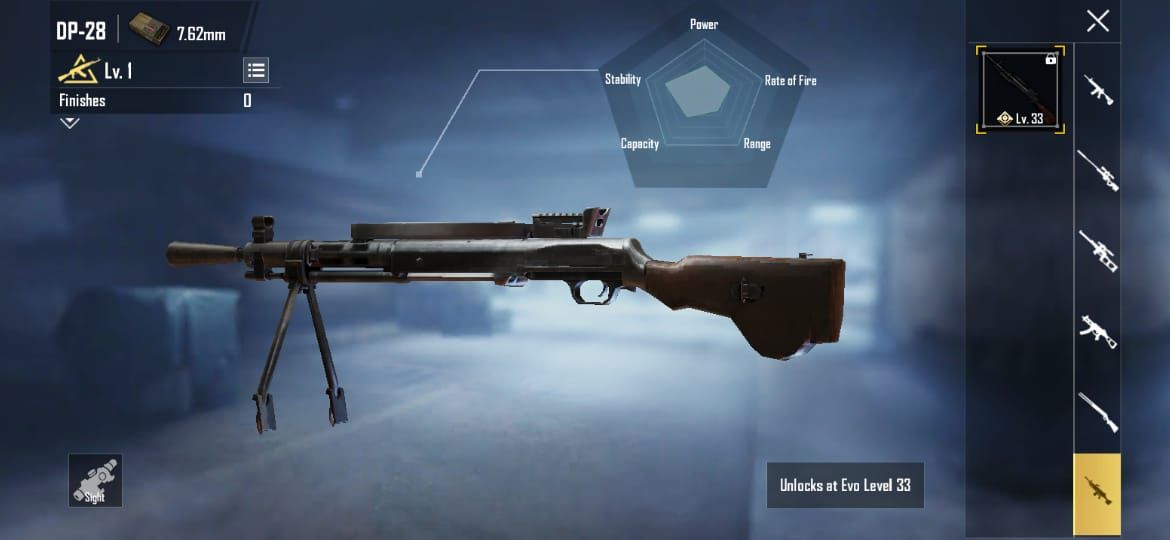 DP-28 is also a reliable gun when it comes to mid-range combat. It is basically an LMG gun that offers good firepower and damage. The gun comes with a 47-round magazine and fires 7.62mm heavy ammo. The gun is particularly useful when you want to blow the enemy's vehicles or more. The LMG has some downsides as well. First of all, it does not offer many attachments. Secondly, the firing rate is slower than most of the ARs and SMGs available in the game. Furthermore, the gun has a long reload time. But that being said, it can deal maximum damage up to 50 meters, which is one of the reasons why it is decent over other medium-to-long-range guns in the game.