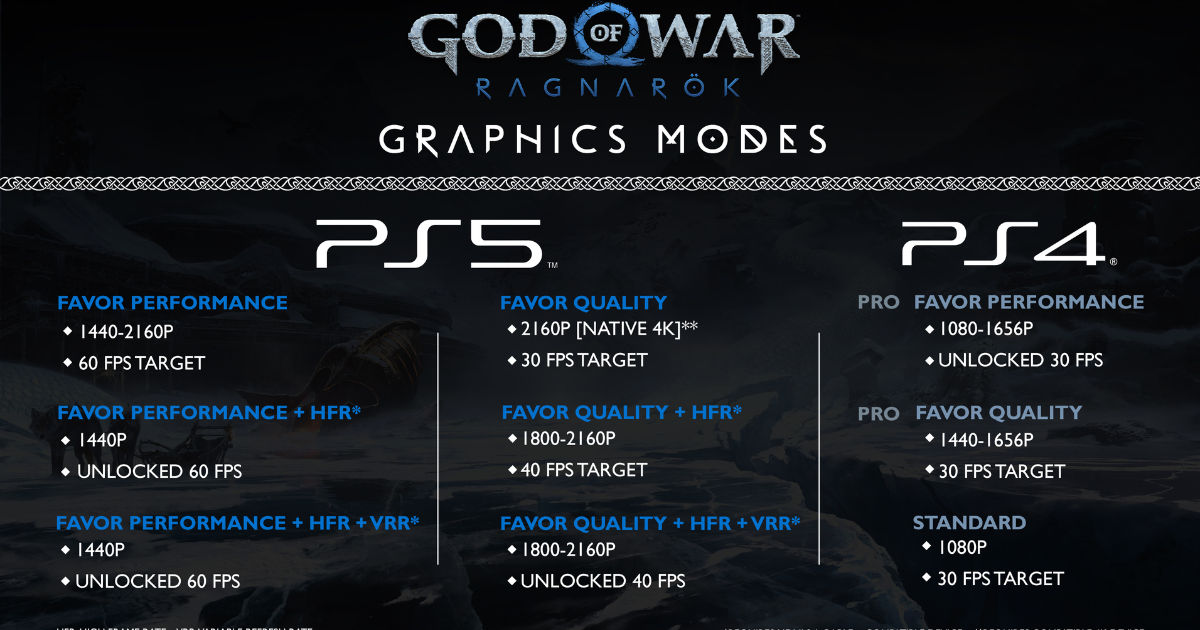 God of War Ragnarok is only a week away and Santa Monica Studio has just shared the graphics modes players can expect come launch day. In a nice little surprise, the game will feature additional modes than just "Performance" and "Quality", as the game will also feature "Favour Performance + HFR (High Frame Rate)" and "Favour Performance + HFR + VRR (Variable Refresh Rate)". This adds the ability for players to run the game at 1440p at unlocked 60 FPS.
The game will also include graphics modes for the PS4 Pro, offering unlocked 30 FPS performance at 1080-1656P. Those who favor higher fidelity over high refresh rates can toggle the "Favour Quality" preset on their PS4 Pro to play the game in 1440-1656p, targeting 30 FPS.
This is great news for fans who own either a current-gen console or the last-gen PS4 Pro. Meanwhile, the standard PS4 will only feature one graphics preset which runs the game at 1080p, targeting 30 frames per second.
Also Read: God of War Ragnarok Leaked as Retailer Ships Copy of Game 2 Weeks Ahead of Launch
God of War Ragnarok Graphics Modes Detailed
PlayStation 5
Favour Performance: 1440-2160p, 60 FPS Target
Favour Performance + HFR: 1440p, Unlocked 60 FPS
Favour Performance + HFR + VRR: 1440p, Unlocked 60 FPS
Favour Quality: 2160p [Native 4K], 30 FPS Target
Favour Quality + HFR: 1800-2160p, 40 FPS Target
Favour Quality + HFR + VRR: 1800-2160p, Unlocked 40 FPS
PlayStation 4 Pro
Favour Performance: 1080-1656p, Unlocked 40 FPS
Favour Quality – 1440-1656p, 30 FPS Target
Standard PlayStation 4 – 1080p, 30 FPS Target
To run the VRR presets, players will require both an HDMI 2.1 cable as well as a device that is compatible with VRR. God of War Ragnarok is a cross-gen release, meaning it will be available on both current-gen and last-gen consoles. While this caused a lot of stir within the community upon announcement – gameplay released by Santa Monica seems to have quashed all notions that the game is being held back by the last generation of consoles.
Over the past few months, there has been a lot of talk regarding whether last-gen consoles are holding back the current crop of games. Most recently, Gotham Knights was panned for its optimization issues, with many pointing to the Xbox Series S as being the reason that the game was held back. Whether that is true is entirely up to speculation.
God of War Ragnarok is scheduled to come out on November 9 for the PS4 and PS5 and is currently available for pre-order. Pre-order bonuses include armour sets for both Kratos and Atreus. The game will be the concluding chapter to the Norse saga and will see the pair go up against seemingly insurmountable odds as the inevitable war against the Aesir comes to a head.