Highlights
Meta has a new app in its social media portfolio.
Threads is a Twitter alternative powered by Instagram.
You can share your username, login, profile, and more with Instagram.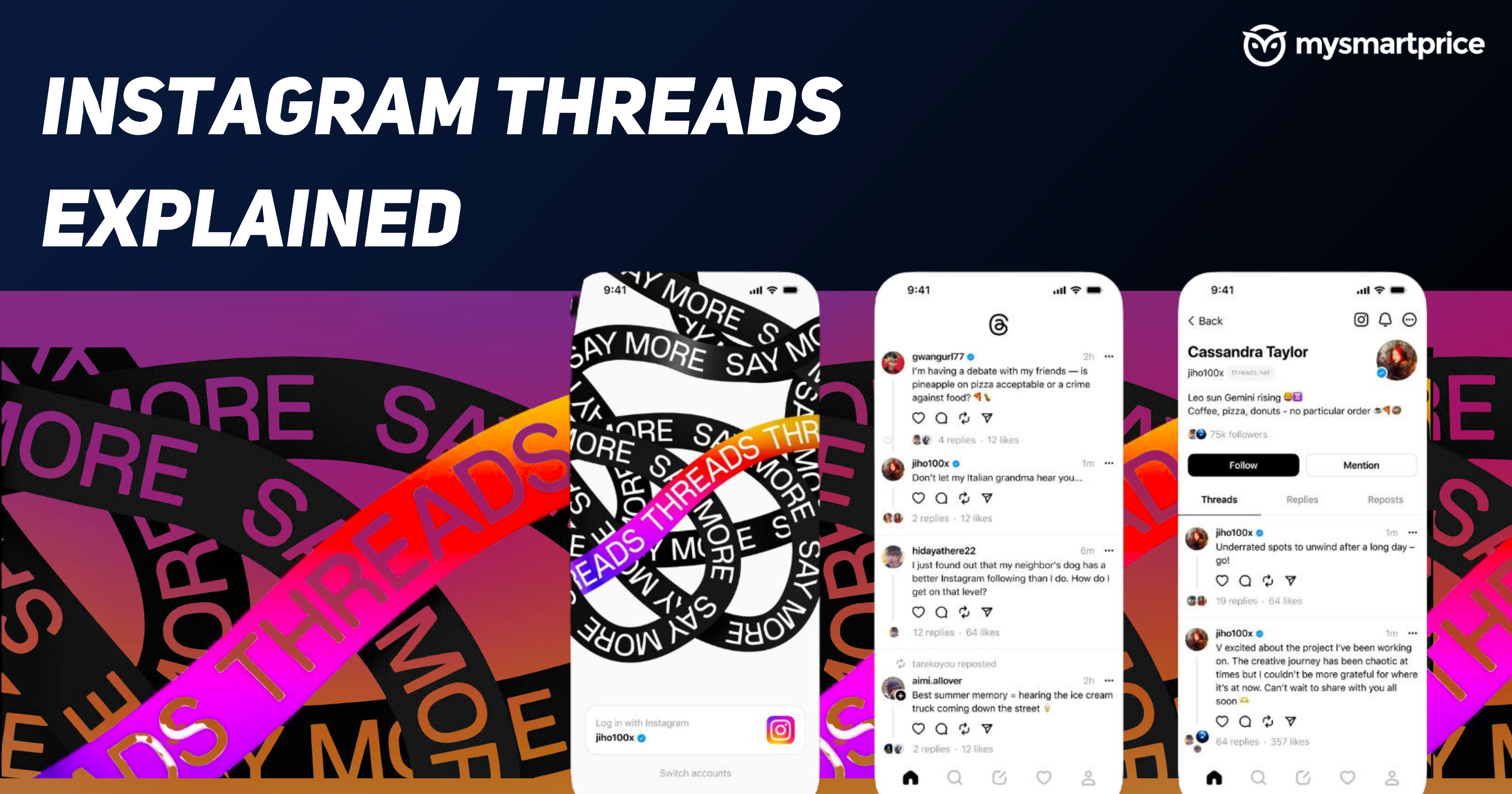 Mark Zuckerberg is going head-to-head against Elon Musk before their upcoming fight! Meta has launched its latest social media app, Threads. It is being introduced as a Twitter alternative but Instagram powered.
Mark Zuckerberg has timed the launch of Threads to take advantage of the turmoil happening at Twitter after Elon Musk's take over. Before jumping onto the Threads bandwagon, let's look at what Instagram Threads is, what it offers, and how it could stand apart from being a Twitter alternative.
What Is Threads App?
Threads is like Twitter, a text-based social media platform, but it is decentralized and carries over lots of stuff from Instagram. Threads use the same username you use for Instagram, and you can log in with the same Instagram account. Threads also follow the design aesthetics, with a similar design language used for the app, as shown in the screenshots.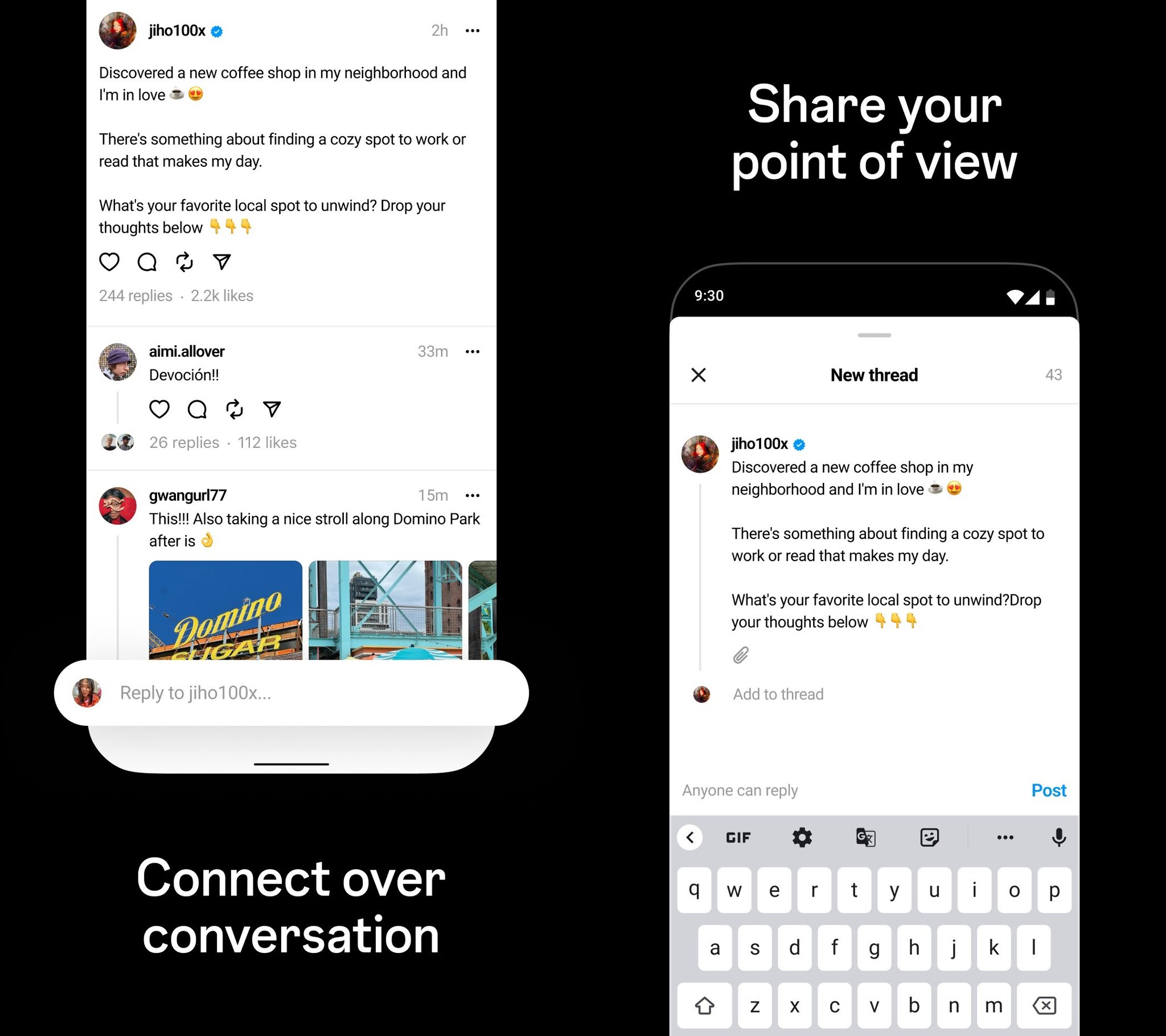 As it uses Instagram heavily, you can easily follow people you already follow on Instagram. Also, your followers on Instagram can find and follow you easily.
As an app deeply integrated with Instagram, it isn't currently known whether a user can register for the Threads app without an Instagram account.
Threads App Features
Same Username from Instagram
Install and open Threads; you'll find your account waiting for you based on Instagram, with your Instagram username and profile picture.
Easier To Find Your Existing Instagram Followers
You can easily follow the celebrities and people you follow on Instagram on Threads upon logging in to Threads for the first time. Instead of asking you to follow random people in Threads, it will ask if you want to follow those you already follow on Instagram. Similarly, your followers on Instagram can find you easily.
Based On ActivityPub
Another Twitter alternative that has gained popularity recently was Mastadon. It prided itself on being the decentralized social media protocol that uses ActivityPub. This is the direct opposite of what Twitter did, which actively blocks links from Mastodon and other similar apps.
With support for ActivityPub, users can take the Threads or Instagram account to other ActivityPub-based social media like Mastodon. At launch, however, ActivityPub integration is unavailable, but it will be available soon, Instagram said.
Verified on Instagram? You're Verified On Threads Too
If you have a verified account on Instagram, you'll also carry forward the verified status for the account in Threads. Meta recently introduced the Meta Verified program for Facebook and Instagram users, with separate verification subscriptions for both apps.
That means if you're verified on Facebook after getting the Meta Verified subscription, you need to get a different Meta Verified subscription for Instagram. But between Instagram and Threads, you don't need to have additional Meta Verified subscriptions; you'll carry over the Instagram subscription to Threads giving you a blue tick on Threads as well.
How To Download Instagram Threads App?
Threads by Instagram can be downloaded from the official stores in Android and iOS:
How To Sign Up For Threads App?
Now that you know how to download the Threads app, let's look at how to sign up for Threads after downloading it.
When you open the Threads app on your phones, you'll be greeted by the "Log in with Instagram" option with your account preselected if you have Instagram installed and signed in. You can also switch the account if you want to do that instead.
On the next page, you'll be shown the Profile info option, which you can import from Instagram or edit on your own.
Next, you must select whether you want a Private or Public account.
The app will show you a small how-to about the app on the next page.
Next, you can follow the contacts you follow on Instagram. You can follow them one by one or follow them all at once.
Threads Vs Twitter: Key Differences
Threads is launching an alternative to Twitter.
"We've been hearing from creators and public figures who are interested in having a platform that is sanely run, that they believe that they can trust and rely upon for distribution," Meta chief product officer Chris Cox, stated to The Verge last month, indirectly referencing the stuff happening at Twitter.
Twitter recently changed how many tweets a free user and a paid user can view, which caused the app to break for many people. It has also closed off its app for non-registered users and blocked Google from accessing content from Twitter, resulting in Twitter not showing up on Google searches like before. And Twitter was straight up not working for many users last week.
Instagram Threads is launching in the middle of all the turmoil at Twitter and aims to be a stable alternative to Twitter.
Meta already has a big social media platform, the OG social media platform Facebook. But Facebook isn't Twitter, and the way of interacting with the world is completely different from Facebook and Twitter.
Starting out as a microblogging platform, Twitter has really carved out its niche in the social media space with the ability to interact with anyone on the platform freely. With Threads, Meta is looking to do what it does best: copy features from other apps.
As far as we can see from the screenshots, Threads only resemble the aesthetics of Instagram. How it works should resemble Twitter more. As the name suggests, Thread would be the name of the single post in Threads.
The screenshots show that Threads adopt a similar retweet feature where users can reshare the thread from another user. We can also expect a trending page for current trending hashtags and terms like on Twitter.
Shopify President has posted his profile on Threads on Twitter; it seems like he has early access to Threads, which looks much like Twitter. Take a look:
— Harley Finkelstein (@harleyf) July 4, 2023
On the whole, expect it to be a good Twitter clone!
Threads Vs Other Twitter Alternatives
Threads isn't the first Twitter alternative we have seen. Many alternatives, such as Mastodon, Koo, Truth Social, and BlueSky, have hit the market. Most of these apps gained some popularity by leveraging the anger of Twitter users against the handling of Twitter by Elon Musk. But none has come close to Twitter in terms of popularity.
Threads have a good chance of being a successful alternative to Twitter. As it's primarily not looking for disgruntled Twitter users, it will capitalize on existing Instagram users, inviting them to a Text-based social network.
Is Threads App Safe?
If you're familiar with Meta's apps like Facebook and Instagram, you already know how infamous they're regarding users' privacy. Meta runs an advertising business that tracks everything about you to serve you ads. Instagram Threads will be no exception, and we can expect similar ads to be plastered around the app.
Some users on Twitter have already started complaining about the privacy issue on Threads. They've shared the screenshot of the Threads App Store page about the permissions Threads asks for. Even Twitter Ex-CEO Jack and Chief Twit Elon Musk had an interaction about this. Take a look:
Yeah

— Elon Musk (@elonmusk) July 4, 2023
But other Twitter users were quick to call out Twitter on asking for similar amounts of permissions (even though not as much as Threads).
Seems similar to @Twitter? pic.twitter.com/eEy2Chjndx

— FreddieRaynolds (@FreddieRaynolds) July 4, 2023
Frequently Asked Questions
Can I use Threads without an Instagram account?
Currently, you need an Instagram app for using Threads.
Will I get verified on Threads if I'm verified on Instagram?
Yes, Threads will carry over Instagram verification.
Is the new Threads app the same app that was discontinued?
The old Threads app is a different one, which dealt with Instagram DMs. The new Threads is a Twitter clone.
How do I get the Threads app?
You can download the Threads app from App Store or Play Store.