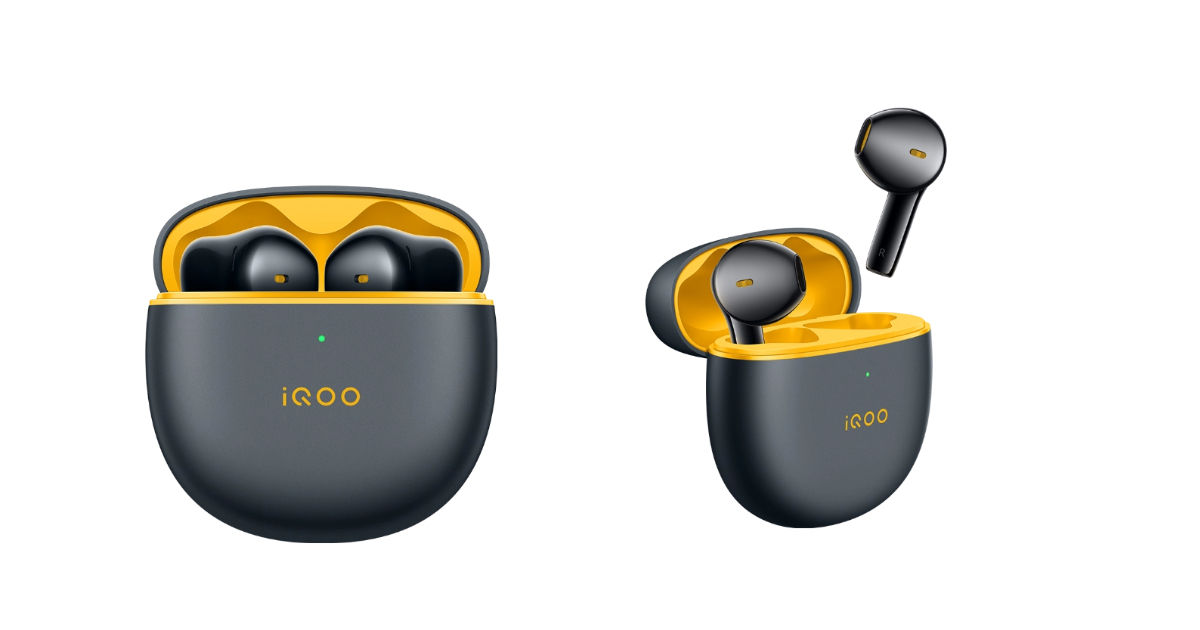 iQOO launched the Neo 7 as the company's new premium smartphone. The Neo 7 is priced in India for around Rs 30,000 and offers a MediaTek Dimensity 9000+ SoC. iQOO also launched its new wireless earbuds alongside the Neo 7. The company unveiled the iQOO TWS Air as its budget wireless earbuds.
The TWS Air is said to be the company's first gaming true wireless headset. The company claims that its new wireless earbuds offer a smooth audio experience. As the name suggests, the TWS Air is also fairly lightweight. Let's take a look at the iQOO TWS Air price, specifications and other details.
iQOO TWS Air Price and Specifications
The iQOO TWS Air is the company's first gaming wireless earbuds. It is priced at CNY 199 (roughly Rs 2,300) in China. iQOO will offer the TWS for CNY 169 (roughly Rs 1900) during its first sale. The TWS has been launched in a single colour option with a dual-tone case. The outer shell of the case is black, whereas the insides are yellow in colour.
In terms of specifications and features, the TWS Air has a stem design. The long stem will remind you of the original AirPods or the AirPods second-generation, which are currently available in India. iQOO claims that the earbuds are designed with mechanics vents so that air flows in and out of the sound cavity freely for audio clarity and noise reduction.
The earbuds pack 14.2mm BioCarbon fibre and a NdFeB magnetic circuit system. The company has also turned its earbuds with Golden Ear Acoustics Lab for DeepX 2.0 Stereo Effect and Professional Audio Mixing. Users can expect good bass and treble along with a clear voice.
The earbuds are IP54 rated for water and dust resistance. Each earbud has dual-beamforming microphones for an enhanced calling experience. There is no Active Noise Cancellation (ANC) but the TWS offers support for AI call noise reduction algorithm to clear the background noise so that the user's voice is clear during calls.
iQOO claims that users can expect to get up to 25 hours of battery life using its new TWS. Each earbud can offer up to 4.8 hours of battery life on a single charge. It is not the best battery life as there are wireless earbuds out there that last for up to 30 hours, and some even around 35 hours, with the charging case combined.
The earbuds support Bluetooth 5.2. It also comes with features like Monster Gaming sound, Low-latency mode and fast pair support. The earbuds weigh about 3.5 grams each, whereas the case weighs about 39 grams.
The TWS Air is likely to launch soon in India. iQOO has not confirmed any details about the same. We will share the official word from the brand once there is an official announcement.