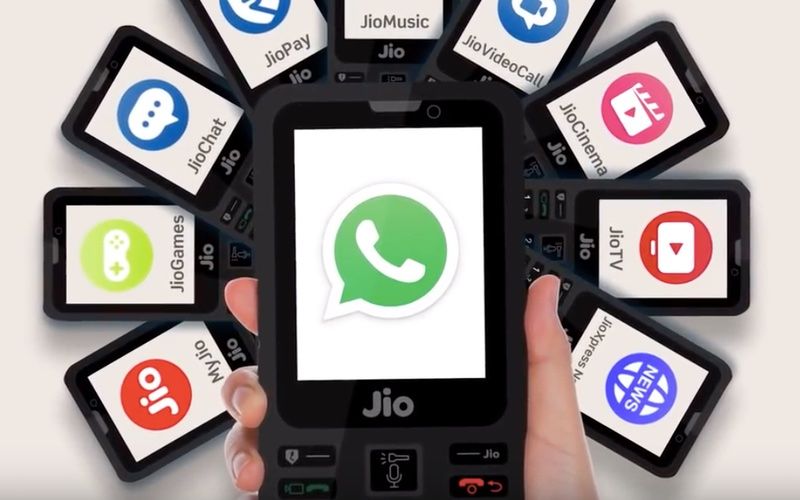 Reliance's first 4G feature phone, the Jio Phone debuted with KaiOS on the software side. Even though the phone was an instant hit, it lacked support for WhatsApp. The company had announced back in July that Whatsapp, Facebook, and Youtube apps would be coming to Jio Phone and Jio Phone 2 soon. The Facebook and Youtube apps arrived soon afterward, but for some reason, the rollout of Whatsapp was delayed. However, WhatsApp can now be downloaded on Jio Phone.
Expressly Made For Jio Phone
Initially, WhatsApp was scheduled for a launch alongside the recently released Jio Phone 2. Jio Phone has a strong foothold in the Indian mobile market, accounting for 47 percent of the feature phone market and 27 percent of the overall mobile market. The arrival of WhatsApp to Jio Phone would be a win-win for both Reliance and Facebook-owned WhatsApp.
WhatsApp has specially made a new version of the app for Jio Phone but the tailor-made version lacks some advanced features. However, the best and the most indispensable features of the app such as such as sending text, pictures, and videos, and end-to-end encryption are a part of the package. However, it will not be possible to make voice or video calls, set status updates, share your location, or backup your chats. In essence, this is a very basic version of WhatsApp, and for a full-fledged experience, you would have to switch to Android or iOS. Given that Jio Phone is a basic phone without any bells and whistles, we think that most users won't have a problem with this.
Here Is How You Can Download WhatsApp On Jio Phone And Jio Phone 2
As announced by Reliance on Twitter today, WhatsApp can now be downloaded from the JioStore. To download the messaging app, you would first have to ensure that your phone is running the latest version of KaiOS by navigating to Software Updates under the Settings tab. You can update the software if it is not the latest one.
The wait is over! Now you can WhatsApp on JioPhone. Download today from the JioStore. #WhatsAppOnJioPhone pic.twitter.com/gGPcWHg87o

— Reliance Jio (@reliancejio) October 22, 2018
Once that's done, look for WhatsApp in the JioApps Store and install it. When the app is downloaded, you can either open the app whilst staying on the same page or go back to the app drawer to launch WhatsApp. To proceed, you will have to "Agree" to the Terms & Policy. After this, you will be required to enter your mobile number, in response to which you will get an OTP (One-Time Password) for verifying your account. After that, you are good to go and the app will ask you for some details such as your name and provide you an option to set up a profile picture.
In addition to bringing the messaging app to Jio, WhatsApp and Reliance have teamed up to school people on how to use the app safely and responsibly. As a part of this initiative, representatives from both the companies will visit 10 cities across India to engage with people. Although Jio's affordable feature phones have enabled more people to use the Internet in India, the increased accessibility has its own pitfalls. That's why it is essential to teach digital skills to people and increase news literacy to prevent false news from propagating.
Here is a video tutorial on how to download WhatsApp on your Jio Phone: