Highlights
Reliance AGM 2023 will have new Jio announcements from the company
JioPhone 5G is likely to be launched along with new 5G plans for Jio 5G
Jio could also showcase other products like JioBook, Jio AirFiber 5G and more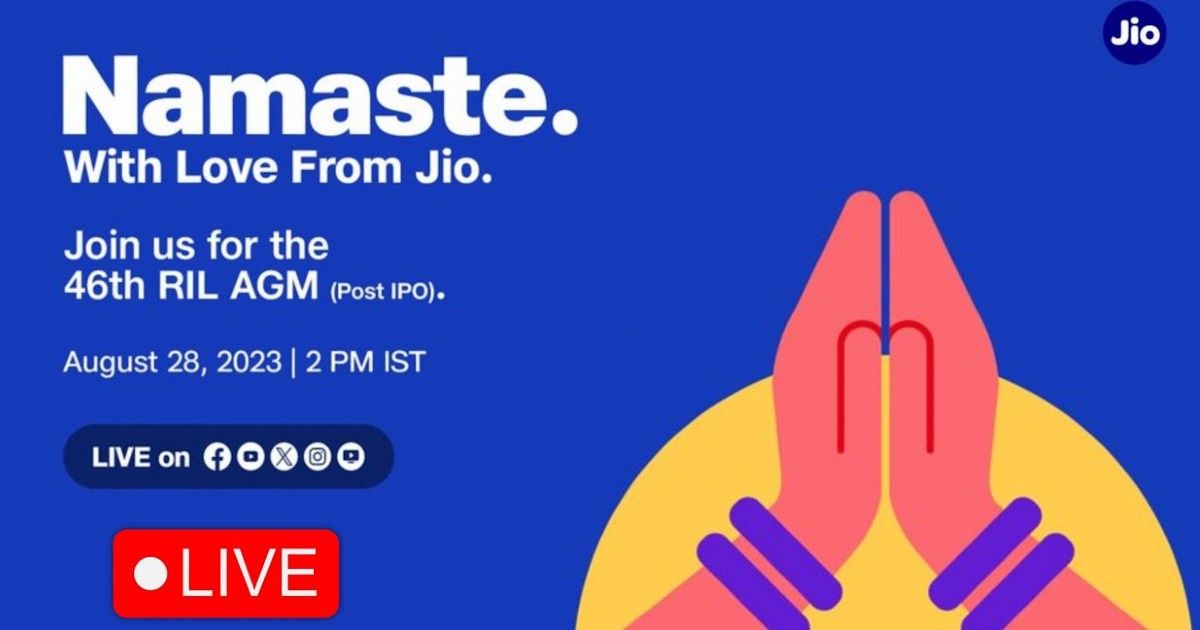 Reliance Industries has confirmed the date for this year's 46th annual general meeting where the shareholders of the company and the public are given a teaser into new announcements as well as products from its Jio division.
This year Reliance is likely to have a lot to talk about, including the new Jio products, with rumours hinting at the launch of the affordable 5G Jio Phone and a slew of more products. Here's everything you need to know about the Reliance AGM 2023, where to watch and what time it will be live-streamed.
Reliance AGM 2023: Event Date And Where To Watch Live
Reliance AGM 2023 has been confirmed for Monday, August 28 by the company and it will be live-streamed at 2 PM across various digital channels, including the Reliance YouTube page and that's where you can get all the updates from the AGM 2023 and the new announcements from Reliance.
Reliance AGM 2023: What To Expect From Jio
Reliance Jio will be a core part of the Reliance AGM 2023 and the public will be keeping a close eye on the new product announcements from India's biggest telecom operator.
Last year, Jio announced its partnership with Google for the affordable 5G smartphone, which could finally be unveiled at the AGM 2023 along with that, we also expect to see new Jio devices for wireless internet and more. Here's an in-depth look at what Jio could show us on Monday.
Affordable 5G JioPhone
Reliance and Google have partnered to invest in affordable 5G smartphones for the Indian market and the first signs of this association could be officially announced with the new JioPhone 5G.
In fact, as we have reported previously, two new JioPhones had recently visited the BIS certification website, which hints that the launch is imminent. The BIS listing has the two phones marked with Jio branding and their model numbers are JBV161W1 and JBV162W1.
JioPhone 5G is expected to be another budget offering from the company, and recent leaks suggest the phone will have a plastic back panel and come with dual cameras at the back. The devices have been spotted with 5G branding, which means consumers can experience the high-speed network on these devices.
There is not a lot of information about the JioPhone 5G but it is rumored to get a UniSoc 5G or MediaTek's Dimensity 700 chipset. Going by the company's promise to make products for everyone, it is likely that the JioPhone 5G is priced between Rs 10,000 and Rs 15,000.
Time To Pay For Jio 5G
Reliance Jio 5G was officially announced at the RIL AGM 2022 and 12 months later it is likely that the telecom operator will have more updates on the expansion of its network, but also indicate that it might be time for people to pay to use 5G services.
As you might be aware, none of the telcos in India have 5G plans in the market, instead, they require the prepaid users to get a recharge of Rs 239 to get 5G speeds.
But with millions now on board with 5G, it might be the cue for Jio to come out with dedicated 5G plans. Jio has mostly kept its plans at a lower range than the competition and even though 5G plans could be costlier than Jio 4G plans, but still expected to be economical.
Launch of Jio AirFiber
Jio showcased its AirFiber 5G wireless device at the AGM 2022 but now the company could be ready to unleash the product in the market and also talk about how much Jio subscribers will have to pay for the device and the plan that will offer 5G hotspot internet at ultra-high speed for home and office.
Airtel has already launched its version of this device called Xstream which is priced at Rs 2,500 and Rs 799 for the plan to use the internet service on this device.
JioBook Showcase
The JioBook laptop was announced recently and this is another affordable product from the company aimed at the masses. JioBook is priced at Rs 16,499 and it weighs under 1 kg which makes it sleek and lightweight.
The laptop gets an 11.6-inch HD display along with an infinity keyboard and a large trackpad. Jio is targeting students with the product and using its customised JioOS platform, the company is giving a user-friendly interface and features that give it all-time internet connectivity.