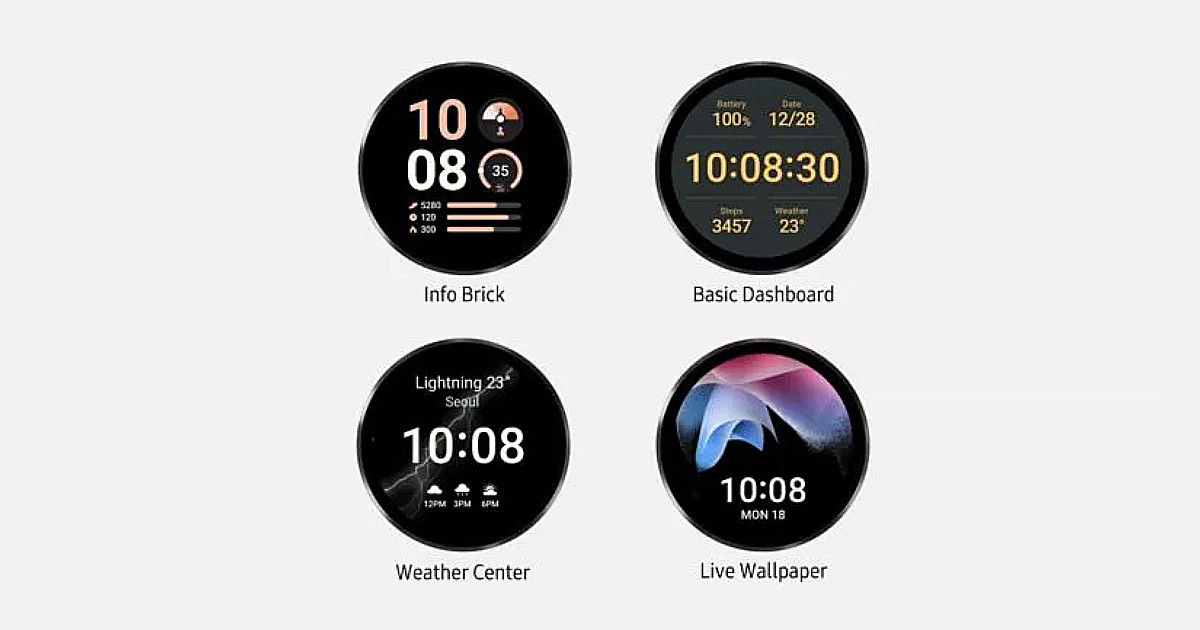 The Samsung Galaxy Watch 4 and 4 Classic now have the first significant update of its life cycle, and unlike what was previously promised by Google, the update hasn't been released by the maker of its underlying Wear OS 3. At the second part of the Galaxy Unpacked 2021 event that was hosted by Samsung last night, the company introduced a few, iterative updates for the Samsung Galaxy Watch 4 and Watch 4 Classic.
The updates start with four new watch faces, and interestingly, each appear to be based on Google's new Material You user interface design language. The four new watch faces are called Info Brick, Basic Dashboard, Weather Centre and Live Wallpaper. While the names of each of the watch faces are rather apparent, we'll still break them down for you — Info Brick gives you a rich, information overload that includes time, heart rate, battery of the watch and activity status; Basic Dashboard gives an overview that includes day-date, time, activity, weather and watch battery; Weather Centre shows time, location, current climate and temperature, and a three-hour weather forecast; and finally, Live Wallpapers will let you select animated backgrounds for your watch face.
Alongside the new watch faces, the Samsung Galaxy Watch 4 has a new gesture that it can recognise — double knock. Users can now pre-programme their watches to recognise two knocks on the display, and can customise an app to open based on this input. Finally, Samsung has also made improvements to its watch's fall detection technology. As part of this, the Galaxy Watch 4 and 4 Classic can now detect a user's fall even when the person isn't moving, therefore helping it respond better to emergency situations.
The list of updates, however, ends here, marking a decent but not very drastic range of updates to the flagship Samsung wearable. Going forward, it remains to be seen how seriously Google takes its latest effort around Wear OS. The new generation wearable platform has received the promise of more frequent updates from Google, and going forward, it will be interesting to see the balance of role that Google and Samsung play with the latest generation wearable platform.