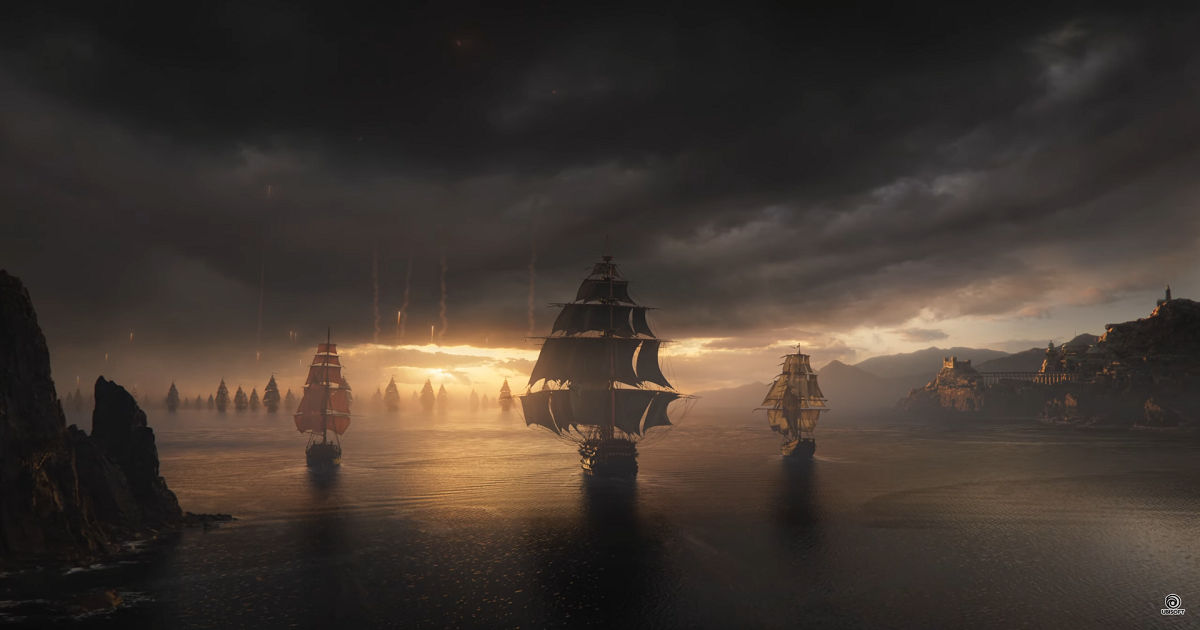 Skull and Bones is one of Ubisoft's biggest upcoming releases, and a new gameplay overview finally reveals what the core gameplay loop looks like. Alongside the new gameplay reveal, the release date for the game was also announced and it will be coming out on November 8 for PlayStation 4/5, Xbox Series X/S, Google Stadia, and PC.
The game is essentially a mix of survival mechanics with naval combat with players tasked with assembling their crew, keeping them well-fed and motivated – and doing a whole bunch of pirating across the open seas.
The players begin as lowly shipwrecking scrounging together resources and climbing up the ladder of infamy to become the most feared pirate. A core part of the gameplay loop is to always keep your cargo well-stocked with items like food and ammunition.
Players will need to prepare for any situation before embarking on quests. Pirate dens will be present all over the game world – giving players a chance to meet and socialize with other players, craft new equipment, ships, buy cargo, and pick up contracts.
Also Read: The Division Resurgence for Mobile – A Free to Play 3rd Person RPG Announced by Ubisoft
Skull and Bones Gameplay Reveal Showcases Naval Combat, Social Hub, and More
Skull and Bones seems to have a very light narrative, giving it a more MMORPG feel than the usual Ubisoft affair. Given the incredible amount of time the game has spent in development, it appears that the scale of the game will be bigger than most other Ubisoft MMORPGs such as The Division.
For the better part of the last decade, it was unclear whether Skull and Bones will ever be coming out, given the multitude of issues it faced in development. The game was delayed, cancelled, and then brought back – and it appears we will finally be able to play the game this year.
As one of the year's biggest releases, all eyes are on Skull and Bones, and Ubisoft will want to deliver a knockout on day one. Given that it is an MMORPG, the game will most likely receive post-launch support with new quests, items, and ships. The game comes out on