Highlights
Meta has just announced this new privacy-centric feature.
Locking a chat will hide notification details automatically.
Once locked, the WhatsApp chat will be kept in a separate folder.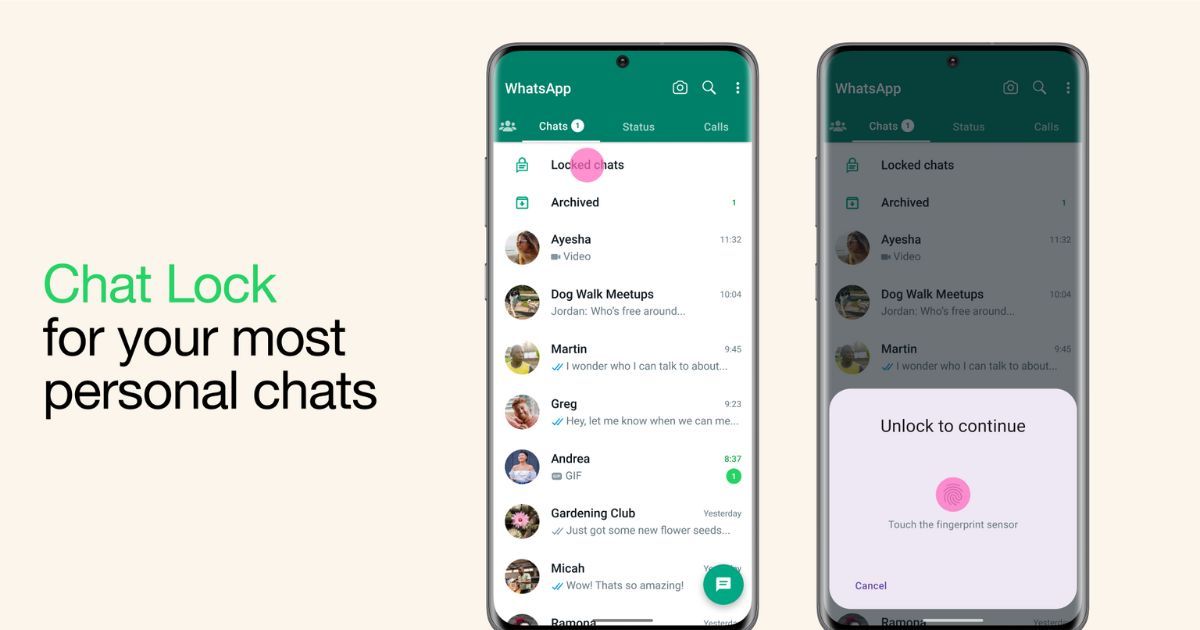 Meta, the company behind three major social media platforms, Facebook, WhatsApp, and Instagram, has announced a new feature to its personal messaging platform, WhatsApp. The platform already offers end-to-end encryption and has just announced the WhatsApp Chat Lock feature, thereby strengthing its privacy and security side.
Announced today, the WhatsApp Chat Lock feature is now rolling out to all users, allowing users to protect intimate conversations with an additional layer of security. This will enable users to keep conversions with select people (or all) in private, and these chats can only be accessed via device password or biometric, like a fingerprint. Let us look at this new feature in detail and see how one can set up WhatsApp Chat Lock on WhatsApp.
WhatsApp Chat Lock Feature Announced
Once enabled, the locked chats will be moved into a different folder that can only be accessed by the device owner using the device's password or biometric, like a fingerprint (It should work with Face Unlock, too, although Meta did not mention it). In addition, once the conversation is locked, WhatsApp automatically hides the contents of that chat in notifications, adding another layer of security to the chats.
This feature is handy, especially when your phone is being shared with multiple people, whether for a call or to click photos. As you can see in the video above, the notifications are hidden even with your phone on, and you receive a message from a locked conversion. You can lock a chat by tapping the name of a one-to-one or group and selecting the lock option. To check out the locked chats, you can slowly pull down on the home screen of the app and enter your phone password or biometric.
Also Read: WhatsApp Web Beta App Rolls Out Edit Message Feature; Here's How It Works
WhatsApp is also set to add more features to strengthen it even further. In the pipeline, WhatsApp is set to bring features like locking for companion devices and creating a custom password.
How To Set up WhatsApp Chat Lock
Open WhatsApp
Select any conversation you want to lock (personal or group)
Tap on the individual or group name next to the profile picture
Scroll down and tap "Lock Chat"
Verify with your password/biometric
Once you have done this, the conversation will be locked, and you need to pull down your home screen to access the chats. The feature has just started rolling out to all WhatsApp users and should reach the majority of users across the globe in the coming days.
WhatsApp recently added a few handy poll-related features, including a single poll option, filter by polls, and more. Also, the company announced the beta version of the WhatsApp app for Wear OS 3 smartwatches.
What do you guys think of this new feature from WhatsApp? Drop a comment and let us know in the comment section below.