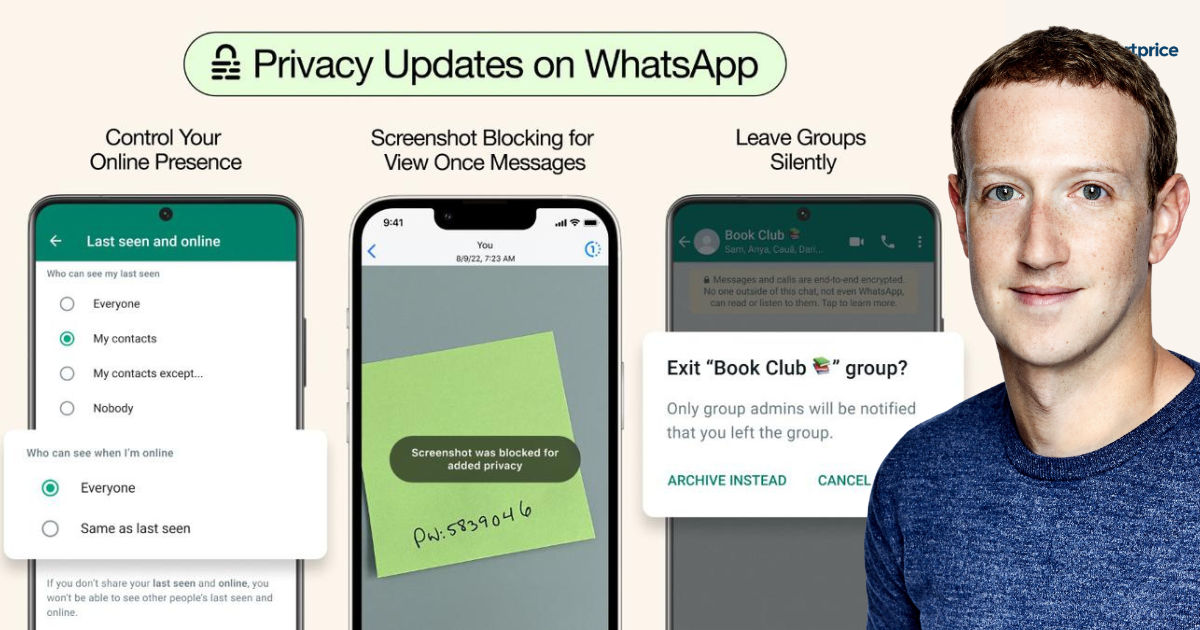 Whatsapp has recently been on a roll. The Meta-owned messaging service recently revised the Delete for Everyone time limitations, and was spotted testing Instagram-like Story response features, and additional group admin capabilities. Now, Meta's founder and CEO, Mark Zuckerberg, has announced that the messaging powerhouse is adopting more advanced privacy features. These features include the option to mask your online status, stealthily exit Whatsapp groups, and block screenshots for specific conversations. Let's take a look at the new Privacy options introduced on Whatsapp, changes, and everything we know so far.
Whatsapp Takes Another Step Towards Improving Privacy
"New privacy features coming to WhatsApp: exit group chats without notifying everyone, control who can see when you're online, and prevent screenshots on view once messages. We'll keep building new ways to protect your messages and keep them as private and secure as face-to-face conversations," said Zuckerberg in a post on Facebook.
According to a Facebook post, Whatsapp's sister firm is adding three new privacy-focused features. Users will soon be able to leave groups quietly, that is, without alerting anyone or leaving a trace in the chat history. Following that, and this is a long-awaited feature, you will soon be able to block screenshots on view-once messages. This functionality should have been available at the same time as the View once feature, but it's better late than never.
Also Read: Delete WhatsApp Group: How to Delete WhatsApp Group on Phone, Web, and Desktop
The third and final Whatsapp feature is the ability for users to choose who they wish to share their Online status with. The Online status is handy when users want their friends and family to know they're using the app.
"At WhatsApp, we're focused on building product features that empower people to have more control and privacy over their messages," said Ami Vora, head of product at WhatsApp.
While the ability to leave Whatsapp groups is expected to be available later this month, the ability to hide your online status will be available in September. Whatsapp has not specified a timeframe for when the screenshot blocking for view once messages would be accessible.