Highlights
Sony has unveiled November monthly games for PlayStation Plus.
This month's lineup includes Aliens: Fireteam Elite, Mafia II: Definitive Edition, and Dragon Ball: The Breakers.
Players can download these games from November 7 till December 4.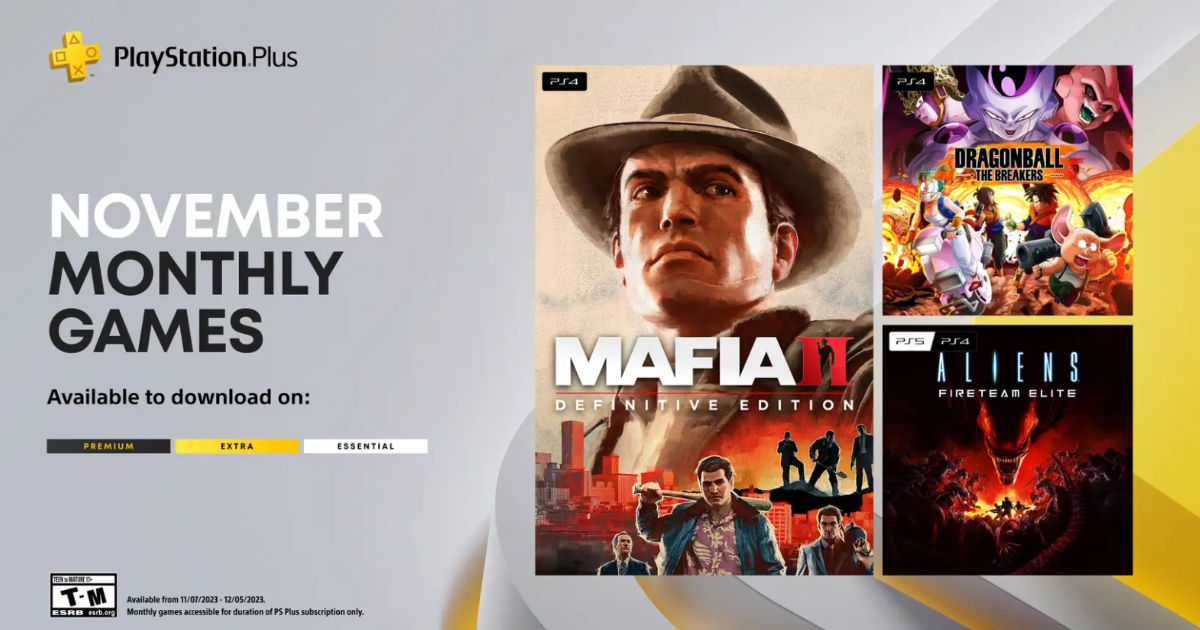 As we enter into a new month in 2023, Sony has announced its PlayStation Plus Monthly Games lineup for November 2023. This month's batch includes three new games and PS Plus subscribers can add them to their library for free.
As the announcement came in later this month, some PS Plus users have been concerned. Sony usually reveals the lineup on Wednesday before the first Tuesday of each month, which commonly falls on the previous month's last Wednesday. However, because November 1 is a Wednesday this time, fans may have had to wait a bit longer than usual, but the fresh reveals are finally here.
The November month PlayStation Plus Essential Games can be downloaded at no extra cost from November 7 till December 4.
PlayStation Plus Monthly Games Lineup for November 2023 Revealed
Remember, remember… your PlayStation Plus Monthly Games for November 🎇

💼 Mafia II: Definitive Edition
👽 Aliens: Fireteam Elite
💥 Dragon Ball: The Breakers#PS5 #PlayStation #PlayStationIndia #psplus #playstationplus #mafia2 #aliensfireteamelite pic.twitter.com/ibkTGd5XZa

— PlayStation India (@PlayStationIN) November 2, 2023
The new games lineup includes three games, namely, Cold Iron Studios' Aliens: Fireteam Elite, Mafia II: Definitive Edition, and Dragon Ball: The Breakers.
Mafia 2: Definitive Edition (PS4)
Mafia 2: Definitive Edition is a stunning, high-tension remaster that includes all content and DLC from the original game. The game takes place in the fictional post-World War II New York-inspired city of Empire Bay, where the protagonist Vito Scaletta becomes involved with the mob while seeking to settle his father's debts.
Dragon Ball: The Breakers (PS4)
Meanwhile, Dragon Ball: The Breakers is an asymmetrical 2022 survival action title from Dimps that allows a team of seven players to take control of ordinary residents from the martial arts-infused universe and battle famous DBZ villains like Frieza and Cell. The villains called Raiders in the game, have to track down the enemy team in order to evolve into stronger versions of themselves, while citizens must use a variety of abilities and methods to escape or defeat the Raider.
Aliens Fireteam Elite (PS4, PS5)
Aliens: Fireteam Elite rounds off the free games for November. Players in Fireteam Elite are constantly confronted with enemy waves, almost as if they were playing an endless mode game with a storyline attached. Players can select from a variety of playable classes, as well as join their friends in co-op.
The free games are available to all PS Plus subscribers, regardless of tier, so anyone who has subscribed to PS Plus Essential, PS Plus Extra, or PS Plus Premium will be able to get them. As long as the user has a current membership, the claimed games will be available in the user library.
PlayStation Plus October Monthly Games
Players have some time until November 6 to claim the October PlayStation Plus games which are mentioned below:
The Callisto Protocol

Farming Simulator 22

Weird West
We can expect Sony to announce the PlayStation Plus Game Catalog for this month on November 15 which has exclusive games for Extra and Deluxe tier users.
---