Highlights
PUBG Studios and Krafton INC have released a new social media post teasing a KFC Collaboration with PUBG Battlegrounds.
The collaboration is expected to take place in October 2023.
Krafton had earlier partnered up with KFC multiple times in several regions.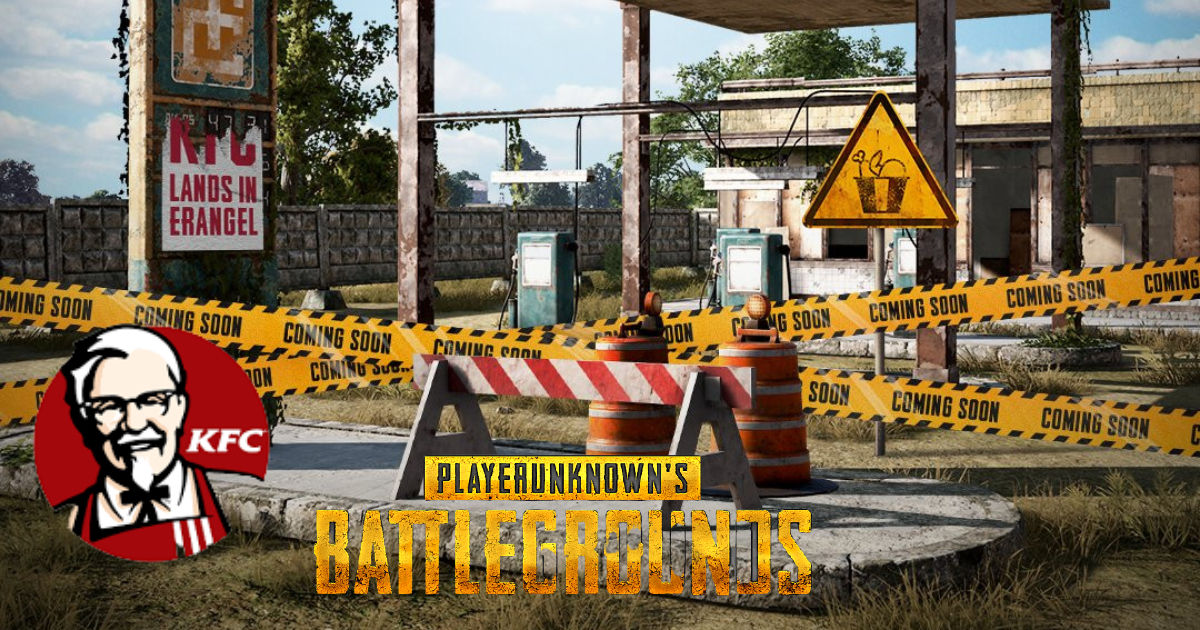 PUBG Battlegrounds is one of the most prominent games on the PC platform and gave roots to Battle Royale gameplay in several countries. PUBG Battlegrounds (formerly known as PlayerUnknown's Battlegrounds) has entertaining gameplay and graphics. PUBG Battlegrounds also collaborates with renowned multinational brands to promote fresh and engaging gameplay.
It had earlier partnered up with numerous figures, and industries which resulted in bringing themed content as part of the collab. PUBG Studios and Krafton INC may have teased that PUBG Battlegrounds or PUBG PC is collaborating with Finger Lickin' Dippin' Lickin' Chicken Lickin' Kings KFC to increase the level of excitement among players.
The collaboration was reported as part of the new social media post that the developers have posted on its Facebook page.
Also Read: Valorant New Map Called Sunset is Officially Revealed by Riot Games
PUBG Battlegrounds Teases Collaboration with KFC
The social media post contains a seized petrol station containing barricading tapes with numerous 'coming soon' signs. The light boarding the left has a reported sign of KFC which is visible only half of the acclaimed text and followed by a tagline that reads 'Lands in Erangel.' The post also has a statement that says: Coming Soon.
The fans claim that it is KFC and we may soon have a KFC and PUBG Battlegrounds collaboration once again. Krafton has partnered up with KFC numerous times on many occasions and in various regions like MENA, and North America. Those collaborations had brought in numerous items to the game of KFC theme.
Gamers can find new KFC and PUBG Mobile collaborations along with their content on YouTube of the game's beta version. It is observed that the PUBG universe will share the same content for the most part and any collaboration we find in any one of its games (BGMI, PUBGM, or PUBG Battlegrounds) can be found in other variants also.
The PUBG PC social media post teasing the KFC collaboration also specified a date which is October 2023. Therefore, we may expect this collaboration to happen in the mentioned month. Apart from the post, Krafton or PUBG Studios has not confirmed this KFC Collaboration.
Players should note that this is not an official confirmation or announcement and hence, we recommend taking this claim with a grain of salt. Keep an eye on its official social media handles to stay updated on any kind of information.
Will BGMI Get KFC Collaboration?
Coming soon🚧 pic.twitter.com/FeVSPsJB51

— PUBG: BATTLEGROUNDS (@PUBG) August 29, 2023
If PUBG Mobile gets the KFC Collaboration in the coming 2.6 update as seen in the beta version, we may expect that it would happen in Battlegrounds Mobile India in the next update.
Also Read: Gladiators Esports Wins BGMI Masters Series Season 2 (BGMS 2023) with one-point Lead and Bags Rs 1 Crore Prize Money
MSP Gaming is the gaming arm of MySmartPrice. We are a one-stop destination for everything gaming. Join our community for regular tournaments and stay updated about the gaming ecosystem – https://bit.ly/msp_gaming_community