Highlights
Xiaomi introduced its MIUI in 2010.
The company is planning to replace MIUI with HyperOS.

HyperOS is aimed at unifying all devices and applications in Xiaomi's ecosystem.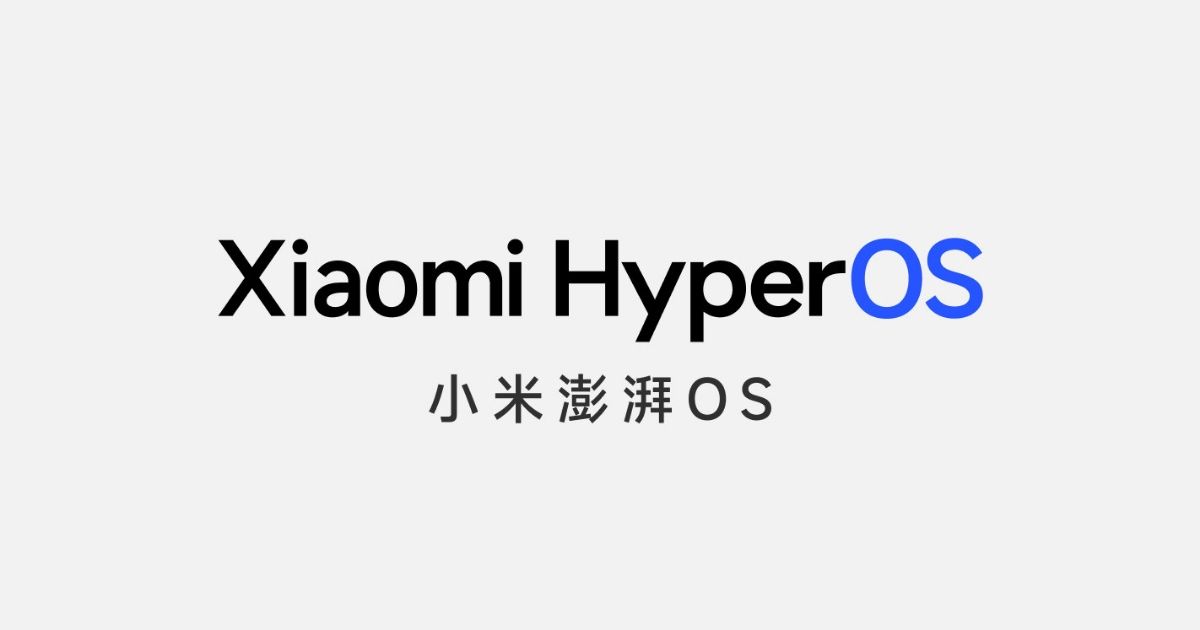 Xiaomi CEO Lei Jun, in a post on X announced that the company's new operating system HyperOS is set to make its official debut with the Xiaomi 14 series smartphones. He did not give out many details, but the post was enough to create a buzz. Soon after Jun's post, several details about HyperOS started to leak online, including screenshots, which give us a glimpse of what to expect.
Later, the architecture of the HyperOS was revealed in a post on the Chinese microblogging website Weibo. Meanwhile, Jun shared on X, a timeline of the development of its operating software starting with MIUI in 2010 up till 2022 when it unified software architecture and completed the integration of system development lines.
Prior to this, Jun revealed that HyperOS, which Xiaomi started developing in 2017 is aimed at unifying all devices and applications in Xiaomi's ecosystem. For those unaware of the latest development, here's a roundup of everything that we know about the HyperOS so far:
Xiaomi HyperOS Update Release Date
Jun has already confirmed that HyperOS will make its debut on the Xiaomi 14 smartphones, which will launch on October 26 in China. Xiaomi 14 series is the successor to the company's Xiaomi 13 series which was launched last year. The series is said to have three smartphones – Xiaomi 14, Xiaomi 14 Pro, and Xiaomi 14 Ultra.
Today marks a historic moment. After years of collective work, our new operating system, #XiaomiHyperOS, is set to make its official debut on #Xiaomi14Series. pic.twitter.com/bNJqIyD8y0

— Lei Jun (@leijun) October 17, 2023
The official launch date for the Xiaomi 14 series has been officially shared by the company on various social platforms. The company's latest operating software will also be launched alongside the smartphones. The event will take place in China at 7 PM local time. Do keep in mind that the Xiaomi 14 smartphones will be announced in the company's home market China first before the devices make their way to the rest of the world.
Although HyperOS will initially only be available on Xiaomi 14 smartphones, the company has confirmed that it will be integrated into all of its devices gradually. Since Xiaomi plans to replace MIUI with HyperOS, the new OS could roll out for its ecosystem of devices outside of China gradually.
So, what does this mean for smartphones already running MIUI? The answer is simple. The company will continue to work on MIUI with Android updates and security patches to maintain its current MIUI devices. Meanwhile, HyperOS will keep being developed by Xiaomi for newer devices.
Xiaomi HyperOS Architecture Has Five Layers
The architecture of HyperOS was revealed in a Weibo post. It will consist of five layers. The bottom-most layer is Hardware such as CPU/GPU, RAM, storage, etc.
The hardware layer on HyperOS will be followed by the Kernel layer, which will use Linux as well as Xiaomi Vela, which is the company's IoT software platform, based on NuttX OS. The Kernel layer will consist of eight new subsystems. It will offer a new cross-device framework, which will enable dynamic device networking as well as collaboration.
The layer above the Kernel layer is that of Service and Framework. It uses a framework from Android as well as Xiaomi Vela services. Above this layer comes the fourth layer of HyperConnect, which will help with communication between the devices that run the OS. The fifth and the top-most layer will be made of Apps.
After 13 years of exploration and 7 years of R&D, we've built #XiaomiHyperOS – a new operating system that integrates over 200 product categories and can connect 820 million devices. It strengthens our pursuit of excellence and our commitment to expanding our expertise in… pic.twitter.com/0eCkrUf2Jn

— Lei Jun (@leijun) October 23, 2023
A timeline of MIUI was also shared by Jun on X in an image. It gives us a glimpse of highlight events from the inception of MIUI in 2010 to how the system development lines integration was completed in 2022.
In several other posts, he has hinted that HyperOS will serve as a cross-device interconnection framework for its ecosystem of devices. The Xiaomi HyperConnect is said to work seamlessly across multiple devices and real-time networks. "Human-centric technology is the core of Xiaomi. All your needs are complete in this smart ecosystem of personal devices, cars, and home products," Jun wrote in a post on X.
Xiaomi HyperOS Top Features
So, a crucial thing to keep in mind is that the HyperOS will bear some resemblance to the existing MIUI or at least this is what leaked screenshots tell us. Jun has, however, said in his posts on X that the underlying architecture has been changed completely by combining Android with Xiaomi Vella. It has been done to serve as the basis for connecting its ecosystem of devices.
As we announced #XiaomiHyperOS, I wanted to share some history and expand on why we developed a new operating system.

On August 16, 2010, we introduced our very first product, MIUI. Over the past 13 years, we've expanded from a small group to a team of thousands of engineers.…

— Lei Jun (@leijun) October 17, 2023
Do keep in mind that the screenshots leaked online appear to be from the early HyperOS beta release, so expect changes in the final version release. Now, let us take a look at what the leaked screenshots tell us about the features of HyperOS.
Features
Four screenshots, depicting various aspects of Xiaomi's new OS were posted by user, "Mr. Water" on the Chinese microblogging site Weibo. The company has previously said that HyperOS will bring new fluidity and improved connectivity across devices.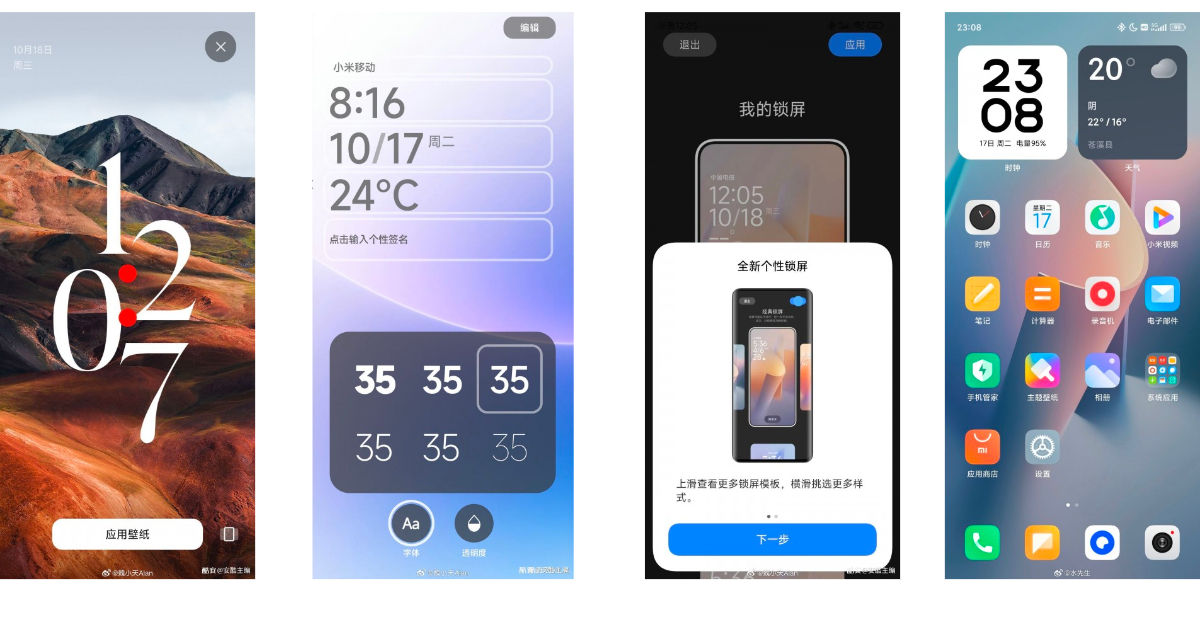 As seen in screenshots, the HyperOS will offer a control centre somewhat similar to MIUI, but it could be tweaked slightly. Different elements like the brightness and volume sliders, as well as the now playing widget, and Wi-Fi and mobile data toggles, are visible in the screenshot. These take up the top half of the control centre. Meanwhile, some quick setting toggles like Bluetooth, Airplane Mode, Torch, etc make for the bottom half.
Another Weibo user "Wei XiaotianAlan" (Translated from Chinese) also shared a set of screenshots, said to be of HyperOS. One of the images reveals the lock screen taken over by a huge vertical digital clock, hinting at several new customisation options for the lock screen. Apart from new types of clocks, Xiaomi could also offer new font and widget options for the lock screen on HyperOS.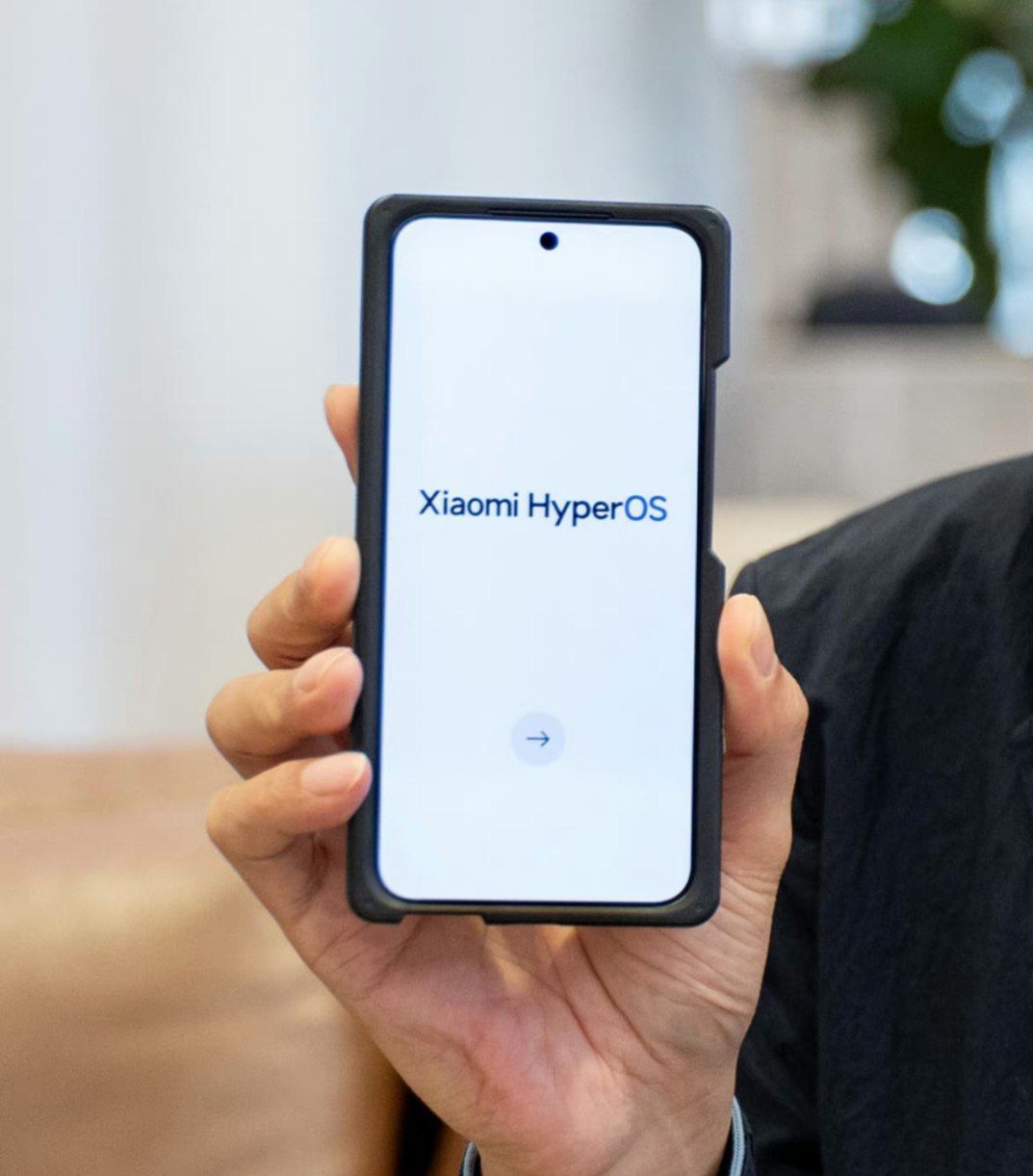 Moving on to the home screen, two square-shaped widgets can be seen on top, one showing the time, while the other shows the weather. The app icons beneath the widgets do seem similar to the MIUI 14.
Finally, there seem to be a ton of lock screen customisation options to choose from on HyperOS such as Classic, Rhombus, Magazine, and more. In addition, users can apply several effects and there are different wallpapers to choose from as well. Honestly, the lock screen feature does remind us of the same on iOS.
Xiaomi HyperOS List of Compatible Devices (Leaked)
Even though Xiaomi has confirmed the debut of HyperOS only on Xiaomi 14 smartphones as of now, some leaks have claimed that more Poco, and Redmi smartphones could also be updated with the OS. Do keep in mind that this information needs to be taken with a pinch of salt given there is no official confirmation.
Of course, we will know more when HyperOS is officially announced on October 26. Here's a list of devices expected to receive HyperOS, as per leaks:
Redmi
Redmi K40

Redmi K40S

Redmi K40 Pro / Pro+

Redmi K40 Gaming

Redmi K50

Redmi K50i

Redmi K50i Pro

Redmi K50 Pro

Redmi K50 Gaming

Redmi K50 Ultra

Redmi K60E

Redmi K60

Redmi K60 Pro

Redmi K60 Ultra

Redmi Note 10 5G / Redmi Note 11SE / Redmi Note 10T 5G

Redmi Note 10 Pro 5G

Redmi Note 10T

Redmi Note 10S / Redmi Note 11SE India

Redmi Note 10 Pro

Redmi 10 / Redmi 10 2022 / Redmi 10 Prime / Redmi Note 11 4G

Redmi Note 11E / Redmi 10 5G / Redmi 11 Prime 5G

Redmi Note 11R

Redmi 10C / Redmi 10 Power

Redmi 11 Prime 4G

Redmi Note 11 4G / 11 NFC 4G

Redmi Note 11 5G / Redmi Note 11T 5G

Redmi Note 11S

Redmi Note 11S 5G

Redmi Note 11 Pro 4G

Redmi Note 11 Pro 5G / Redmi Note 11E Pro

Redmi Note 11 Pro+ 5G

Redmi Note 11T Pro / 11T Pro+

Redmi Note 12 4G / 4G NFC

Redmi 12C

Redmi 12

Redmi Note 12 Turbo

Redmi Note 12T Pro

Redmi Note 12 Pro Speed

Redmi Note 12 Pro 5G / Pro+ 5G / Discovery

Redmi Note 12S

Redmi Note 12R / Redmi 12 5G

Redmi Note 12 5G / Note 12R Pro

Redmi Note 13 4G / 4G NFC

Redmi Note 13 Pro 5G

Redmi Note 13 Pro+ 5G

Redmi Note 13R Pro

Redmi 13C
POCO
POCO F5 Pro

POCO F5

POCO F4 GT

POCO F4

POCO F3

POCO F3 GT

POCO X6 Pro 5G

POCO X6 5G

POCO X5 Pro 5G

POCO X5 5G

POCO X4 GT

POCO X4 Pro 5G

POCO M6 Pro 5G

POCO M5s

POCO M5

POCO M4 Pro 5G

POCO M4 Pro 4G

POCO M4 5G

POCO M3 Pro 5G

POCO C55
Xiaomi
Xiaomi 14 (pre-installed)

Xiaomi 13T Pro

Xiaomi 13T

Xiaomi 13 Ultra

Xiaomi 13 Pro

Xiaomi 13

Xiaomi 13 Lite

Xiaomi 12T Pro

Xiaomi 12T

Xiaomi 12 Lite 5G

Xiaomi 12S Ultra

Xiaomi 12S Pro

Xiaomi 12S

Xiaomi 12 Pro Dimensity

Xiaomi 12 Pro

Xiaomi 12

Xiaomi 12X

Xiaomi 11T Pro

Xiaomi 11T

Xiaomi 11 Ultra

Xiaomi 11 Pro

Xiaomi 11

Xiaomi Mi 11X

Xiaomi Mi 11X Pro

Xiaomi Mi 11i

Xiaomi 11i / 11i Hypercharge

Xiaomi 11 Lite 4G

Xiaomi 11 Lite 5G NE

Xiaomi 11 Lite 5G

Xiaomi 10S

Xiaomi MIX FOLD

Xiaomi MIX FOLD 2

Xiaomi MIX FOLD 3

Xiaomi MIX 4

Xiaomi Civi

Xiaomi Civi 1S

Xiaomi Civi 2

Xiaomi Civi 3

Xiaomi Pad 6 / Pro / Max

Xiaomi Pad 5

Xiaomi Pad 5 Pro 5G / Pad 5 Pro Wifi