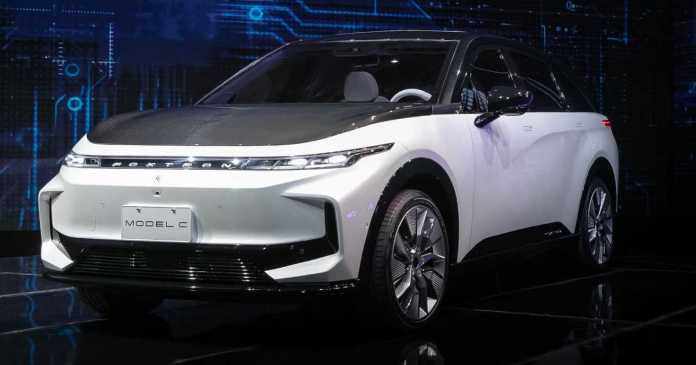 Foxconn, one of the biggest names for contract manufacturing and assembly of electronics globally, is reportedly considering setting up an electric vehicle (EV) assembly line in India. According to a report on the matter by The Economic Times, the Chinese conglomerate is looking at India as one of three potential south Asian destinations to set-up EV manufacturing hubs. The company's move comes as part of its latest strategy to localise manufacturing efforts around the world – instead of building in China and shipping around the world.
Foxtron to make EVs in India? What we know
Sources that spoke to ET said that the Foxconn group has expressed interest in India as a manufacturing hub, after studying an increasing demand for passenger electric vehicles in India. With FY22 witnessing a 2.5x jump in sales of passenger EVs in India, Foxconn is seemingly reading this as a sign of increasing consumer demand in one of the world's biggest markets for consumer goods.
The Chinese company presently manufactures EVs under its subsidiary, Foxtron. The latter has already showcased three EVs that were built by it to showcase to global companies what they are capable of producing – and doesn't mean that users will see a Foxconn-branded product on the road at any time.
Foxtron is now reportedly looking at Tamil Nadu as the destination to set-up its EV assembly plant, going forward.
Foxconn is already manufacturing iPhones in India
Foxconn is not new to manufacturing in India. Through regional subsidiaries, the company has a facility near Chennai that is exclusive to itself, where it assembles Apple's iPhones for the Indian market. A second plant, also located close to Chennai but at a different location, is used to assemble phones for myriad OEMs – including Xiaomi.
The company is one of the applicants of the Indian government's production-linked incentive (PLI) schemes, which seek to take advantage of bonuses offered by the government to reap profits in an already tight margin business.
Why this could be a major leap for EV sector
However, it remains to be seen if Foxconn indeed sets up a plant in India, alongside Indonesia and Vietnam, for making EVs. The latter, it is important to note, is different from manufacturing of electronics, since car makers largely manufacture their own automobiles and design them too – instead of having a contract manufacturer do it.
That said, given that India has a vast number of EV startups and Foxconn has vastly deep pockets, the move could be a big play for the Indian EV market. The latter could see better quality standardisation – something that has remained amiss in India due to erratic manufacturing processes. It can also bring in EVs from smaller companies, hence democratising a market that has largely always had limited companies in play.
Foxconn entering India could also impact Tesla, which has had a long-standing tug of war with the Indian government. The latter has refrained from entering India due to the government not relaxing import duties, while the government has maintained that for Tesla to sell its cars in India, they must set-up car and battery assembly facilities, alongside other related EV infrastructure. Union minister Nitin Gadkari has already urged Tesla chief, Elon Musk, to consider the proposition.
The setting up of a major EV manufacturer, which is a big name in the global contract manufacturing space, in India could be a sign of intent for the nation's nascent EV industry. The market has till date remained bit-part, and not particularly flourished, due to most passenger EVs costing more than what the average car-buying price for Indians is.
To address this, various companies are taking different steps. While Tata Motors already has its compact sedan and compact SUV available as EVs in India, fellow homegrown brand Mahindra is tipped to introduce a compact EV SUV this August – and expand on the offering later with a flagship SUV. Others, such as Hyundai, have also stated that they will come with an affordable, compact EV in the coming weeks – before producing up to six electric cars in India by 2028.
Thanks for reading till the end of this article. For more such informative and exclusive tech content, like our Facebook page