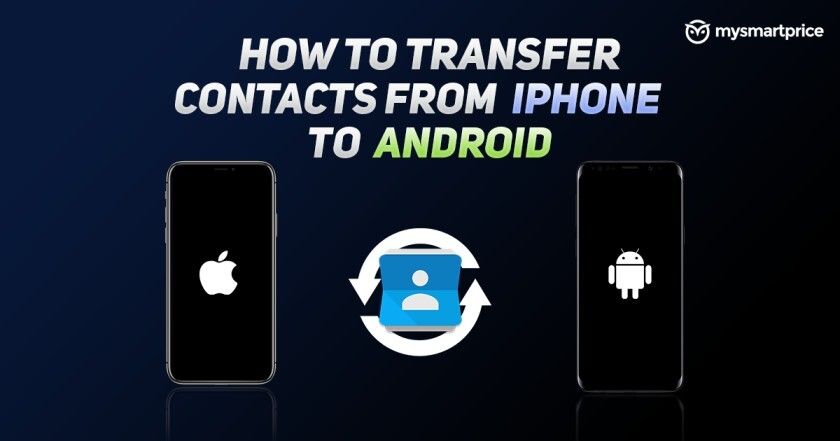 We all have gone through the pain of transferring a whole bunch of data from one device to another. The process is seriously tiresome and it especially gets even more annoying when it comes to transferring the data from iPhone to Android. Out of all the data, your contacts are one of the most important things, which is quietly very difficult to transfer from iPhone to Android. Thankfully, there are a couple of workarounds through which you can easily transfer all your Contacts from your iPhone to your new Android smartphone. In this article, we are going to shed some light on some of the easiest methods through which you can transfer your contacts in no time. Let's begin.
Also Read: WiFi Password Check: How to Check WiFi Password in Android, iOS Mobiles and Windows, macOS Laptops – MySmartPrice
How to Transfer Contacts From iPhone to Android Using Google Account
You can transfer your contacts from an iPhone to an Android smartphone using your Google account. However, for that, you will be needing a Google account. If you yet to have set one up, you can go to Google and select create account option to open a new Google account. Once done. You need to follow these steps to transfer contacts from iPhone to Android:
Go to the Settings menu on your iPhone and navigate to the 'Mail' option and click on Account.
There you will see all your accounts. Click on Add Account and select the Gmail option. Then login your account details.
Your iPhone will ask which parts of the Google account you will like to sync. Make sure to select the Contacts option.
Once done, your Contacts will start syncing with your Google account. Do note that this might take some time. Once done, simply login to the Google account to your Android smartphone and voila, your accounts will start appearing in the Contacts application.
Also Read: PDF Password Unlock: How to Remove Password from PDF File Using Adobe Reader, Small PDF, Google Chrome
How to Transfer Contacts From iPhone to Android Using iCloud
Apple also gives you an option to download all your contacts using its cloud service, iCloud. You need to enable iCloud on your iPhone and need to first back it up before downloading from the cloud. Once the backing up process is complete, follow these steps:
Go to iCloud.com and sign in using your Apple ID and password.
Go to the Contacts app and on the next screen, you will see all your contacts.
Hit CTRL + A or Command + A to select all the contacts. Now, click on the Gear icon at the bottom of the page and click on Export vCard.
You will then again hit Select All and click to download the vCard.
Once done, you need to open the Google Contacts website. Navigate to the Import section and upload the downloaded vCard.
With this, your Contacts will be uploaded to your Gmail account and once you log in to your Android smartphone, it will be automatically synced.
Also Read: How to Take Screenshot on Windows, macOS Laptops, Android Mobile and Apple iPhone?
How to Transfer Contacts From iPhone to Android Using Third-Party Apps
There are a plethora of applications that allows you to transfer contacts from iPhone to Android and vice versa. One such application is MCBackup. The app is available for download from both Apple App Store and Google Play Store. The beauty of this app is that it directly backup all the contacts and export it in vCard so that one can send them to other devices whether be it Android or iOS. It also comes with an offline backup feature meaning that there is no need to sync to any server. Furthermore, you can easily transfer contacts between Android or iPhone using just an email client. Here how you can transfer contacts from iPhone to Android using the MC Backup application.
Go to Apple App Store and search for the MC Backup application. Download and install the app on your iPhone.
Open the application and simply click on Backup. The app will then backup all your contacts and convert them into Vcard.
Now simply click on Email and sent it to your Gmail account, which is also logged in to your Android smartphone.
Open the mail on your Android smartphone and download the vCard.
Now simply tap on it to add all the contacts on your Android smartphone.
Also Read: Contacts Restore: How to Recover Deleted Contact Numbers on Android and iPhone