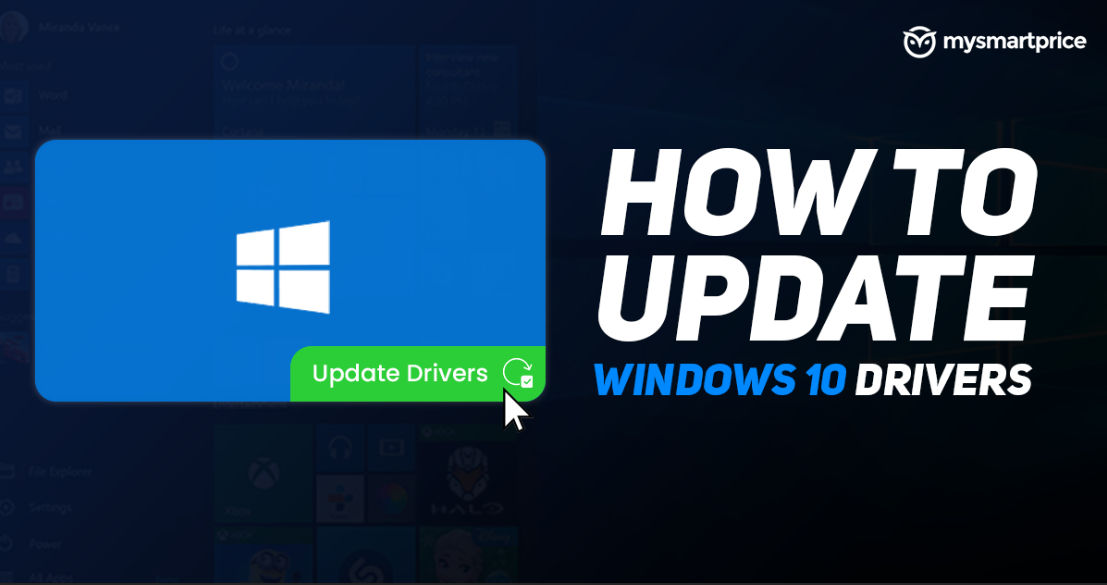 Drivers in Windows 10 PCs and laptops are chunks of code that allow the devices and the operating system communicate with each other. Every component in your PC or laptop, like the graphics card or the keyboard and mouse, require drivers to communicate with Windows and execute their functions. Without these drivers, your Windows PC loses its ability to send data to the components, and as a result break down. Can't hear any sound from your computer? It's likely the drivers are missing. Displays throwing tantrums out of the blue? Likely a driver issue.
While with Windows 7 and earlier, you sometimes needed to manually update the drivers. But with Windows 10, there's usually no need to manually install each and every driver for your PC or laptop to work. Drivers of almost all devices are detected and installed automatically. Plugging in a USB stick? Notice how Windows 7 or Windows 10 automatically detects the make and model of the pen drive by installing the driver and making it ready for use. Sadly, that's not always the case.
Also Read: How to Disable Keyboard in Windows 11 Laptop and Apple MacBook, and Re-Enable It
Here are the steps to update drivers on Windows 10
Now, while most drivers are automatically updated along with Windows Update, there may be some that require manual intervention. You can manually update through a number of ways. Windows offers several options to update a device driver that includes –
Using Device Manager
Through Optional Windows Update
Updating through Device Manufacturer's Website
In this guide, we will outline the steps you need to follow to update device drivers in Windows 10 PC or laptop.
Also Read: Refresh Shortcut Key: What are the Shortcut Keys to Refresh Windows and Mac Desktop/ Laptop and Internet Browsers?
Updating Windows 10 drivers using Windows Update
This is the best option to download and update drivers on Windows 10. Windows Update on the latest Windows 10 builds have become really streamlined and periodically keeps everything, from security patches, bug fixes and drivers, updated. Furthermore, Windows Update only lists the drivers that are compatible with the hardware in your PC or laptop. These are also the safest to download as they are verified by Microsoft.
These are the steps you need to follow to update device drivers using Windows Update –
Open Settings
Click on Update and Security
Go to Windows Update
Click on Check for updates
Once you see the updates listed out, click on View Optional Updates
Look for the Driver updates tab
From the list, select the driver you wish to update.
Click the download and install button.
However, there are may be a situation that the driver you are looking for is not being listed by Windows Update. In that case, Device Manager is where you need to go.
Also Read: Shortcut Key of a New Folder: What are the Shortcut Keys to Create a New Folder on Windows and Mac
How to update Windows 10 device drivers using Device Manager
Now there are times when the required driver cannot be detected by the Windows Update method, especially if you are using an old version of Windows, like Windows 7. This also happens when you are trying to install a printer, monitor or other peripherals to your PC or laptop. This is where the Device Manager steps in. Here's you to go about it –
Search for Device Manager in Start, or Go to My Computer -> Control Panel -> Device Manager if you are still using Windows 7.
You will see a long list of devices that are connected with your PC or laptop. Select the hardware for which you to update the driver.
Right click on the hardware name and select Update Driver
Here, you can either click on Search automatically for drivers. This will trigger the automatic search online for a compatible driver. If you have the driver already copied in your hard drive, select Browse my computer for drivers to manually locate and install the driver.
Browse and select the folder where the driver files are extracted. Click OK.
Check the Include subfolders option.
Click Next.
The update wizard will now scan, detect and install the driver on your PC or laptop.
Also Read: How to Take Screenshot on Windows, macOS Laptops, Android Mobile and Apple iPhone?
How to update Graphics Card drivers via manufacturer apps/website on Windows 10
If your GPU is throwing troubles running a game, it's likely the latest drivers are not installed. GPU drivers from the usual manufacturers including Intel, AMD and NVIDIA are usually listed under Windows Update itself, but there are some cases such as installing Game Ready drivers for NVIDIA GPUs which require the GeForce Experience app to update. Similarly, AMD Radeon GPUs have their own Adrenalin software to keep drivers updated while Intel pushes out graphics driver updates through the Intel Driver & Support Assistant app. The app will automatically detect the GPU you are running and check for updates. If there are updates available, take the time to download the update and get ready for the game!
So these are some of the ways to update and install drivers in Windows 10. We hope this guide was useful. Do share it with your friends and leave a comment below if you think there's more we can add.