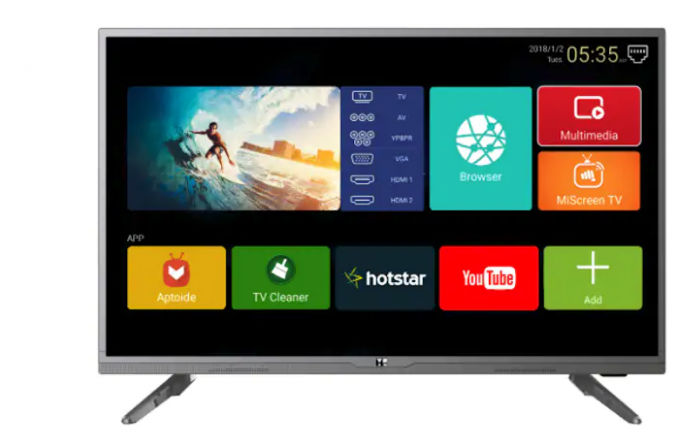 After Xiaomi launched its three new LED Smart TV sets in India, the competition in the budget-friendly Smart TV segment has heated up to an unprecedented level. Taking on the challenge with great courage, the Gurgaon-based consumer electronics brand Micromax has now launched two new Smart LED TVs n the Yu Yuphoria line. Yu is the sub-brand of Micromax that sells the company's television sets, with the Yu Ace TV having been launched in August.
At this opportune moment of festive sales, Micromax has struck a fine blow at the competition by pricing its new TVs quite aggressively. Starting at just Rs 18,499, the Micromax Smart LED TVs are certainly going to get public attention. The TVs come with Android operating system and Apple Airplay among a host of excellent features. Both new TV sets have already been available for sale exclusively on Amazon, and both come in the same Matt Grey color. Read on for details.
Micromax YU Yuphoria 40-inch Smart LED TV
The YU Yuphoria 40-inch LED Smart TV comes at a launch price of just Rs 18,490, but its MRP is Rs. 29,990, so we would not be surprised if the selling price increases after a month or so. The TV will sell exclusively on Amazon and is already available. For now, it is available in Matt Grey color only. The screen resolution is Full HD (1920×1080 pixels) and the refresh rate is 60Hz. As mentioned above, there is Airplay built in, so you can connect Apple device without a fuss, and the operating system is Android. The sound output in this model is 24W and the TV set comes with three HDMI ports, two USB ports, and one VGA port. The processor is quad-core, the RAM 1GB, and the internal storage 8GB. The manufacturer warranty lasts one year.
Micromax YU Yuphoria 50-inch Smart LED TV
The Micromax YU Yuphoria 50-inch LED Smart TV is the exact same as the other model except for the display size being 50 inches. The price is Rs 27,990 for the launch, but here too the MRP is much higher, at Rs 39,990. The viewing angle for both TVs is a wide 170 degrees. This model too is available for sale on Amazon exclusively. As mentioned, the features are all the same, with Android operating system, Airplay, and wireless smartphone remote control support. Smartphones can be connected to the TVs using the Mobile High Definition Link (MHL) feature that comes pre-installed, and connected smartphones can stream both games and videos on the TV.
Naturally, there is Wi-Fi, and a host of devices such as laptops and gaming consoles can be connected, thanks to the multiple ports. About the launch, Micromax co-founder Rajesh Agarwal said, "We strongly believe that Smart TVs are the future in this segment and we are excited to see how the consumers take to our newest entry."